Features
Bob Hagel Speaks on Retirement, How to Foster a Long-Standing Business
Bob and Dana Hagel hand over their 17-year legacy to Chris McCoy of American Eagle Trophy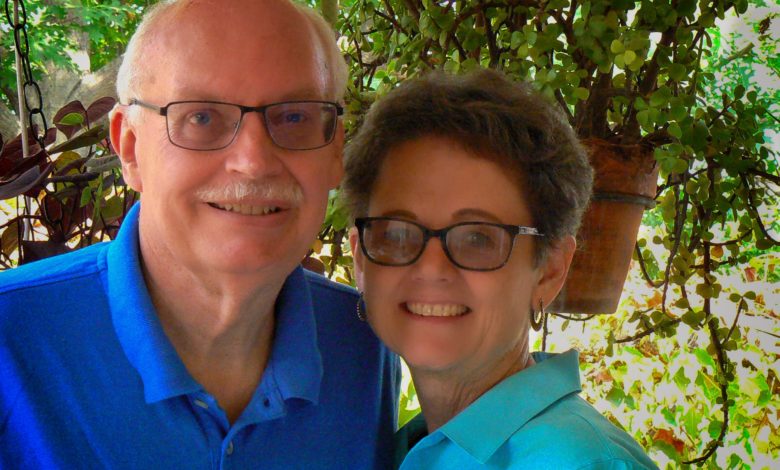 After owning and operating their awards and recognition business for 17 years, Bob Hagel and his wife Dana are stepping back from Eagle's Mark Awards & Signs, a shop that offers a full line of personalized products through the use of laser engraving, sandcarving, and full-color UV-LED printing. They have offered awards, recognition, and signage products to organizations for more than a decade in the Southern California wine country.
In March of 2003, Eagle's Mark opened its doors, offering recognition and sign products using a laser engraving machine and small-format full-color thermal dye-transfer printer. Just two years later, in July of 2005, it purchased Glassblasters to add engraving through sandblasting and sandcarving to its arsenal. Through these processes, it could provide custom glass, crystal, and stone awards and signage, as well as doors and windows. Also, in 2005, the shop added custom-designed wood products like plaques, donor walls, and desk products to its menu.
In July of 2011, it replaced its thermal dye-transfer printer with a solvent dye inkjet printer to print on flat, hard surfaces like plastic, glass, acrylic, and wood. Then in 2013, it upgraded to a UV 3D printer, which Bob says provided significant improvements in reliability, quality, and capabilities for customers.
And in 2015, the shop replaced two sandblasting cabinets with a better performing blaster. Bob says one of the cabinets was for blasting large doors and windows, which was a service on a downward trend.
Now, in 2020, Bob hands over his legacy to Chris McCoy of American Eagle Trophy.
To give him a proper send-off, GRAPHICS PRO chatted with Bob about the shop's 17-year history and industry changes, as well as what's ahead for the husband-wife pair.
GP: Over the 17 years you owned the business, what changes did you witness within the industry?
Bob: Certainly, technology has provided higher quality personalization production. The expansion of products has been amazing. Faster than many customers could adapt. I am grateful to our suppliers for not abandoning the classic products that many of our clients have used for years and don't want to give up. At the same time, new products have not been held back, and our choices are mind-boggling at times. Order fulfillment has improved a great deal as well, which is important as our customer base has become much more last minute and has expectations of our carrying large inventories or the ability to get product quickly.
GP: And thinking back on the last 17 years, what are some major life lessons you learned that you'll take with you?
Bob: Get to know your clients and customers. Get involved in your community. This will be what you remember most and be most meaningful to you and beneficial to the community. The vast majority of our customers supported us when we needed it the most.
GP: Was selling the business something that's been on your radar for a while? If so, tell us about the process of looking for a buyer.
Bob: We began discussing retirement several years ago as I had a number of serious surgeries and spent a lot of time in the hospital. However, we were not ready to retire. We have been approached by several people over that time that wanted the business. Chris was one of them. We negotiated a sale last year that would not close until September of this year to allow us to continue working and for Chris to plan. The timing was excellent for Chris to get a great SBA loan as a result of the COVID-19 crisis. So we are closing as planned.
GP: If you're at liberty to share, can you tell me a little bit about Chris and his plans for the business?
Bob: The buyer is American Eagle Trophy—Chris McCoy. His major focus was sports teams, and we focused on business, government, or organizations. He has been in our industry for over 20 years and is the second owner of American Eagle. The shop owners here work well together as many shops in our industry do. It's one of the great things about the personalization industry. There's a niche for everyone.
GP: Do you have any big plans for retirement/semi-retirement? What do you see for yourself in the next five years?
Bob: I'm still involved in our community as a public/traffic safety commissioner for the City of Temecula and serve in a consulting role with two of our hospitals regarding patient care, marketing, signage, and communication. I also love photography and may do some product and architectural photography part-time. Travel throughout the western U.S. is also planned. Fitness is important to me, so I won't be sitting around much. My wife Dana has many projects around the house planned and will expand on her love of decorating and working with tools.
GP: You mentioned that you may still be doing some consulting – for Eagle's Mark specifically or for the industry? What exactly does that look like?
Bob: My previous career allowed me to build several multimillion companies doing a lot of business planning and execution of goals to expand businesses. I would like to offer my experience throughout the industry, helping companies start and build their business, expand product lines, and to create production processes that are efficient and profitable. I can also provide training on the use of lasers, sand etchers, and UV printers as well as all the graphic challenges that go along with them.
GP: And will you still have a role within the company, or are you stepping back completely? What's the timeframe for that?
Bob: Our last day is Sept. 4, and we will work with the new owner, an industry veteran, to train and transition our clients and customers as well as the many unique projects we have become known for.
GP: As a veteran shop in the industry, what advice can you offer to other awards/trophy shop owners looking to foster a long-standing business?
Bob: Research and plan. Don't knee jerk taking on projects, products, or services well outside your comfort zone. Think through, can you deliver a quality product, and what expectations does your customer have, and are you setting for the future?
Don't take on too many production methods. There are learning curves to everything that is new. And those learning curves are likely to be continuous as you expand your services and products using this production technology.
When you hire, be honest about your talents and those already in your shop. Hire talent that complements what you already have and need. Pay a healthy wage to get good, honest, hard-working talent, and expect a lot from the individual.
Don't skimp on your everyday production equipment. Save money by not overbuying inventory and spend the time to design production processes that do not waste materials and resources. Simple solutions are often the best solutions. Learn to do most of your equipment maintenance. Plan ahead and have a repair kit for each piece of production equipment. Equipment quality is key. It will save you money in many ways over the long term.
Continuous learning and education will allow you to expand and have a great time. As confidence grows, little will feel out of your element, and the fear of taking on a complex project will reside.
When setting goals, remember profits are a result of meeting goals related to quality, improvement, and results. Profits should not be a goal unto itself.
Bob still plans to be a resource in the industry, as well as write for GRAPHICS PRO magazine. Please help us congratulate Bob and Dana on retirement! He remains reachable via email at [email protected].