Features
Beijing Indigo Installs Large Freeform LED Video Display
The 5,000-foot display is the largest of its kind in the region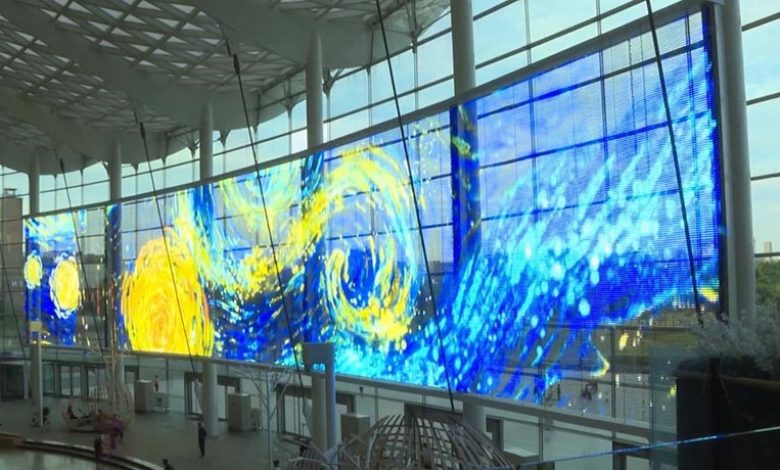 Daktronics, a manufacturer and provider of scoring and electronic displays, and Beijing Indigo, a shopping plaza, partner up to install a freeform LED video display in the location's winter garden atrium. The LED display forms a curtain across six arc-arranged steel columns to create the largest display of its kind, more than 5,000 feet, in the Beijing region, according to Daktronics.
The transparent display faces inward to create an engaging atmosphere for visitors while people outside can see through it and inside of the venue.
"It was challenging to ensure the surface of the enclosure was flat, and the advertising sheet was flat as well," says Larry Liu, Daktronics project manager. "The large-scale enclosure around the mesh was necessary to meet safety requirements. We were able to customize the enclosure, scaffolding pipes, and boards to fit these requirements and finish a successful installation."
The design is lightweight, using thin cables from the loadbearing supports to fasten the horizontal LED stick elements. These LED elements fit the curve of the atrium to form an inward-curved display that matches the building's architecture.
"To help simulate the effect of the display, Daktronics Creative Services produced an accurate 3D-animated model showing how the technology would look once installed at the venue," says Hua Ye, Daktronics Creative Services account manager. "Our team also designed unique content on an ultra-aspect ratio to fit the display that meets the specific themes and atmosphere of the facility. The result is a unique visual experience for their audience."
This installation offers a wide variety of content from live and recorded video to pre-created animations and graphics.