Features
Beaver Paper Names CMYUK UK Distributor
To begin with, three varieties of dye-sub paper will be sold, but the two companies say that portfolio will be expanded.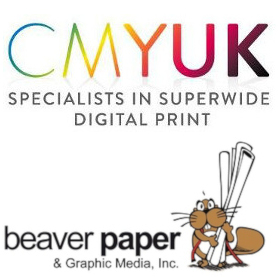 Lawrenceville, Georgia-based Beaver Paper & Graphic Media, a maker of paper and textiles geared toward the dye sublimation and digital printing markets, announces that it has named CMYUK, a UK-based distributor of wide-format supplies and equipment, to distribute its dye sublimation papers in the UK and Ireland.
CMYUK, the UK's largest independent supplier of digital wide-format printers, cutters and materials, will initially be supplying three dye-sublimation products from Beaver Paper. However, the companies say, as the relationship continues, CMYUK expects to further expand this portfolio offering with additional dye-sublimation papers for its fashion and interiors range.
As of now, CMYUK says it is offering the following dye-sublimation products from Beaver Paper: the ProTexTM Protection Tissue (25 gsm); the TexPrintUT/92 and the TexPrintUT/72.
"We are excited about our new partnership with CMYUK, one of the premier distributors in the region, says Philip Prieur, CEO and director of Beaver Paper. "Through this partnership, we will be able to extend our reach and offer our customers in the UK and Ireland superior service."
2019 year marks the 40th year Beaver Paper is in business.