Features
Tina Bacon-DeFrece of Big Frog Honored with Patriot Award
Bacon-DeFrece was given the award for her ongoing support of veterans and active military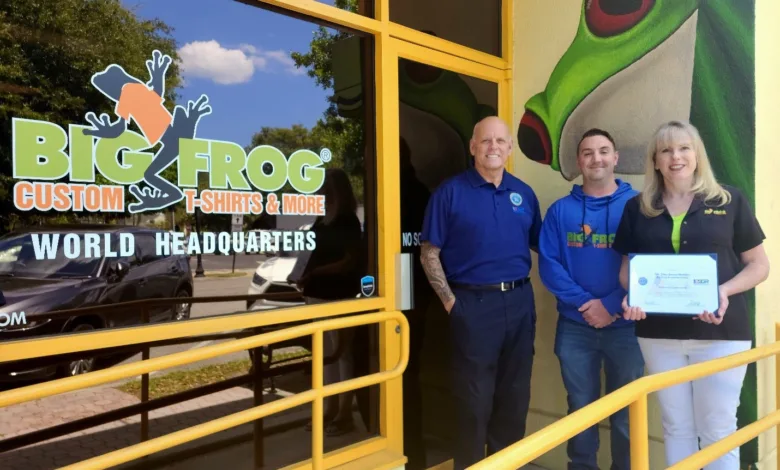 Big Frog Franchise Group (Big Frog) Co-Founder, President, and CEO Tina Bacon-Defrece, has received the Patriot Award from the Employer Support of the Guard and Reserve (ESGR) for her ongoing support of veterans and active military.
ESGR grants a series of Department of Defense awards to recognize individual supervisors and bosses who support their National Guard and Reserve employees. The Patriot Award reflects the efforts a civilian employer makes to support personnel by providing flexible schedules, time off before and after deployment, caring for families, and granting leaves of absence as needed.
"I am thrilled and humbled to accept this award," says Bacon-DeFrece. "Growing up in a military family, veteran values and virtues were instilled in me from my youngest years."
Employees who serve in the National Guard or Reserves nominate their supervisors for the support they provide directly to the service member and family. Big Frog Digital Marketing Specialist Sgt. Quinn Bonner, Army Reserve National Guard (ARNG), nominated Bacon-DeFrece. Bonner has served the ARNG for more than seven years and trains at Camp Blanding in Florida.
"In all my years, I've never truly had a leader as understanding as Tina Bacon-DeFrece," explains Bonner in his nomination. "She has been the most supportive of my commitment and has always given me the appropriate time off to attend my training without hesitation."
Bernie Currie, SHRM-CP, PHR, the ESGR Co-Chair for Area Nine (Hillsborough/Pinellas County), presented the award to Bacon-DeFrece at the Big Frog headquarters in Dunedin, Florida. He was excited to visit the custom shirt-making business and see firsthand the cooperation between Big Frog and its employed service members.
Currie states, "Dr. Bacon-DeFrece is to be commended for providing her steadfast and consistent leadership and commitment to our armed forces. Congratulations on a job well done, Tina!"
Upon acceptance of the award, Bacon-DeFrece remarks, "It's my absolute honor to incorporate Big Frog's workplace support for the extraordinary individuals who serve and protect our country."
Big Frog encourages veterans who are transitioning to the civilian workforce to consider owning a Big Frog T-shirt printing franchise, offering a veteran's incentive of 20% off the initial franchise fee. In addition, for veterans who sign a franchise agreement by September 30, 2023, Big Frog will waive the first year of monthly royalty fees.