Features
Awards & More Receives GROW Award, Hosts Ribbon Cutting for Rebrand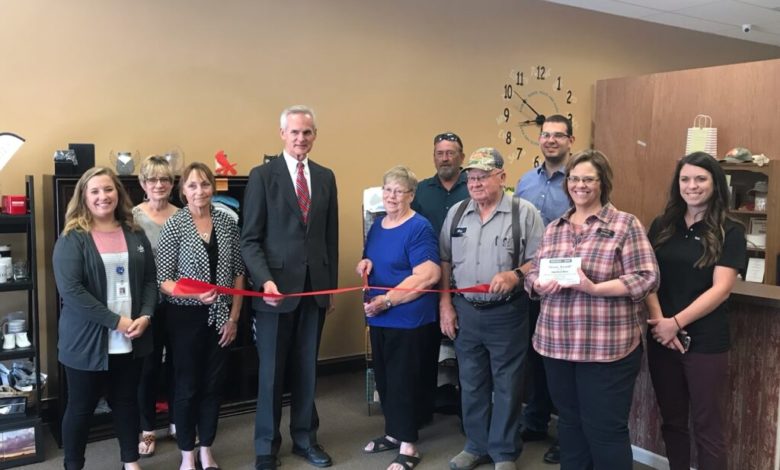 In Broken Bow, Nebraska, Awards & More—formerly known as Shirts, Signs, Mugs, & More—celebrates its rebranding with a ribbon cutting and receipt of the Broken Bow Chamber of Commerce GROW Award on Aug. 20.
The owners of the shop Art and Diane Anderson began the business with their grandson Drew Schendt in 2008 with the intention of helping him with a class project, as well as put Diane's art and crafts talents to use. That school project turned into a successful 12-year business that serves its community through the offering of personalized awards and trophies, apparel, drinkwear, banners, decals, and now face masks.
"The reality is the backbone of the American economy is small business. People like Diane, Art, and Sally and others who step up as entrepreneurs, they've got that entrepreneurial spirit to make an investment and then they work really hard to make it all come together and they certainly have at this beautiful little store," Nebraska Lieutenant Governor Mike Foley tells the Sandhills Express. "There's so many factors that militate against business but you've overcome that and now the COVID thing has thrown another curveball at you but you just go and go and go and you get it done in the Nebraska spirit."
Sally Domeier, the personalization shop's manager, has been with Awards & More for about four years, according to the Sandhills Express, and helps customers get paired with the right personalized product. She says it was a little strange creating the shop's own GROW Award plaque but appreciates the great community support.
Art adds, "It's just fun to see the things they make at this store and the progress we've made."