Features
Awards Industry Feels Impact of Hurricane Dorian
Several companies located in the storm's path are experiencing effects.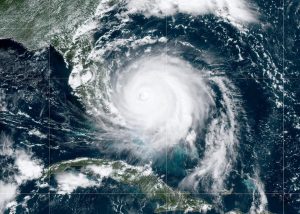 States along the east coast of the Atlantic Ocean are feeling the effects of Hurricane Dorian, the storm that has already devastated the Bahamas. Flooding, strong winds, rain, and tornadoes threaten those in that area of the country. People in certain regions of Florida and the Carolinas have to board up and evacuate their homes and businesses to avoid further impact from the storm as it gains speed and moves up the coast.
Companies including Sawgrass, Shopworks, and Holmes Custom are all experiencing effects of Hurricane Dorian, though there have been varying degrees of impact.
Sawgrass announced through social media on Monday, September 2 that it closed headquarters in Charleston, South Carolina to allow staff to evacuate. On Thursday, September 5, tech support lost power and is currently shut down. Shipping has been stopped until further notice.
For some, the effects are felt at a lesser level. Another company bearing with the brunt of the storm is Shopworks, a business software company based in West Palm Beach, Florida. Jay Malanga of Shopworks says, "We did have to board up our office and send employees home early to board up their houses but other than that (there's been) little or no impact."
As far as Holmes Custom goes, the Jacksonville, Florida-based company tells A&E it missed any major damage although there was a lot of wind, water, and a few trees down. Holmes Custom closed its office Tuesday and Wednesday for staff to stay safe with family.
If your business was affected by Dorian, please contact A&E at (720) 566-7247 or [email protected].