Award Design: Text Layout
Using CorelDRAW, you have a choice of artistic or paragraph text.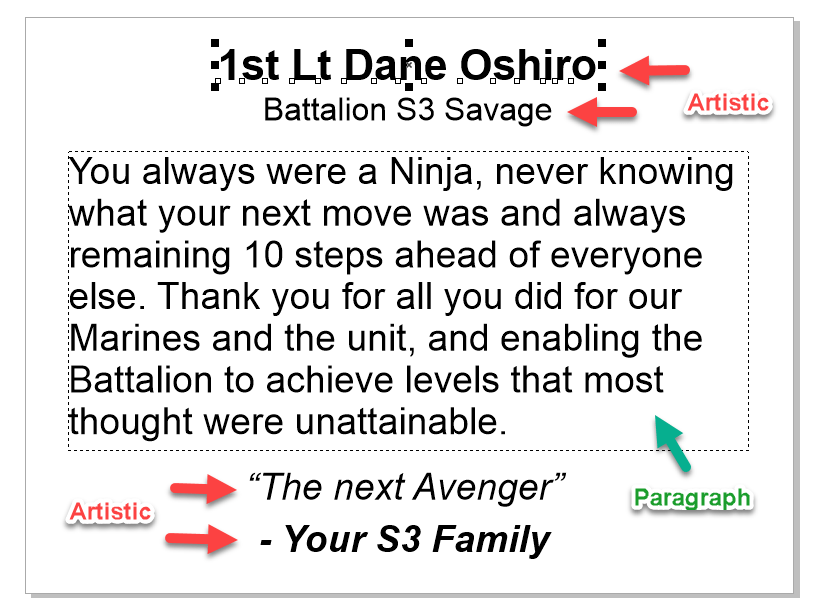 When laying out text on a personalized award or other recognition product, you have a choice of artistic text or paragraph text for the wording (if you are using CorelDRAW). If all the spacing between the lines will be the same, paragraph text is likely the fastest way to go. However, most of the time I use artistic text, or a combination of artistic and paragraph text. The reason is that I can easily create different spacing between lines of text, have multiple fonts, sizes, and styles of text, along with placing graphics between text lines and where needed. You can do this in paragraph text, yet it takes longer and is more complicated.
Remember, you can easily space text and graphics both horizontally and vertically using the Distribute Spacing Vertically (Shift +A) or Distribute Spacing Horizontally (Shift +P) tools. These tools distribute the spacing equally for the text or graphics you select. In this selection, you may also include one or more paragraphs. Each paragraph will be treated as a single object.
Should you want different spacing for certain text lines or objects, create the spacing you want between these lines or graphics and then Group them. When using the Distribute Spacing tools, a Group of text or graphics will also be treated as a single object.