Features
As Banks Close Lobbies, Digital Signage Shines
Discover the role digital signage plays in the banking industry
When the COVID-19 pandemic hit last spring, most U.S. banks closed their retail lobbies and redirected customers to the drive-thru. Many customers who weren't already acquainted with mobile and online banking were introduced to those services.
While some experts felt this was a death knell for retail branches, it's still too early to know what long term impact the pandemic will have on banking. What we do know: Bank branches have been decreasing in size and number for years, and some branches have moved strictly to drive-up virtual tellers.
As the banking industry evolves, digital signage can play a large role in how banks and credit unions stay in touch with customers.
Despite COVID restrictions, banks found themselves having much to communicate with their customers last year. From the coin shortage to low interest rates, banks with outdoor digital signage could keep messages up to date and targeted customers while in their cars. Digital signage also provided a way to inform and direct customers to other banking modes and reinforce trust in challenging times.
"Our digital signs were instrumental in communicating with our customers during the COVID pandemic when we, unfortunately, had to close down our lobbies," says Jeff Fauver, president of Catlin Bank, in Catlin. Illinois. "Our signs kept our customers updated on hours of operation along with informing them about how to use other means of banking, such as online, mobile app and our ATM network."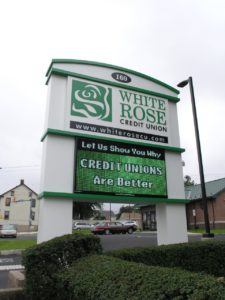 Much like Catlin Bank, a bank in Wisconsin used its digital sign to recognize essential workers, post safety reminders, and convey uplifting words during the pandemic while running a series of "fun facts" that drove customers to its Facebook page.
Bank and credit union signs often function as landmarks, used to support and build community. White Rose Credit Union in Dallastown, Pennsylvania, a state-chartered financial services company with 11,000 members and five locations in Pennsylvania, uses its digital signage to share public service announcements.
"We are located down the street from the local middle and high schools, so we regularly use the sign to communicate our support to students and athletes," says Jen Swanner, marketing vice president. This support also has been good for business, with teachers, students, and parents becoming new members.
Riverways Federal Credit Union, a nonprofit financial cooperative in and around Rolla, Missouri, used its new landmark sign to rebrand the organization and keep the community updated about its many services. The large two-tone green sign features a 4' X 7' digital sign, used to convey rates, promotions, events, and other information designed to spur a visit or phone call.
The Rolla sign was so successful the company installed an identical sign at its Cuba, Missouri, location, which doesn't have an actual branch. The virtual credit union includes a canopy with two drive-up lanes that feature smart tellers.
Banks were one of the original pioneers of digital signage usage, beginning with time and temperature signs in the 1950s and then becoming early adopters of bulb-based message centers in the 1970s. It's not surprising that they would lead the way with digital LED signs in the next era.