Features
Arizona International Minute Press Helps Graduates Celebrate
Class of 2020 yard signs help boost local business and lift community spirits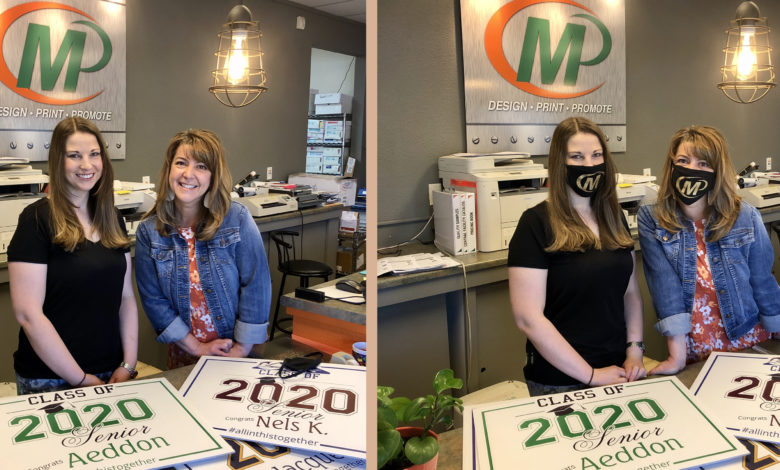 International Minute Press franchise owners Tracie and Glenn Hansen are helping people in Flagstaff, Arizona celebrate milestones as individuals and businesses adapt to a new normal.
Five months after celebrating their first year in business, everything came to a stop for the Hansens. Tracie says, "March was shaping up to be a record month, but it all came to a screeching halt once the governor declared a state of emergency. It was alarming. But from day one, local and corporate support staff from Minuteman Press International were actively connecting owners around the world and positioning us to tackle this together."
Tracie credits Dawn Brown, owner of Minuteman Press in Kent, Washington, for sharing information about her timely and popular yard sign campaign. "Dawn's idea took the 'Class of 2020' yard sign to the next level, with signs customized to individual graduates and delivered right to their front yard. It was a creative idea that really resonated with me, and so we launched a similar campaign in our community."
After launching the campaign, brought in its first 60 orders, followed by a "crazy rush of activity" as word got out on social media, explains Tracie. "We are a family business, so it was all hands on deck; even our kids played a role, delivering them to homes all over the city."
Amid the challenging times, the yard signs offer a community boost. "It felt so good to help them celebrate their accomplishments, especially as they were missing out on all the traditional customs and rituals because of the pandemic," says Tracie. "We are being forced to find inventive solutions. We are grateful to be in an industry that has so much range, not just for the survival of our business but also for the practical solutions we can help produce for others."
International Minute Press Flagstaff has printed thousands of yard signs over the last few months, and Tracie says the shop has helped graduates celebrate as far away as Hawaii. She says she sees graduation yard signs as a product offering that will be popular well into the future.
Other products in demand right now include personal safety products like hand sanitizer and face masks, items that weren't even in the marketplace before COVID-19.
"Every day, we are fulfilling orders for products we never could have predicted—floor decals to promote social distancing, branded hand sanitizers, and custom promotional items to make up for lost in-person events. In some ways, we are learning a whole new way to be of service," she adds. "I am doing things now that are going to make business better for everyone. It's the little things that matter, especially when times are hard. People need to know that someone has their backs, and we definitely do."