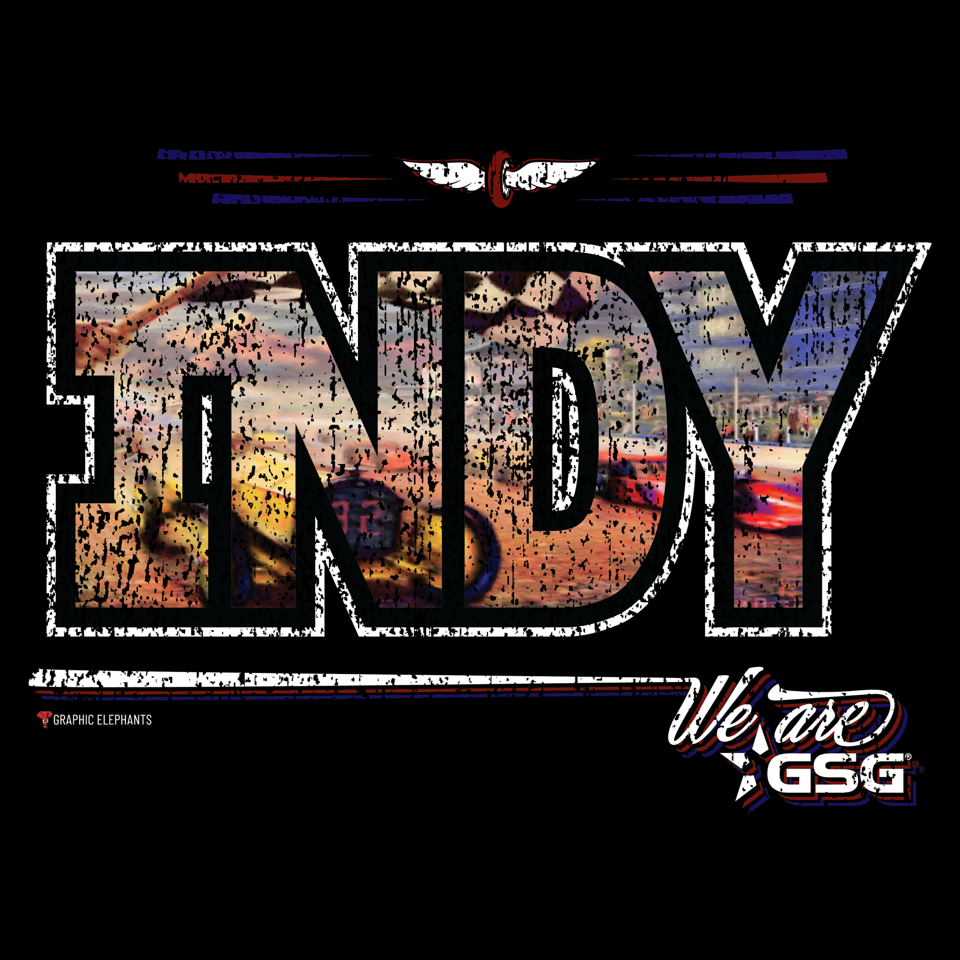 Lon Winters will demonstrate the new M&R Global Copperhead Pro Flex automatic screen-printing machine at the GSG booth (Booth 101) all day every day, showing how he prints this design and giving away these Indy event T-shirts.
For shops involved with apparel decorating, GRAPHICS PRO EXPO in Indianapolis, June 15-16, features a variety of programs designed to educate, inform, and entertain.
Renowned apparel decorator Lon Winters of Graphic Elephants will host the Apparel Decorator Panel, teach a class (Tips and Techniques for High-Impact, Profitable Screen Printing), and demonstrate the new M&R Global Copperhead Pro Flex automatic screen-printing machine at the GSG booth (Booth 101) all day every day. Free Indy T-shirts will be given away there as well.
Other classes focused on apparel decorating include:
Apparel Decorator Panel
The Apparel Decorator Panel, sponsored by GSG, takes place on Friday, June 16, from 11 a.m. to 12:30 p.m., at the Indiana Convention Center, Room 126. The panel will explore screen printing, DTG, DTF, embroidery, and heat transfer processes, as well as general business and marketing for shops looking to up their game in 2023. Emceed by Lon Winters, panelists include:
Todd got his start in screen printing in 1988 at the age of 18 at Harlequin Nature Graphics. After Harlequin, he did some freelance machine and shop printing support until he joined M&R as a service technician in 1999. While in this position, he got to travel to as many as 15 different countries, visiting thousands of shops, and was a staple at industry trade shows. In 2020 Todd made Shirt Rags his full-time job. Just a year later, in 2021, he decided to open a secondary business, Machine Services, offering his technical service and support to other screen-printing businesses.
John LaRoy is a seasoned professional in the apparel decoration industry with over 17 years of experience. He currently leads the team at Apparel Redefined, where he is on a mission to revolutionize the industry by bringing organization and speed to apparel decoration through a synergy of people and technology. John's team at Apparel Redefined is dedicated to delivering solutions that empower their clients to sell more and stress less.
Alex is the co-owner/founder of The Shop, an Indy-based apparel company. Alex started screen printing in his garage as a hobby. He purchased a Dick Blick screen printing kit in 2007 and hasn't looked back. Honing his skills by watching YouTube videos and printing jobs for friends, he was able to quit his day job in 2015.
Mark Suhadolnik is Textile Applications Specialist for GSG and is a member of the Academy of Screen and Digital Print Technologies. Mark is a screen-printing veteran with over 40 years of printing, management, ink technologies, and printing application experience.
Nikki started her stint in apparel for 12 years in retail, and in 2014 left retail to get into print and take over the day-to-day business and customer support at Machine Gun Graphics, now Cotton Street Apparel, and quickly took on production roles on top of her original tasks. Nikki is one of the original members of Print Girl Mafia, the Official Girl Gang of the printing industry.
The panel and all Training in the Classroom at GPX Indianapolis are free when you register before the day the event opens for education on June 14. For more information about the event – who's exhibiting, networking opportunities, free training, the schedule, and more – go to g-p-x.com/in.
Gold Sponsors are Epilog Laser and First Citizens Bank Equipment Finance (formerly CIT). Silver Sponsors are Ascentium Capital, Webstores Simple, and JDS Industries.