Features
Appalachian Apparel Co. Raises $150K for Kentucky Flood Relief
The Hazard, Kentucky-based shop donates 100% of its proceeds to flood relief efforts
Hazard, Kentucky-based Appalachian Apparel Co. recently raised over $150,000 following devastating flooding in several eastern Kentucky communities in early August.
As reported by KY Inno, shop owner Joey McKenney has been successfully fundraising for various causes since the shop's founding in 2017.
"Seeing so many of our friends who lost everything and people that we knew were missing — just seeing the desperation of people who had been completely devastated by losing everything, we knew that this was going to be another time for us to step in and start raising money," McKenney tells KY Inno.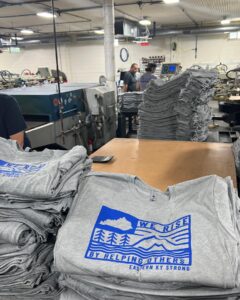 McKenny initially hoped to raise $5,000 for relief efforts by selling two screen-printed T-shirt options and donating 100% of the proceeds. However, a few hours after the link went live, the shop's sales jumped to $30,000, then $50,000 within 24 hours.
The overwhelming success was credited to Mike Rowe of the TV series "Dirty Jobs" posting the link on his Facebook page.
"Another day later, and we were at $75,000. That evening before we went to bed, I was like, 'Oh, this is going to take a lot of work,'"McKenney tells the business journal.
When last reported, the fundraiser had totaled over $150,000 and had more than 6,000 orders yet to be shipped. Luckily, community volunteers and Print My Threads in Flatwoods, Kentucky, and Gaddco Group in Campbellsville, Kentucky, have stepped in to help keep up with the high demand.
History of philanthropy
This isn't Appalachian Apparel Co.'s first time helping out its community. Its first fundraiser was for a local child battling cancer. This started the company's policy of donating 100% of its profits.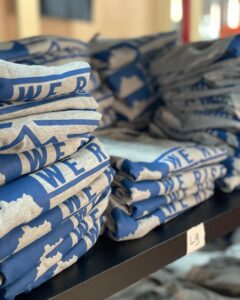 "We don't charge for our time, for labor or anything like that," he explains to KY Inno. "It's like whatever our cost is on the shirts taken away from the total amount sold, and that's the amount of money that we will give back. We've done, I don't know, a lot of fundraisers over the last four-and-a-half years, but nothing has ever reached the level that this one has. It's been pretty incredible."
For the current fundraiser, Appalachian Apparel Co. plans to continue serving its community during the long haul, as the recovery is anticipated to take years.
"We're forming a board and our own nonprofit to be able to disperse this money over time where it's needed to continue to meet those needs," he tells the business journal. "Once all the other help has left, and the national media attention has gone away, we're still gonna be here to help people."