Features
Andy Kiecker Becomes Newest Member of Minuteman Press President's Million-Dollar Circle
Kieker has been a Minuteman Press franchisee since 2004, but he was aware of the company for many years before that..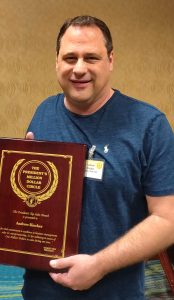 Farmingdale, New York-based franchisor Minuteman Press International announces that Andy Kiecker, the owner of a Minnesota Minuteman Press franchise, is the newest member of its President's Million-Dollar Circle, having achieved yearly gross sales of more than $1 million.
Kiecker owns the franchise in Osseo, in the Brooklyn Park area, northwest of Minneapolis.
Kiecker first took over the business in 2004 and has grown it steadily over the years, the company says. Prior to taking over the franchise Kiecker's background was in sales, and he had a familiarity with Minuteman because one of his relatives was a franchisee.
"Having another Minuteman Press franchise in our family helped me learn about the industry and their business model when I was in college," Kiecker says. "My sales experience and the Minuteman Press marketing program also were helpful in giving me the tools I needed to own my own business."
Kiecker says there's been no magic formula in making his business into a million-dollar franchise-just a lot of hard work on his part and valuable advice and information from his parent company.
"The biggest secrets are not really 'secrets' as much as they are following what we learned at Minuteman Press training," Kiecker says. "Marketing to new customers and asking for referrals from satisfied customers is huge for us. It's also important to get to know people on a personal level and really get to know them, since people do business with people they like. Lastly, understanding their expectations and exceeding them is a big key to success."