Features
All-Star Awards and Trophies Changes Owners, Moves Locations After 48 Years
Customers can still expect the same service and attention to detail, according to new owner Mark Fanelli.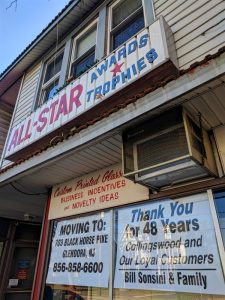 After 48 years in Collingswood, New Jersey, All-Star Awards and Trophies moved to a new location in Glendora, but customers can still expect the same service and attention to detail, according to former owner Bill Sonsini. Mark Fanelli, friend of Sonsini for 30 years, purchased the business after Sonsini sold the property. The new shop opened on February 1.
All-Star Awards and Trophies is home to everything that goes into the making of trophies, including a laser engraver, rotary engraver, cutting machines, and hole punching machines.
At age 25, Sonsini opened the shop in Collingswood with his wife, Maryanne, in 1970. Over the years, he witnessed many changes in the awards industry. "There's a lot more internet stuff that goes on within the industry today," Sonsini states. "Although you probably could do things quicker and cheaper over the internet, you don't get the personalized service that we do here."
Sonsini is now moving toward retirement after almost 60 years in the trophy industry. The greatest thing Fanelli learned from Sonsini is the attention to detail he always paid when completing an order for a customer. "He's a stickler for perfection on what we do and our finished product," Fanelli explains.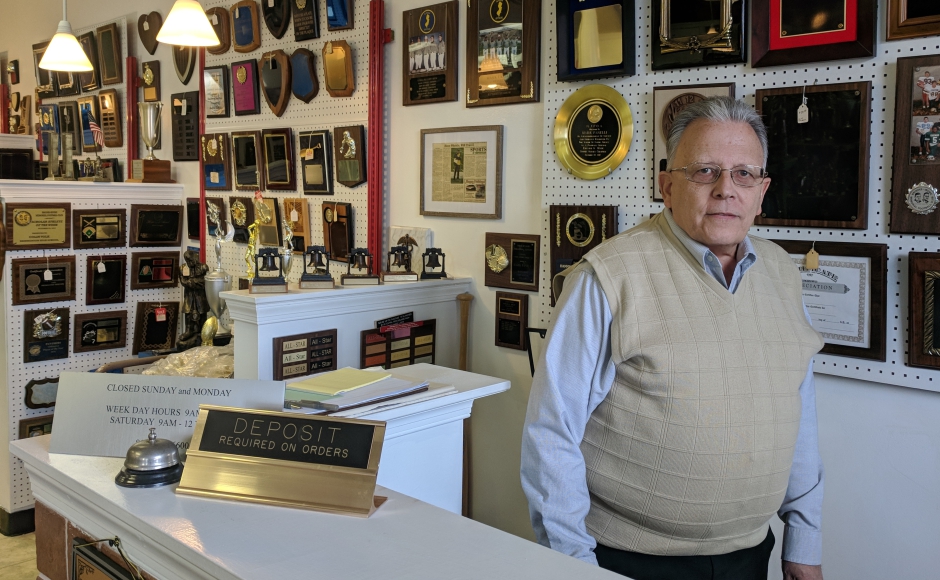 Bill Sonsini pictured at All-Star Awards and Trophies (All images courtesy Matt Skoufalos / NJPen.com)
Sonsini is helping to train Fanelli at the new location, along with another employee who also moved. "We worked together and found a nice location in a nearby town, about 10 minutes from Collingswood and in a high traffic area," Sonsini explains. Aside from helping with the transition, Sonsini is now a consultant for All-Star Awards and Trophies while the other employee helps with engraving and building trophies, and Fanelli manages.
Fanelli felt drawn to take over All-Star Awards and Trophies after working in the insurance industry for 47 years. "I was disenchanted with the direction that the insurance industry as a whole was headed," he explains. Fanelli gained an interest in the recognition industry from officiating events for 40 years and from working part-time for the Philadelphia Eagles for 12 years. The opportunity to buy the business presented itself and he jumped on it.
"Our customers are very loyal and that's what carried us through 48 years and continues to carry us through today," Fanelli explains. "The goals are to continue to give the service to our valuable customers that we've had over the years, develop some new accounts, and show them the craftsmanship that we provide."
Also in the works for All-Star is a new website. The shop contracted someone to build a website so they can do things over the internet now, according to Fanelli. Once finished unpacking and settling in, All-Star Awards and Trophies will also host a grand opening party at their new location.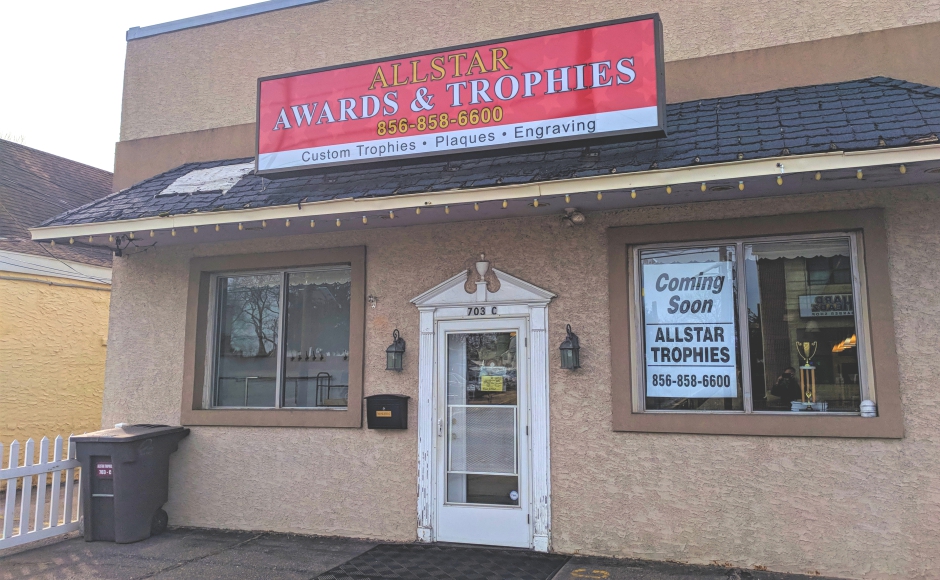 All-Star Awards and Trophies new location in Glendora, New Jersey.