Features
Agfa and TFL Collaborating on Inkjet Print Solution for Leather
This new offering combines Agfa's printer expertise with TFL's deep knowledge of how leather reacts to inks.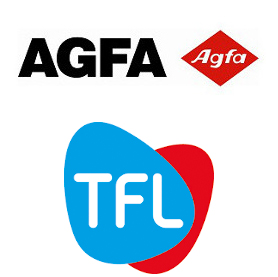 Wide-format printer manufacturer Agfa Graphics, based in Belgium but with U.S. operations in Elmwood Park, New Jersey, announces a strategic partnership with
TFL, a global company with its U.S. headquarters in The Woodlands, Texas. TFL produces specialty chemicals such as tanning agents, dyestuffs and finishing products that are used the leather industry.
Agfa and TFL's partnership will focus on the development of Alussa, a dedicated inkjet printing solution to decorate high-quality genuine leathers used by the fashion, upholstery, automotive, aviation and nautical industries.
The two companies have gone through a process to reach this point. Agfa developed the inkjet printer and dedicated inkjet inks, as well as the software to manage and monitor the printing process, while TFL provided its custom-developed coating chemistry.
According to the two companies, Alussa enables the leather industry to decorate high-quality leather in such a way that it exhibits the performance required by the industry in terms of flexibility and scratch resistance. It is the first industrial inkjet printing solution outputting decorated leather that can handle up to 100,000 flexes, they say. Productivity can total up to 80 square meters per hour, Agfa adds.
"Printing images on leather using inkjet technology, and obtaining top performance in terms of flexibility and scratch resistance, is a complex challenge", says Tom Cloots, director of industrial inkjet for Agfa. "The Alussa leather printing solution incorporates both Agfa's vast expertise in the field of inkjet technology, graphic workflow and color management, and TFL's in-depth knowledge of coating chemistry and coating application techniques. It combines the best of two worlds to provide a perfect synergy between leather and ink."