Features
A&E Exclusive: Catania Medallic Specialty Inc. Acquires GA Promo
The merger unites two family-owned companies.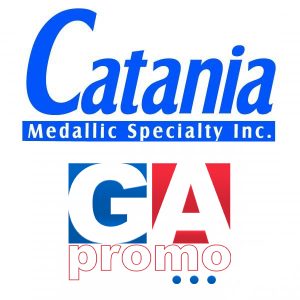 Catania Medallic Specialty Inc. announces the acquisition of GA Promo, a supplier of custom medals, ribbons, pins, and other promotional products. According to a company statement, the merger serves to unite two family-owned companies and broadens the portfolio of awards, recognition, and promotional products for each. The acquisition was finalized on June 14, 2019.
"The merger and partnership between Catania Medallic Specialty and GA Promo will allow us to leverage our similar custom-driven cultures and product lines," states Vince Frank, president of Catania Medallic Specialty. "We are excited about working with all of GA Promo's customers and will continue to deliver the same great sales and outstanding customer service they have been receiving."
All of GA Promo's sales, customer service, and production will move to Catania's facility in Avon Lake, Ohio, where Catania staff will utilize collective resources to drive sustainable growth in these industries. "The transition will be seamless," explains Frank. "The customers have been well taken care of in the past by the GA Promo staff and they will continue to be part of a large family of customers."
The merger only took a few weeks to finalize, Frank continues. "We have been friends for many years and we both understood from the beginning what each party wanted and needed." The transition began on June 17, the following Monday after the contract was signed. Several orders have already been processed, according to Frank.
"We are excited for our customers to be working with Catania Medallic Specialty as we both have similar core values and serve similar markets," said Cinthia Russiyan, Owner of GA Promo. "Our customers will be well served by the Catania staff and the transition is going smoothly."
Catania will stock all of the GA Promo pins, medals, and ribbons in Avon Lake, Ohio. [email protected] is the best email to send inquiries to for both companies. All GA Promo emails and calls made to the 800 number are now forwarded to Catania's help desk.