A&E Asks a Retailer: Sid Freedman of Olympic Trophy
Take a glimpse into the world of Sid Freedman, owner of Olympic Trophy in Massachusetts.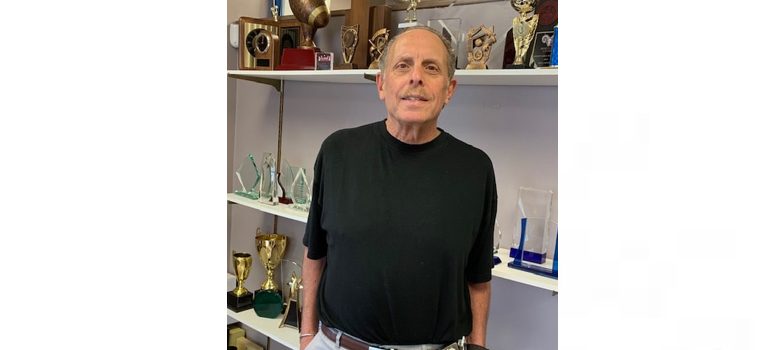 Sid Freedman, the owner of Olympic Trophy in Worcester, Massachusetts, has been in the awards industry since before he can remember. Growing up in his family's shop, he started building trophies at a young age to earn allowance. Through the years, he witnessed the industry change, adapting to new technologies and ways of doing things. Nowadays, he continues to run the business his family started so many years ago.
How did Olympic Trophy come to be?
My father and uncle started the company in 1938. They started with a small sporting goods store next to the YMCA on Main Street in Worcester selling uniforms and small items. Then, my father and uncle went to fight in World War II. My uncle met a lot of the athletic directors over in Germany after the war. That's when things started to mesh into the trophy business, because they wanted trophies shipped over to Europe, along with uniforms for softball, baseball, whatever. We were a major supplier for the army bases still in Europe. The shop has been in four different locations over 81 years.
How old were you when you first started working at the shop?
Five years old is when I first started getting an allowance for helping at the store. My father, brothers, uncles, and cousins all worked there together. By helping put trophies together in a safe environment, we were able to get an allowance during the week. In 1975, I took control over the business.
What is the main thing you learned from your father and uncle about running the business?
It's simple: customer service is the key. I didn't realize it back then, but I saw my father and uncle treat their customers like family. There were never any issues of bickering back and forth. When I look back, that is the biggest thing. People lose that today because everything is instant gratification. With cell phones, texting, and emails, there's no face-to-face and good feelings with most of the fields in the country. Customer service is probably the most important thing that I learned when I was younger.
How have you adjusted to changes in the industry over the years?
When I went to college in Boston and came back, and before I went to graduate school, my father asked me if I would work the business for a little while. Back then, especially in the trophy business, it was all about putting together trophies for the bowling leagues, little leagues, softball leagues, etc. We used to bend our own columns, buy tube trophies, and I said, "This is not the way to go." You may be able to make a living, but you're never going to be able to go to the next level.
What I did back in the early- to mid-1970s is I went out knowing the corporations in our area needed awards. Back then it was just diamond drag engraving; even sublimation wasn't really out there yet. When sublimation had just started, I went out and bought a copy graphic typesetter. The salesperson selling the equipment didn't want to sell it to me because he said, "Trophy people don't buy typesetters, only big printing companies." I said, "Well, I have a check in my hand for $60,000. I can go somewhere else and buy it."
Back then, with typesetters, it was almost like you were developing a picture. You had a small screen and you really didn't see the graphics on the screen, so you had to know what type style you were using, and it would then print out clean black-and-white artwork. Then we would use that to start with the sublimation.
We would make a nice-looking corporate plaque, we would package it well, then send off to the local corporations in the area. Things took off from there.
How have you stayed in touch with knowing what sort of technologies are available and how do you know if something's going to take off?
Back then, we knew that good, clean artwork was the way to go, we just needed to improve on it. The next step was laser engraving. We bought the third Epilog laser engraver off the line and we were ecstatic. It did its job, but you couldn't do what you can do with lasers today. Sublimation also started to get better. Everything in the mid-1980s started to blossom a little bit, and that's when I really started to get into technology. We were the first people in our area to buy a Mac and used Macs instead of the photo typesetter. It made life a lot simpler and made our product a lot better.
What area of the industry do you see that currently has the greatest room for growth?
The private colleges and private schools are our biggest customers and they do not want tube trophies. We don't try to compete with the internet business because our customers want crystal, glass, acrylic, marble, and wood engraving incorporated with graphics and color, so that's the direction we go with.
About four or five years ago, I bought a digital Mimaki printer at a show. Buying one of those was a big plus for our business because with the direct print – you can match a school's colors exactly. Once you are able to do that, then you're selling end-of-year athletic awards or alumni awards with recognition awards for schools and you are able to incorporate the logo with the exact color. That's what we are into big-time today.
Can you describe the most memorable moment in your career?
I've been doing this for 50 years, so there is not (just) one memorable moment. But there is a moment that happened recently that I'd like to share. It was for a local college about 50 miles away. I got an email on a Saturday afternoon from a woman who works for an alumni association in Boston who needed an award to take on the plane for Sunday night. To make a long story short, I met the customer at my shop on Sunday and we were able to create a beautiful glass piece that I engraved while she waited. She couldn't believe that we could do that. That was a standout, not necessarily in my career, but showing you how good customer service can be.
What have been some of the greatest challenges of running the business?
Fighting the internet. The internet has taken over the world; if you're not in the environment of buying equipment that will serve your needs and create a perfect product, for any industry, especially the awards industry, I don't see any future for small retailers unless they get into the kind of equipment that we have.
What is your advice for others thinking about adding new technologies, such as UV printing, to their arsenal?
Go for it and learn it. With the laser engraver, you can beat it up and it will come back with more, you just have to clean the lens. With the UV printer, you have to clean it every day. You have to pay attention to it every day, because if you don't and you clog the printer heads, you are in for a big awakening as far replacing the print heads.
The person who installed the equipment took me aside and told me to take five minutes out of the day every day to clean the machine, and you'll never have a problem. We've had small issues with the machine, but nothing where we've had to shut down for a day. If you keep your equipment clean and keep it up to date, that is important in order to keep your business going correctly.
What are the most popular features on awards products in today's market?
Crystal, granite, marble, direct print on wood – those are the most popular items today. On a flip note, back in the early 1980s when we were calling on customers buying corporate plaques, they were the same people buying ad specialties. I would deliver 25, 30, 50 plaques, and they would say, "By the way, we need 500 coffee mugs, 2,000 pens, binders, etc." Along with the work we do in-house, we sell a lot of clothing. We used to do screen printing in-house years ago, but it's a lot cheaper for me to buy the goods, whether they are going to be screen printed or embroidered, I know my exact cost and I can compete with just about anyone selling large clothing orders as well.
You've got to branch out, if you ask me my suggestion. You can't just sit in the corner and do one thing and think you're going to do well. If you want to reach more of a market, you have to be able to service anyone who walks through the door, no matter what they want.
What is the relationship like between your shop and the local community?
I'm very involved with the local community. If I read the paper and see that a team did well or an individual did well, I'll reach out to them to donate a plaque or whatever. They're good about that and appreciate that. Any Worcester team wins a championship, I donate plaques to all the kids. That brings your name out and shows as an owner that you're out there and want to reward the kids. It's good business to do something like that. A parent may be sitting with you at a banquet and say they have a company that needs this or that, so it all snowballs for your benefit.
The other thing I would say to whoever owns a business today is that you have to be careful how you treat the customers because Google reviews rule the world. You can have 100 five-star reviews and one bad review. Maybe that one bad review will not get you an order because they didn't like what that person said. Be careful with how you do your business, especially if you're dealing with the public.
What can customers expect for the future of Olympic Trophy?
The next big step, and it's going to happen one day, is 3-D printing for the awards industry. That to me is the future of this business.