Features
A&E Asks a Retailer: Samantha and Brad Wagner of Minuteman Press
In an industry dominated by baby boomers and Gen Xers, these co-owners of a Crystal Lake, Illinois Minuteman Press are changing the face of the custom graphics business.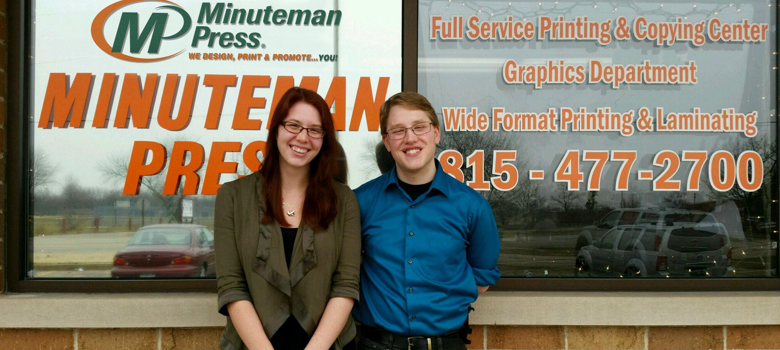 In an industry dominated by baby boomers and Gen Xers, millennials in the custom printing business are few and far between. But after the passing of their mother in 2014, Brad and Samantha Wagner took ownership of their parents' Minuteman Press shop in Crystal Lake, Illinois at the ages of 23 and 25. Here they share their thoughts on being young entrepreneurs in custom printing and discuss what they've learned along the way.
How do you think being a young business owner has contributed to the growth of your shop?
As young people, we approach business a little differently from our competitors that have been in the industry for many years. We are hungry for more business and that attitude comes across in our energetic desire to meet our customers' needs. 
The best example I can give is when a client needed a promotional item for an event and wanted to customize some water bottles; however, we had a very limited budget to work with, so the only water bottles we could afford were of low quality. Samantha came up with the solution to do a nice pen instead, which allowed the customer to get their promotional item and stay within their budget. That aggressive desire to meet their needs is what allowed us to come up with that solution. 
Because of this drive, the growth and reputation of our shop can move much quicker than if we were more passive and less progressive in our efforts.
Are there any unique challenges to being young professionals in the custom printing industry?
Having clients trust our expertise in our field despite our young age. We have to work hard to show that our age does not equal a lack of experience in our industry.
Another challenge we see a lot is that other people don't realize that we are the owners and not just employees. Because we are still in our 20s, it is common for older people to assume we are interns and we need to make them realize we are running a business. This comes into play particularly when we're hiring staff. We have to be clear that we are leaders when we are interviewing people twice our ages.
What strategies have you developed to cope with these challenges?
We have taken leadership courses through our local chamber of commerce to bolster our management skills. We want our staff to see that our age does not reflect our inability to manage effectively.
How can young entrepreneurs succeed in owning a small business?
Seek out mentors that have been in this business or who were also entrepreneurs. 
Mentorship has allowed us to weather common storms that our industry faces. To give an example, our machine broke down in the middle of a job and our client needed it the next day. Our mentor suggested that we get the client a partial so that they can survive while a technician repaired our equipment. 
I think that if we didn't have a mentor, we would suffer from a lot more anxiety because so many problems that come up in our industry – whether it's tight deadlines, malfunctioning equipment, or a difficult job to quote – have all been handled by previous entrepreneurs and their insight allows us to not have to reinvent the wheel every time a situation arises.
Mentorship is a key part of any business's professional development because you gain skills that would have taken years to attain had they not been passed down to you.
How does your partnership drive the success of the company?
One of the reasons we are excellent partners is that we complement each other's strengths. Brad is cool, calm, and focused and able to manage from the center in a way that allows me (Samantha) to use my strength as an energetic extrovert. Since I have more trouble sitting still, I take that out by networking. 
What do you think your generation brings to the business world that this industry can expect to see in the future?
Our generation's desire to communicate digitally will cause the automated process for ordering to expand and become more robust. A company's online presence will need to be beefed up with higher quality SEO processes so that our generation can find information quickly.
What advice can you offer other aspiring entrepreneurs?
Don't get discouraged, failure is how we learn. If you fail enough you will be successful.
Fail stands for "first attempt in learning." Cultivate relationships with established successful business owners. They will have often gone through the same things you are going through. Make sure to build a high-quality team that you can rely on to keep your business running so that you can work on your business, not in it. Success only comes through hard work and the benefits may take years to manifest themselves. There is no greater joy than working hard for yourself and knowing that all your success is due to your hard work.
Shifting gears … What are the most popular jobs you see at your shop?
We do a fair amount of business cards, brochures, and signage, and have started to produce more apparel this year. We don't think business cards will ever go away.
What is currently trending in the printing industry?
Customers are continuing to want thicker and thicker stocks for their business cards. They are also requesting lower quantities with a faster turnaround time. 
Generally, the most popular request is for high gloss, soft touch, and raised UV.
What trends do you see emerging?
Digital foil is a new process we are excited about.
What maintenance tasks should any small graphics business be doing?
Make sure all your online information is up to date so that people can find you. Make sure you are checking your consumables pricing to make sure you are not operating at a loss.
Always advertise your products and services so that you can continue to add new customers. If business is slow you need to advertise more, not discount your work.
What are the most valuable tools for small businesses that offer custom services?
Dedication to quality and producing work on time.