Features
ADD FULL-COLOR PRINTING TO YOUR BUSINESS!
Expanding your business to include a full-color product offering is possible with several technology options available at a range of different investment levels.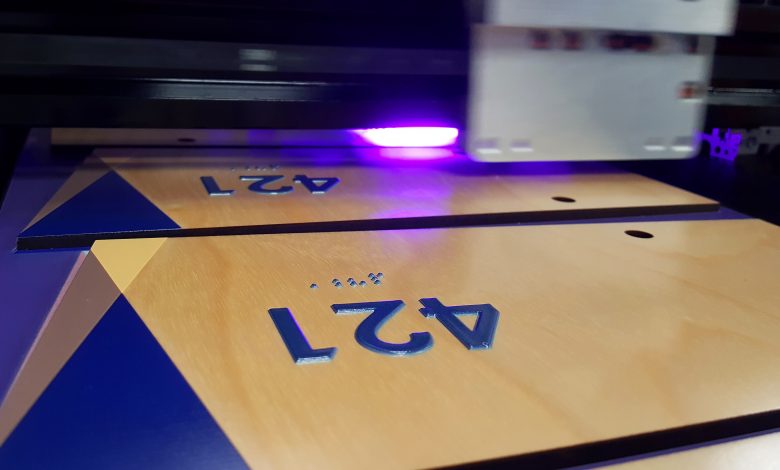 About this Sponsored Content
Johnson Plastics Plus, headquartered in Burnsville, Minnesota, has been a leading supplier to the engraving and sign making industry since 1970. Our Johnson Plastics Plus commitment to serving the needs of the engraving, sublimation and sign making customers remains our primary focus. Visit www.jpplus.com for more information.
Expanding your business to include a full-color product offering is possible with several technology options available at a range of different investment levels. Whether it's sublimation, heat transfer printing, or UV-LED printing, there are easy and affordable ways to grow your business with full-color gifts, personalized products, awards, and signs.
SUBLIMATION PRINTING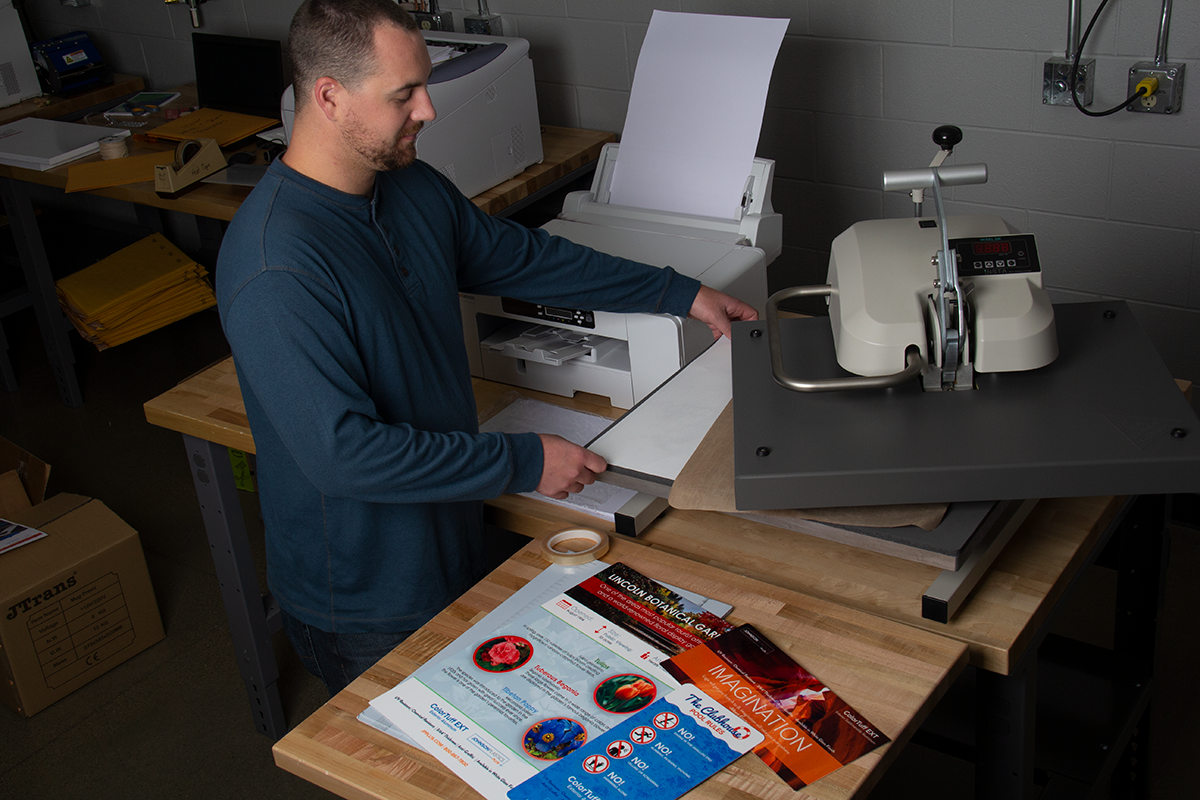 Sublimation offers full-color printing capabilities at an affordable start-up cost. All you need to begin is a sublimation printer, sublimation inks, sublimation paper, and a heat press. The technology is well-developed, and there is a vast support network of suppliers and users to help when questions arise. Sublimation is also easily scalable. You can start with a small-format desktop sublimation printer and expand later to a large-format printer for more demanding projects.
Sublimation uses CMYK printing, giving you the ability to reproduce high-quality graphics and photographs. There are thousands of blank sublimation items available, including drinkware, apparel, and photo-receptive and exterior signage panels. The process of sublimation fuses the printed graphic to the blank item, making the finished transfer very durable and able to withstand hundreds (in some cases thousands) of washes without fading.
Sublimation does have some limitations. Sublimatable items require a polyester coating, or in the case of apparel, a polyester-blend material to be transfer-receptive. Sublimation is also an ink-based system, making regular printer maintenance a must to prevent print head clogging and other printing issues. Lastly, sublimation does not include the ability to print white ink, meaning designs have to be transferred to white or light-colored products.
HEAT TRANSFER PRINTING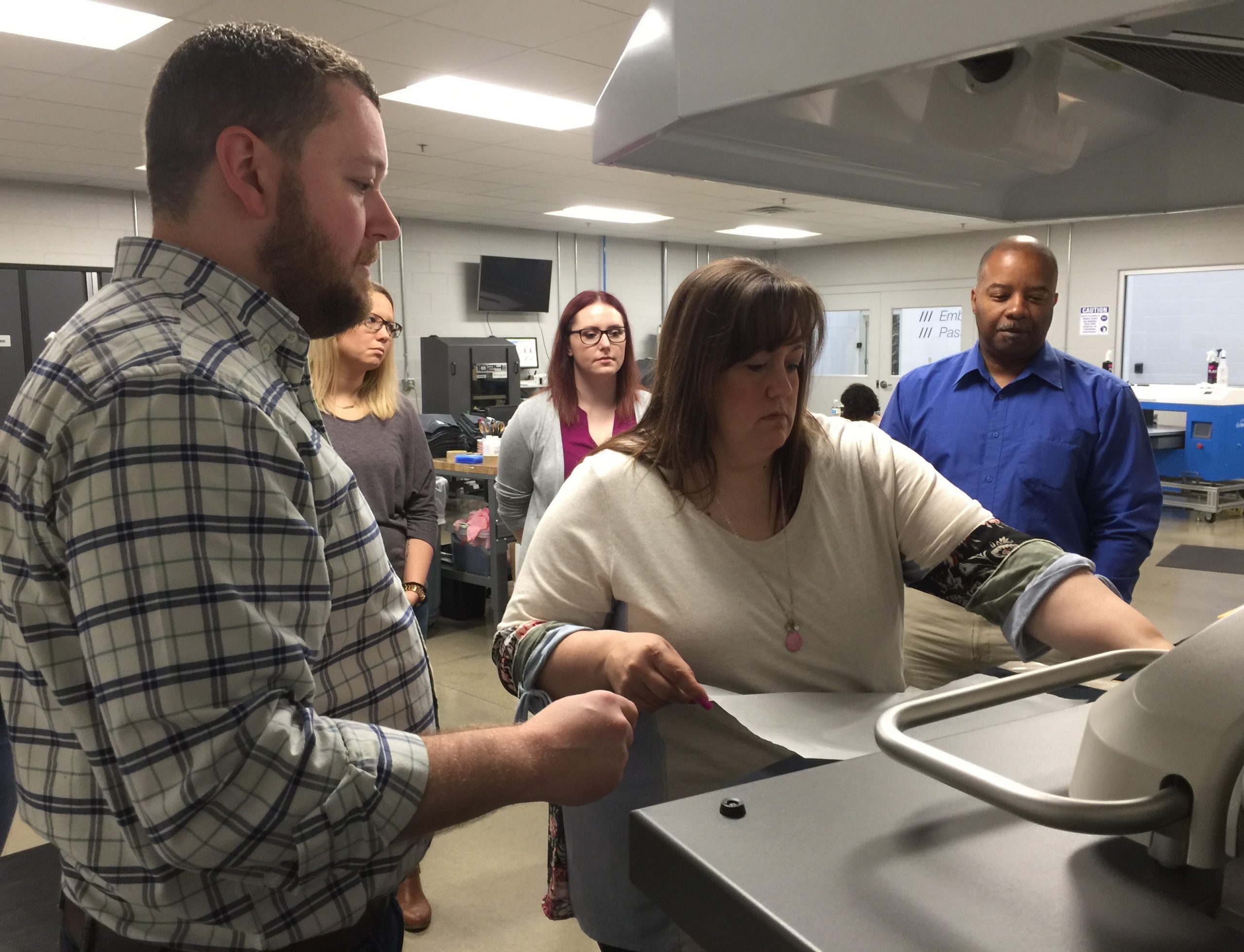 Heat transfer printing is a process that has similarities to sublimation in that the images are printed to special paper with a desktop printer and then heat transferred to the substrate with a heat press to complete the image transfer process. The cost of entry to heat transfer printing is more than sublimation, but this particular technology comes with some distinct advantages.
The first advantage is that it allows you to transfer to a wide range of substrates and textiles that do not require any special coating. This gives you the ability to customize not only products you offer in your shop, but also items customers may bring in. Secondly, heat transfer printing is a toner-based process, which requires no day-to-day maintenance. Toner-based printers avoid the issues that ink-based systems can sometimes cause, such as dried up inks or print head clogs. Finally, and most importantly, heat transfer printing gives you the ability to transfer white toner onto dark substrates. This provides the versatility to produce full-color graphics like a screen-printer would, but without the overhead of additional equipment.
A drawback to heat transfer printing is that, like sublimation, it is a multi-step process. While you have the ability to transfer onto a wider range of products when compared to sublimation, the amount of hands-on work required is about the same. The heat-transfer process itself is not difficult but it does require direct attention, particularly during the press process.
UV-LED PRINTING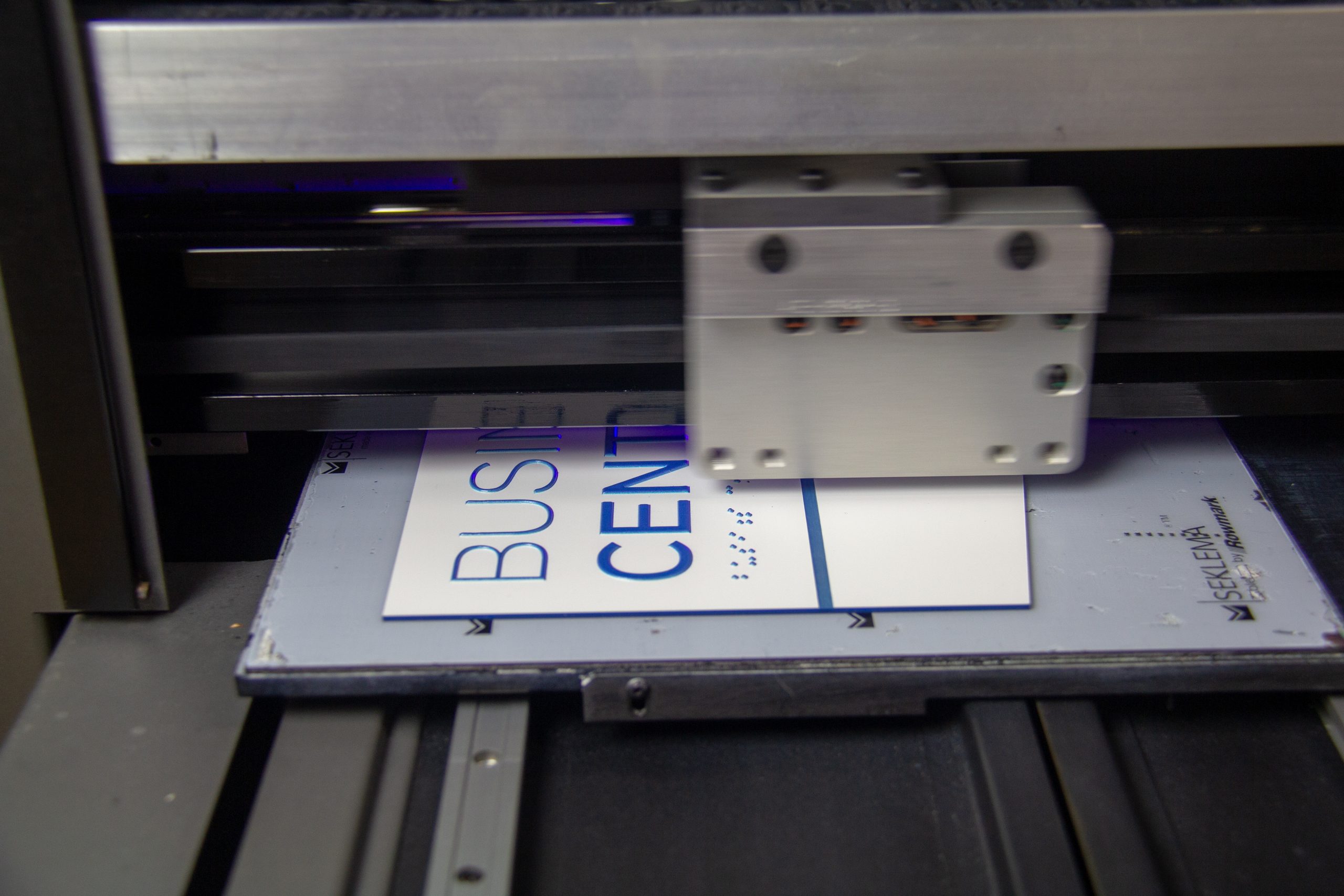 UV-LED printing is relatively new to small and mid-size businesses. Unlike sublimation and heat transfer printing, UV-LED printing is a single-step process where the ink is directly applied and instantly cured by UV light. It is not as labor intensive as sublimation or heat transfer printing due to the elimination of the heat press process.
Currently, UV-LED printers are the most expensive of the three technologies, but come with a specific set of benefits over the others. In addition to being much less labor intensive, UV-LED printing does not typically require a secondary process such as heat pressing. Items come off of the printer ready to deliver to the customer. While UV-LED printers are more expensive when compared to sublimation or heat transfer printers, the production costs are significantly lower. This means your margins on finished goods are higher due to less labor and less ink. UV-LED printing is also the most versatile of the three technologies, as you can print on any garment, flat surfaces, or cylindrical surfaces with one machine. Lastly, because the inks are instantly cured and can be layered during the printing process, it's easy to print items with texture and dimension, including ADA-compliant signage with Braille.
Limitations to UV-LED printing include a large printer footprint. While sublimation and heat transfer printers can be desktop based, UV-LED printers need their own dedicated table and space. Additionally, UV-LED printers still require some regular maintenance to ensure that they're running properly.
Click here to download the FREE JPPlus Technology Comparison Guide.