Features
Academic Market Opportunities in Focus at Online Educational Event Aug. 12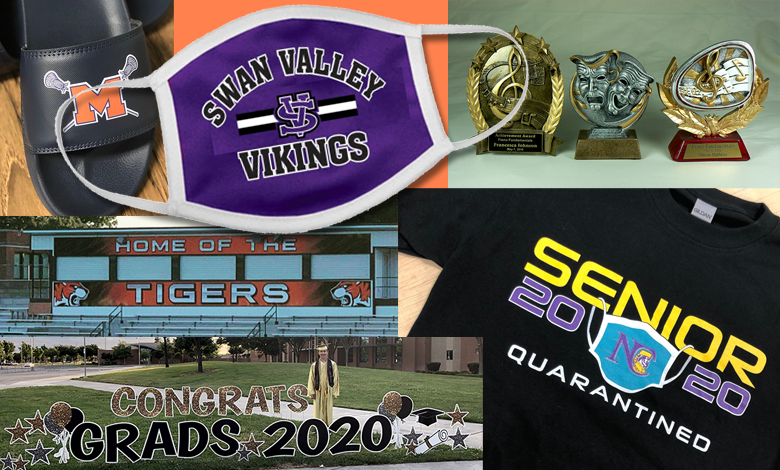 We may not know what the next school year looks like exactly, and it will vary from place to place. Regardless of what the mix is between online and in-class learning, everyone will want to show their school spirit and pride. In fact, it's expected that the demand for custom graphics in the school market will rise, as will the variety of applications.
At THE NBM Breakaway Sessions, Session #3, Back to School: Owning the Academic Market on Aug. 12, the following video presentations with live chat will explore creative revenue opportunities associated with the academic market, as well as valuable business, production, and marketing tips.
Back to School Panel Discussion
Session #3 kicks off with a dynamic panel of professionals with unique perspectives on the school market. They will address the various production methods available, the almost-endless applications and opportunities, how to break into the market and find customers, licensing issues, and much more.
Panelists include Cheryl Kucheck (Just my Imagination DeZigns), Joseph Eric (The Magic Touch USA), Mark Rugen (Mutoh America Inc), Kurt Kahmke (Payler Wholesale Print Production), Adam McCauley (Sandlot Sports LLC), and Logan Merz (Merz Ink).
Video Presentations
Students, Teachers, Buildings & Buses: Wide Format Printer Projects for the Academic World
Presented by Mutoh America
Students, Teachers, Buildings, and Buses is a comprehensive look at applying your existing print equipment to profit from the academic world requirements in the new normal.
Selling Sublimated Products to the Education Market
Presented by Conde Systems Inc.
Join Condé's Director of Marketing, Sprite Wood, as she discusses how to market the latest full-color, photo-quality gifts, awards, and wearables to schools and universities in need of innovative and exciting sublimated products for fundraisers, sports teams, spirit stores, and more.
Embellishing Academics and Beyond
Presented by Hirsch Solutions Inc
See how you can profit with creative ideas in DTG and Embroidery.  We will be showing the full process of DTG on a variety of products and mixing in some embroidery for a mixed media approach.
Be Prepared! Learn About Current Epson Printing Solutions for Today's Educational Market
Presented by Imaging Spectrum
Use Epson eco-solvent print-and-cut solutions for signage applications, and dye-sub printer solutions for producing face masks, soft signage, flags, hats, and shirts.
Sell Successfully to Schools Online
Presented by STAHLS'
Josh Ellsworth shares a demonstration and training on best practices for creating and selling apparel to schools for teams, fanwear, and practice gear. Unlock your profit potential with these easy selling strategies paired with the right apparel decoration method.
Grow Your Sales: How ASI Helps You Sell Promo Products to the Education Market
Presented by Advertising Specialty Institute/ASI
Discover the top buyers in the education market, the hottest products available, what to expect in the new normal this Fall, as well as the tools you need to succeed.
Popular Laser Engraving Applications for the Academic Market
Presented by Epilog Laser
From traditional items like awards and signage to emerging applications such as identification tags for essential personnel and personal protective equipment, schools require laser engraved/cut items for a variety of purposes. Here we'll take a look at some of the most popular, in-demand academic applications you can accomplish with your laser.
Start Creating Back to School Products Using Your Existing DTG & Dye-Sublimation Printers
Presented by IT Supplies
Your equipment gives you unlimited potential to produce products for back to school. This class will show you creative ideas for creating custom products using DTG and dye sublimation.
How to Print and Press Using White Toner Technology
Presented by The Magic Touch USA
Delve into laser-transfer paper technology for white toner printing to help grow your business.
Navigating Your Financing Options in Any Climate
Presented by CIT
Now more than ever, cash reserves are essential. Financing may be the answer to ensure you can keep the cash you need on hand. Learn what you need to know to apply, the best ways to navigate the process, what constitutes a "good deal" for your business, and more.
Back to School with PPE
Presented by SanMar
Join SanMar for a discussion about back to school, including everything from masks to t-shirts to help you get into the school market.
Growing Your Business While Supporting Your Local Schools
Presented by Melco
In this session, Melco discusses how to work with your local school's administration to develop a relationship and understanding of their product and spiritwear needs. We will review various decorating techniques (tied to current trends) to help you build your relationship with the school administration and make your services a part of their school year plan.
Designing and Print with Canva + Epson
Presented by Epson America Inc
Learn how to use Canva's free, easy-to-use web software to design professional, stunning graphics and print them out on Epson's line of printers.
Exploring the Range of Decorating Options Using White Toner and Digital Transfer
Presented by OKI
Learn how digital transfer allows you to quickly and easily decorate shirts, sweats, hats, mugs, tumblers, plaques, even temporary tattoos. Perfect for fundraising, clubs, theatrical productions, graphic arts, school spirit, recognition awards, and more.
New School Year, New Large Format Applications
Presented by Canon Solutions America
With the new school year about to begin, it's a great time to explore the new, profitable large-format applications that schools will want to invest in. Applications include (but are not limited to) directional signage, floor graphics, face masks, and face shields.
Learn How to Make Huge Profits by Advertising on Social Media
Presented by All American Print Supply Co
Learn what is necessary to successfully advertise your business on social media. We'll go through the basics of what you need to get set up and touch on some finer advertising concepts. Additionally, you'll learn about the print on demand industry and what your goal should be as a print shop owner.