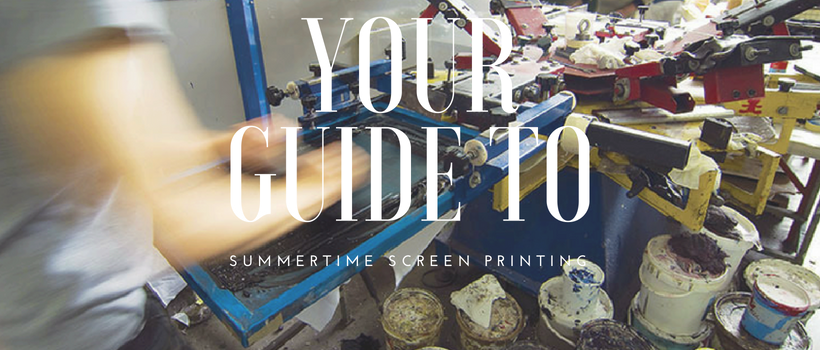 The screen-printing business changes with the seasons. Each season brings different challenges and different demands from customers. To help prepare your business for a successful summer, here are some guidelines to follow.
If you're not already adjusting your product offerings throughout the year, this needs to change. While T-shirts and hoodies are always in demand, customers want garments for the weather.
Suitable summer styles
Tank tops, jersey dresses, polo shirts, and baseball Ts all make for great summertime apparel. Depending on your target market, you can even consider jersey shorts, bathing suit coverups, and beach bags. Additionally, lightweight terry sweatshirts or lightweight jackets are a nice option for the cooler nights. If you're looking to go beyond apparel, consider outfitting summertime hobbies with aprons, glassware, beach towels, blankets, and insulated bags. Other summertime items that make for great screen-printed products include drink koozies and water bottles, golf towels and golf balls, and umbrellas.
Color breakdown
Summer also brings a change in color palette. Consumers generally look for more vibrant colors than those found in the fall and winter months. Depending on your demographics, this means softer pastel colors or neon colors. Customers might also request tropical prints, floral patterns, bold beach stripes, nautical stripes, or summertime checks and plaids.
Fabrication fun
The heat often brings softer, lighter fabrics to keep cool and dry on hot days. Heavy-weight cottons give way to combed cottons or poly-cotton blends. Moisture-wicking performance fabrics begin to make more of an appearance. Performance fabrics come in handy for sports teams, sporting events, and golf wear. Keep in mind that a nice drape is especially important when it comes to lightweight summer garments.
Marketing know-how
After the product lineup is chosen, it's time to market those seasonal products. Make samples to show customers or hang in your storefront to show off the brighter colors and softer fabrics. Reach out to your current customers to see if they're interested in summertime options. As you look for new customers, take time to consider who would be interested in the types of products you're offering for the season. Local pools or tourist destinations? Restaurants? Music festivals and races? Don't forget to search your area for one-off golf tournaments, food festivals, and fairs.
Taking the time to adapt your product offerings to the season is a great way to grow your business. Your summertime offerings can encourage additional sales from your existing customers and help you appeal to new customers whose businesses or events call for summer-specific needs.
In terms of the process and considering your consumables, there are a few extra notes to keep in mind.
Storage wars: Inks, chemicals, and screens
In the summer, especially, storage matters. If your inks and screen-printing chemicals are stored in areas prone to collect heat (e.g. exterior walls that get direct afternoon sun, on high shelves, or in storage closets that are closed off from the rest of the shop's air conditioning system) it could have an impact on the performance of those products. Screen-printing chemicals will break down faster and plastisols can begin to gel or solidify in these conditions. To overcome summer storage problems, store your inks and chemicals in a cool, dark environment and keep an eye on them throughout the summer. Always thoroughly stir your inks before you use them to restore texture that might have been altered by summer heat.
Heat and humidity also have an impact on your emulsion after you've applied it to your screens. When storing your screens, you need a cool, dry place. Emulsion reabsorbs moisture from the air, and extra moisture affects its durability during washout and printing. It's best to measure the humidity where you're storing your screens. It shouldn't be more than 40 percent, and if the humidity in your shop is prone to dramatic increases during the summer, consider using a dehumidifier.
Another note about screens: In climates where summer temperatures spike to extreme levels, schedule your screen exposure duties during early morning or evening. Extremely high temperatures make it impossible to washout your screens after exposure.
Printing with plastisol
Heat causes plastisol ink to become thinner than normal. During the summer, you might notice the viscosity of your plastisol ink changing. If your ink thins out dramatically, you might need to take steps to ensure you still get an adequate ink deposit when printing on hot days, such as using a higher mesh count than normal.
Conquering curing challenges
If you work with cotton garments, particularly heavyweight shirts or thick sweatshirts, the cotton picks up the moisture from the air in your shop during warmer months. When you go to cure those garments, the water first evaporates out of the shirt before the ink can cure. Try slowing the belt speed on your conveyor dryer to get ink to cure properly. It's wise when working with cotton garments on humid summer days to test your curing time and temperature before your press run. On the flip side, the heat in your shop can cause problems with over-curing or scorching garments. The residual heat around your conveyor dryer can cause the dryer to get hotter faster, or even heat beyond the level you're expecting. Carefully monitor your conveyor dryer's temperature during the summer to avoid scorching, overheating, or unexpected dye migration.
The best way to deal with summer's heat and humidity is to control the heat and humidity in your screen printing shop to the best of your ability. Be vigilant in combatting any issues summer weather presents your shop and do your best to deal with those challenges proactively.