In the realm of visual communication, vehicle wraps have emerged as powerful marketing tools that can captivate audiences and convey messages effectively. When it comes to promoting a cause as vital as early literacy, creativity and impactful design are essential.
This article explores the impressive bus wrap produced from start to finish by Wrap Artist that was created for the Governors Early Literacy Foundation and Dickson County Schools (DCS), emphasizing the significance of the design process, customer collaboration, and the lasting impressions a well-executed vehicle wrap can make.
The Governors Early Literacy Foundation (GELF) understands the critical importance of promoting reading to young children and fostering a love for books from an early age. To capture the attention of both children and their caregivers, GELF sought a visually striking bus wrap that would serve as a moving billboard for their cause.
Design process and customer collaboration
Nationally recognized for creating bus wraps for celebrities with large vehicles, DCS/GELF reached out to Wrap Artist for this project. Creating a vibrant and captivating vehicle wrap requires a meticulous design process, one that involves careful consideration of the client's vision and goals. In this case, Dickson County Schools worked closely with talented designers and wrap experts at Wrap Artist to bring their vision to life.
The design team at Wrap Artist took the time to understand DCS/GELF's mission, target audience, and desired message. They collaborated closely with DCS/GELF representatives, incorporating their input throughout the design process. By maintaining an open line of communication, the design team ensured that the final product aligned with DCS/GELF's objectives and resonated with their audience.
When promoting reading to small children, it is essential to capture their imagination and create an experience that sparks curiosity. The bus wrap designed for DCS/GELF embraced this principle by utilizing bright colors, bold typography, and captivating imagery.
Vibrant shades of primary colors, such as red, blue, and yellow, were incorporated to create a visually stimulating environment. The wrap featured playful illustrations of storybook characters, imaginative scenes, and larger-than-life letters spelling out key messages. This combination of vivid colors and engaging visuals was strategically chosen to evoke a sense of joy, wonder, and excitement of discovering new stories.
Impressions that last
One of the most remarkable aspects of a well-executed vehicle wrap is its ability to leave a lasting impression on viewers. As the wrapped bus travels through communities, it attracts attention, ignites conversations, and generates awareness for DCS/GELF's mission.
Pedestrians, drivers, and passengers cannot help but notice the vibrant bus wrap, prompting curiosity and intrigue. The captivating design serves as a conversation starter, allowing passersby to engage with DCS/GELF's cause and learn more about the importance of early literacy. Each impression made by the wrap contributes to raising awareness, building connections, and inspiring action within the community.
Moreover, a creatively designed vehicle wrap acts as a mobile advertisement, reaching diverse audiences and extending the reach of DCS/GELF's message far beyond traditional marketing channels. By being present at community events, school functions, and public gatherings, the wrapped bus ensures that GELF's cause remains in the public eye, continually reinforcing the importance of early literacy.
Installation details
To ensure the wrap is installed correctly, there are some key considerations. First and foremost, understanding the condition of the vehicle ensures you can set the customer's expectations appropriately.
We ask the customer to provide photos and conduct a survey of the vehicle alongside the customer once it is at our shop. You never want to wrap over things like rust. We also want to be clear that wrapping over imperfections like dings and dents doesn't make them disappear.
Next, proper preparation is vital. Begin with washing the vehicle with soap and water. You can use something harsher like Prep-Sol to remove harder materials like road tar. Finally, before any graphics ever touch the vehicle, you must wipe every surface down with a mix of 70% isopropyl alcohol and 30% water. We pay extra attention to the areas like the wheel wells and underneath the hood that are easy to miss but trap a lot of dirt and debris.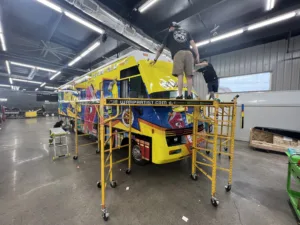 Having said all of this, successful installations starts with the designer! I create our custom templates to make the installation as efficient as possible. Since I have thorough measurements and the template is dialed in, it's easy to streamline the installation process.
I try and eliminate trimming as much as possible. Printing horizontally in this case allows us to align a panel with the vehicle body lines and avoid unnecessary trimming; it will speed the process up tremendously. Creating a process keeps your team from having to guess which panel goes where.
They should also have visual references for what the final wrap should look like. From there, following the proper installation techniques we teach through our training facility, School of Wrap, will make sure you hit your registration points and produce a wrap that will leave your customer thrilled.