Visual social platform Instagram is rapidly changing the way people market their businesses online. If you haven't tapped into the power of this powerful social site, now's the time to make it part of your shop's 2021 marketing strategy.
Maybe you think it's not worth your time to post to Instagram. Check out these stats and see if they make you feel differently:
Instagram's active users have pushed the platform to be the second-most popular social media app (1 billion people use it)
Users spend 28 minutes a day on Instagram—200 million of them visiting at least one business profile
Research shows Instagram generates the highest level of engagement of all social media platforms (even more than Facebook and Twitter)
But there are even more interesting Instagram numbers for apparel decorators:
Now that you see why you should be on Instagram promoting your shop and interacting with customers, here are six steps to help you get started successfully.
1. Switch your account to a business profile
When using an Instagram business profile, you instantly can take advantage of more tools, like the all-important analytics feature on your posts and stories. Your new business profile allows prospects and customers another way to quickly reach you since it lists your email, phone number, website, and address. You can connect your Facebook business page to this account too. Plus, you'll get access to the ads tool, which gives you the ability to boost the best-performing posts and stories. If you don't already have a business account, you can easily convert your current one or create a new one.
2. Craft compelling captions
Show-stopping, or scroll-stopping, captions are what you're after. Your post captions should have a few things in common to be effective.
First and foremost, your captions should reflect your brand voice while also being attention-grabbing. One way to do this: Include an eye-popping stat or a hard-hitting question. Basically, you want the caption to stop your audience in mid-scroll, so they focus on it and then engage.
Some brands use this space as a mini-blog where they expand a little further on topics that help their audience in some way like marketing or branding tips. You can also use emojis to catch attention and break up your text, which helps if it's longer.
Then, include a strong call to action that directs your fans to answer a question in the comments, tag someone else who might like your wares, sign up for your newsletter, or check out your website.
And, don't forget to use hashtags so that people searching for content can find your posts more easily or conversate around them. When you type a hashtag into Instagram's captions editor, you'll see how many posts exist with that hashtag. Choose some attached to a lot of posts and some with fewer. Keep a running list of the hashtags you use to see which ones work best for you. For example, you might find that always using something like #decoratedapparel, #screenprinting, or a hashtag with your business name might give you the most engagements and reach.
3. Snap frame-worthy photos
In a sea of perfectly posed, filtered Instagram photos, consumers love to see truer-to-life photos. If you're a decorated apparel pro, this means high-quality pictures of your merchandise and your team at work in your shop. To snap Instagram-worthy photos right from your smartphone, here are some tips: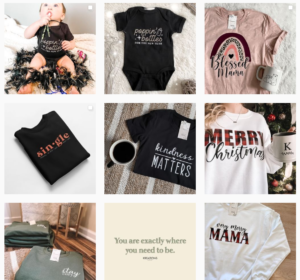 Use natural light. Either shoot your photos outside or inside near a window. If you can't do that, make sure that your room is well lit.
Avoid overexposure. To prevent this, try tapping your finger on the brightest parts of your screen right before you take the picture. This will make the camera adjust to the bright light that may overexpose your main subject, giving you the most even exposure possible.
Capture bright, rich colors. Choose to feature products or artwork in vibrant colors that stand out well from your background.
Focus on composition. Be sure to fully emphasize the decorated product or model in your photo so that it's visible and dominates the composition. People also like seeing closeups of your decorated artwork.
4. Pay attention to analytics
When you switch over to a business account, one of the most important things you can do is consistently track how well your posts are performing. This information will help you know what's working for your audience and what isn't.
This is the best way to keep your Instagram relevant and engaging. Your analytics will tell you the engagement of your posts and which ones are the most popular. You can then make these types of posts a larger part of your strategy.
5. Engage excitingly and consistently
The best opportunity all social media platforms give you is the ability to engage and interact with your customers and prospects. Those customers who leave a comment on your posts are gold to you and your brand. Think of it as your buyers reaching out to interact with you, so don't leave them hanging.
Instead, talk with them and establish a rapport. Customers and prospects can clue you into the questions you need to answer to create compelling content. They'll then come back to consume that content and continue to engage with you, potentially bringing more followers with them. This cycle will help increase your visibility and expand your customer base.
Develop a social content calendar and schedule your posts ahead of time using a tool like Hootsuite, Sprout Social, Buffer, Social Pilot, Tailwind, or Later, to maximize your reach and be mindful of your time.
6. Prioritize customer service
It's not just enough to engage with your followers through post comments. Many shops interact with lots of customers via Instagram. If you're a bigger shop, your DMs might be full of general questions, comments, or complaints. Remember, this isn't an area to ignore since 88% of buyers are less likely to purchase from a company that doesn't respond to questions via social media. The good news: If you answer your customers' questions in a timely way, they'll spend 20%-40% more with you.
Here are a few quick ideas to make excellent customer service a snap:
Create pre-written answers for the questions people ask more often, and personalize them with your customer's name or other details.
List your customer service email in your bio or part of your contact button.
If queries are flooding in, assign a staffer or two to handle them from their desktop Facebook web page or a customer support tool that displays all comments and DMs in one place.
So, if you want to increase your sales this year, then Instagram should be part of your marketing and sales plan. For decorated apparel pros, Instagram's highly visual component is a great way to interact with your customers and promote your business.