The weather is warming up, and so are potential sales for this summer because the wedding season is upon us. Don't miss out on the opportunity to capitalize on the summer wedding season. Here are five tips and ideas to get you started.
Proposal kits
The future Mr. & Mrs. aren't the only ones popping the big Q! Bridesmaid and groomsmen proposals are a trendy way to ask their closest friends and family to be by their side on their special day — and the bigger the proposal, the better.
Heat printers can take advantage of this trend by offering customized kits with a personal message, custom graphic T, and even drinkware!
Pro tip: Heat transfer vinyl and sign vinyl are two great options for adding easy personalization to T-shirts and hard goods. Heat transfer vinyl offers various colors and finishes that can be cut out on a vinyl cutter and easily heat applied to apparel, quickly. Sign vinyl also offers various colors and finishes and is an easy way to add personalized messages and text to hard goods.
Squad swag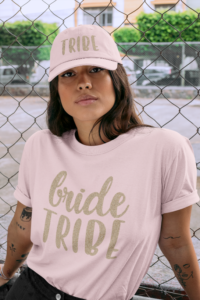 Once the soon-to-be bride and groom have selected who they want to be in their wedding party, it's time for the festivities to begin. Bachelor and bachelorette parties have gone from celebrating with a night out on the town to a vacation out of town.
From living it up in Nashville to relaxing on the beach in the Florida Keys, wedding parties are making their mark in popular cities, and they're doing it in style.
Matching hats, Ts, hoodies, bathing suits — you name it! This is certainly an opportunity no heat printer would want to miss.
Pro tip: When printing for groups, keep the costs down and the profits up! Screen printed transfers are printed on 11.25″ X 14″ sheets of release paper. You can gang up/fill these sheets with as many custom prints as possible. In the sample photographed here, you could gang up two of each of these designs (hat design and T-shirt design) and print four custom products with just one transfer.
Something new, something personalized
The bridal shower is a significant day for the bride-to-be. This is a time when her closest family and friends can gather to enjoy food, drinks, games and shower the bride with gifts. Guests of the bride typically purchase a gift that is meaningful and will catch the bride by surprise.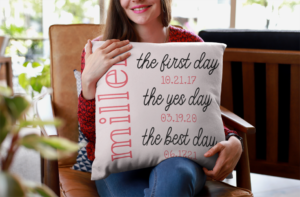 More commonly than not, the bride-to-be has a registry for suggested items that guests can gift but adding something special such as personalized accessories and decor is a popular gifting option. Items such as cosmetic bags, tote bags, pillows, blankets, and robes are high on the list for personalized gift items for a future bride. Any of these items can be easily printed with just a heat press.
Pro tip: Selling custom products online is a great way to reach a large portion of this market. Using online stores with customization features for customers to type in the name and dates, such as the sample in the photo above, allows potential buyers to see what they're getting before they buy.
Customizing for the big day
Photography and videography are a large part of the big day. From the getting-ready process to the I-Do's, many things are being caught on camera so the couple can remember this special day. That's why personalized T-shirts, robes, and button-ups have been extremely popular for the morning of.
Whether the bride is enjoying a spa day with her girls or the groom is at a golf outing with the boys — personalized attire is a must-have.
Another tradition for the wedding day is to gift the mother of the bride and the mother of the groom with something personal. Personalized mugs, handkerchiefs, and handwritten letters are among the top gifting trends for MOB and MOG.
Honeymoon T-shirts & travel accessories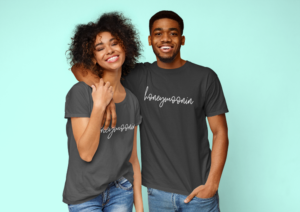 After the big day, the bride and groom are still celebrating and beaming with excitement to head off on their honeymoon. Custom T-shirts are very popular for newlyweds to wear during their travels and are a must-have for their packing list.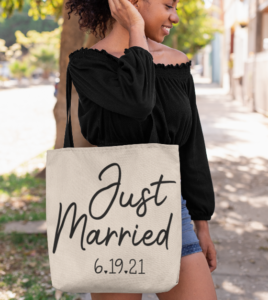 Every apparel decorator knows the importance of upselling with accessories. All that's left to do is personalize travel accessories such as a tote bag or duffle bag for the bride or groom and show your clients the value in adding on additional personalized items to remember this special time. Not only is it personable for each of them, but it helps when packing their essentials.
Make your custom print shop stand out this summer with unique wedding-inspired T-shirts and accessories! Whether you are new to apparel decorating or have done it for years, adding this niche market to your customer list will help drive traffic to your business and fuel sales.