Features
3A Composites Hires Two to Support its ALUCOBOND Line
ALUCOBOND Plus is used by architects, designers and sign makers in a  wide variety of applications.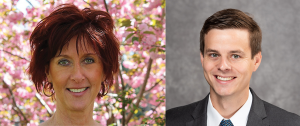 Davidson, North Carolina-based rigid substrate manufacturer 3A Composites USA  announces the hiring of two to support its ALUCOBOND PLUS lines.
Debbie Sulewski has joined 3A Composites USA as director of architectural marketing and technical services, supporting sales and development of ALUCOBOND PLUS in North, Central and South America.
In this role, Sulewski will drive and support continued organic business growth through product development, marketing, creative design and branding. She will manage the creative design process and conduct extensive global trend research to create color and design forecasting tools to assist in the development and implementation of all new product launches throughout the Americas. Sulewski will also develop continuing education materials.
Sulewski has extensive sales and marketing experience specializing in product design and color trend forecasting. Prior to joining 3A Composites USA, she most recently served as director of design for Panolam Surface Systems headquartered in Shelton, Connecticut. She will be based in the 3A Composites USA headquarters in Davidson, North Carolina.
Thomas Rogers has joined 3A Composites USA as applications engineer and technical leader for ALUCOBOND PLUS ACM. Rogers will support continued business growth and lead projects related to product safety standards, testing, regulations and code compliance.
Rogers has acquired extensive experience in codes, regulations and product testing during the past decade. Prior to joining 3A Composites, Rogers most recently served as product development engineer for architectural products for New York City-headquartered Arconic Inc. He will be based in Atlanta.