Features
30 Years of Coastal Business Supplies with Owner Andy Pickering
In honor of the milestone, Printwear chatted with Coastal Business Supplies president and owner Andy Pickering about the last three decades, and the years to come.
For Coastal Business Supplies, 2020 marks 30 years of providing the customized merchandise industry with equipment, education, and guidance. In honor of the milestone, Printwear chatted with Coastal Business Supplies president and owner Andy Pickering about the last three decades, and the years to come.
How has the company grown in the last 30 years?
When Coastal started in 1990, we had six employees and mainly served a local market. Today, we employ more than 40 people and service customers globally. Over the past three decades, we've experienced steady growth, but we've had to adapt to change to continue that growth. In our 30 years, we've seen existing markets fade, new ones emerge, and segments blend. This includes the products we sell. Our initial product offering started with selling labels, transparencies, toner, and fax paper to the quick print industry in 1990. As those products and industries died, mainly due to changes in technology, we had to evolve to meet new demands that eventually transitioned us into the printing decoration industry distributor we are today.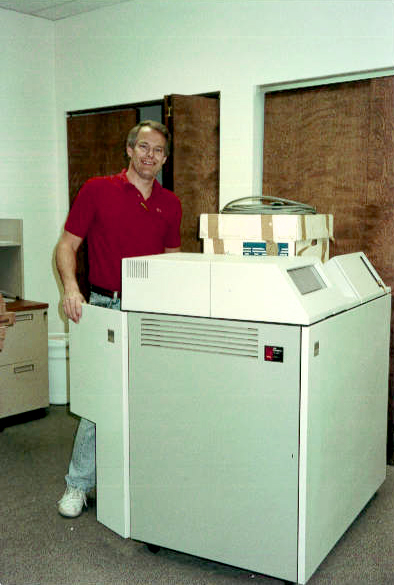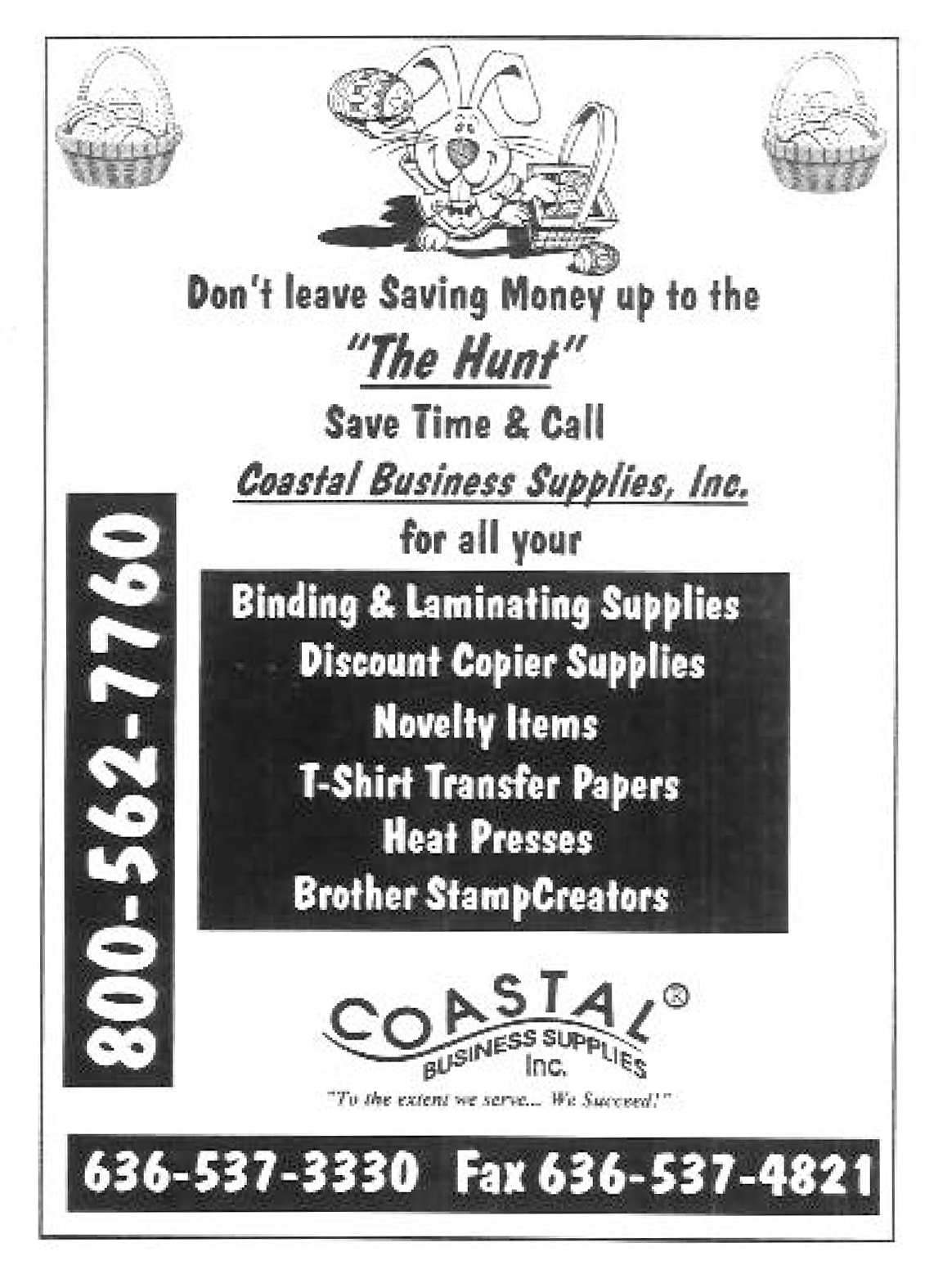 L: Andy Pickering in Coastal's early days. R: An old Coastal advertisement. (All images courtesy Coastal Business Supplies)
What are some of those changes you've seen?
There is a long list of changes. The digital personalization market was a well-kept secret for many years. As surrounding industries faced downturns or elimination, they started to migrate to our industry, and the secret was exposed. As the distinguishing lines between markets became blended, distribution channels became ignored. The need for manufacturers to make more margin, increased competition from China, and Amazon have played a large part in that change. Amazon really set the bar for what customers expect in selection, delivery, and price.
In the past 10 years, there's been a shift in the customer base from B2B to a mix of B2B/B2C. This disruption was primarily due to advancements in technology. As equipment such as printers became more affordable and, in many cases, smaller, we've seen the emergence of the craft and home-based digital personalization market. We've had to created scalable solutions to serve both markets equally.
This shift has made education and knowledge sharing incredibly important. People want instant access to learn decoration techniques, production tips, equipment troubleshooting, and the list goes on. It has become a necessity to create content that is relevant to those needs. In today's competitive environment, a company needs to position itself as a resource and not just a sales company that takes orders.
Of course, online selling and web presence has become the center of modern business. We had our first website in the mid-90s and our first e-commerce store by the mid-2000s-the first for both in our industry. Today we spend tenfold on IT and marketing than we did just five years ago. Traditional advertising methods have given way to digital advertising, which requires an ever-increasing budget to stay visible. In many cases, this rapid development has cut direct customer interaction, which has forced us to find new ways to understand our customers and learn their needs. But we still have a good percentage of our customer base that likes to pick up the phone and order with a live person.
In your opinion, what practices and qualities does it take for a company to make it to 30 years?
You need to be smart, flexible, and lucky-not necessarily in that order. How you treat your employees sets a leadership style that creates a familial corporate culture. We have employees that have been with us for 20-plus years, or as we refer to them, the fox hole group. We've had many new faces over the years, but when you ask any of them why they stay, it's because of our culture. Compassion and integrity are at the core of that culture and are literally written in our corporate philosophy.
Just as important as corporate culture is creating a great customer experience. That has been our focus from day one. It started with our "call to order" policy. When a customer placed an order, it shipped that day. That was unheard of back then. Today we've elevated that policy that once an order is placed, its picked, packed, and shipped within two hours, which is still unheard of. It requires that type of commitment to keep customers loyal and coming back.
Lastly, to survive 30 years, a company has to be agile enough to change with shifting markets, customer demand, and technology. Without adaptability, it's very easy to become irrelevant.
How is Coastal celebrating the anniversary with employees?
Quietly with time to reflect and prepare, but we are going to celebrate this milestone. For our customers, we have a sweepstakes running from January through May with monthly large prize giveaways concluding with a grand prize drawing for a Caribbean cruise for two. For the employees, a party is in the plans. We can't give away too much detail as they may be reading this!
What can decorators expect from Coastal in the next 30 years?
Decorators can continue to expect the same high-quality products and unrivaled customer service with a personal touch that has gotten us this far. As the industry continues to change, Coastal aims to be at the forefront of innovation, expertise, and thought leadership. We look forward to serving customers for the next 30 years.