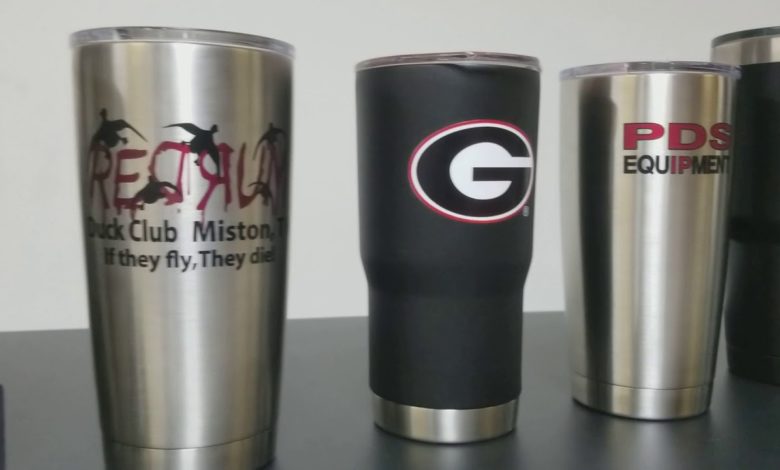 The UV print market is the fastest-growing segment of print. The explosive growth is due to the unlimited number of products that can be produced on these devices. The UV equipment market is allowing apparel-focused companies to go after their existing customer base with new products and energy.
With UV printing, you can direct print on a broader range of products with much less effort, and you do not need any other processes to produce a finished product. UV equipment allows you to print and ship instantly, no waiting on ink to dry, and no heat press needed and no sewing.
With apparel, you are doing dye-sub, heat press, and cut-and-sew. The labor hours, the number of workers needed, and the cost of all the equipment required for print, cut, and sew adds up very quickly compared to UV direct print. Tumblers, awards, and name badges are all products that go perfectly with your existing apparel orders. UV printing works with acrylics, glass, crystal, wood, leather, metal, and all types of plastics.
If you're looking to expand and offer new products to your existing customer base, UV printing is your new ticket to higher margins and less labor costs. If you are not currently enjoying the crazy high margins of UV print, you are missing out. Go as fast as you can to get a demo or testing, and get your UV machine purchased.
Steps to getting into UV printing
1. Learn about the different UV machines and the different models that are out on the market.
YouTube is full of excellent UV equipment videos, and there are a few great Facebook forums as well. UV Printers Anonymous and Signs 101 are great places to learn from other print providers that have already been through the trenches, purchase, and learning curve. These forums are full of great customers that would love to see your company be successful.
2. After learning what brand of machine you feel the best about purchasing, identify the products that best fit your existing customer base, and get the size of the machine that will fit the applications for those customers.
3. Once you decide on the products you want to produce, you need to do test printing on your products.
Some companies offer free product testing, and you'll want to utilize that perk. This testing ensures that you select the correct machine with the proper ink set. Most UV equipment suppliers offer a few different ink sets that range from hard ink, flexible ink, metallics inks, and thermoforming inks. There is not one ink that does it all, so print testing is a must. Make sure your UV equipment dealer has demo equipment and offers free testing.
Dependable UV printing equipment is relatively expensive, so do not gamble with equipment dealers that do not specialize in UV print. UV print equipment is much more precise than basic sign and graphics equipment, so the technician and the company setting up your machine is a very, very important factor of you being happy with your purchase.