Let's talk about 2022 for a moment and plan on where we want 2023 to take us! How is everyone doing? Please take 10 minutes and really ask yourself these questions — Are you growing or are sales declining? Yes or no, and why? What changes have you made to your company and why?
As business owners in our line of work, it is not easy to do what we do since we have to learn everything as we go and carry all of the weight on our shoulders for our team and community. So, as each year goes on, it is important for us all to take a step back at least once every quarter and look at how everything is going and determine if we are headed on the path we set out for. I am guilty of being one of those people who puts their head down and works hard until I hit my next goal. But that is not always a good plan if you are not checking in with yourself along the way.
How are you doing? That is a serious question to ask yourself. Mentally are you doing well? Are you on the path you expected to be on? Are you able to make time for yourself and loved ones while hitting your company goals? As a business owner of almost 20 years, it is not always easy to make time since our customers are like family and we never want to let them down. It is not easy being a business owner in general and trying to balance out work and personal life when you know it all rides on your shoulders. Back in March, my wife and I really sat down and talked about where our company was going and what we wanted.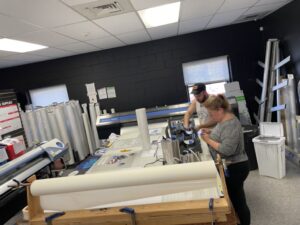 The first thing we needed to work on was company morale. With our company growing at a steady growth of 15% to 20% at minimum each year, it is not always fun for staff to keep up with the constant changes we make. On top of that, we worked on training four managers to work under our general manager, which takes a ton of extra time and hands-on training as each situation occurs.
By doing this major structuring, work is getting done better, faster, and the team has someone in each department to go to who will have their backs. Our GM can focus on helping to train and back the managers up when they need help in any area. In the end, that takes pressure off my wife and I and allows us a little more time outside of work or time to help focus on improving our company with new ideas.
Are your sales climbing or declining? Which is it and why? This is the time to be brutally honest with yourself, no matter if it is great news or not-so-great news. If your sales are declining. Why is that? Let's work on fixing that now and not tomorrow. You need to work on this before and after work to turn it around. Below is a list of things I would do right away:
Look at your books and check your numbers on buying, selling, payroll, overall bills, and see where you are losing or can cut some fat to improve profit margins.
Look at your quality and production times to see if they are on par.
Customer service is a key issue. How do you treat your customers overall?
Speak with your staff one-on-one. Ask them how they feel about the direction of the company and ask for their brutal honesty of you as an employer of what they feel needs to be improved.
Call up some customers that you know will be honest with you about your company and ask them what they feel can and should be improved.
Look at the products and services you offer and ask yourself if they are the right fit for you and see how you can streamline things more.
Look at how you can obtain more sales by improving customer service, making it easier to shop with you by website or simply by email.
Make it easier for customers to get their orders by being open longer hours, six days a week, shipping orders, and delivering orders if you can.
Now, in our company's case, we have grown by 40% this year, which equals over $700,000 in growth. Sounds great, right? Growth does not always equal success. Sometimes growing too fast can hurt your company. For us, it has been a balancing act, but we have managed to do much better with the growth than we expected.
The growth this year was a great learning experience. It helped expose our weak points early on in the year so we could work on fixing them right away. Such as training managers and giving them more time in the day to be effective at their positions. We created more training time for staff since not all learn at the same pace.
We also worked on improving our communication by using software with notes, etc., and having staff improve communication with one another. Communication is always one of the top three issues, no matter what. Over the years, I have noticed that as we grow, we need to adapt our communication to the changes in our company. By growing the way we have, it really allowed us to see where the growth is coming from and what lines of work and processes we need to invest in more.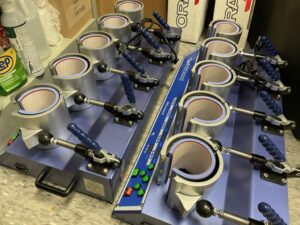 We ended up investing $60,000 into more equipment. We invested in our first DTF printer from Coldesi, a new laptop for it, four new MacBook Pros for our shipping/receiving team along with some of our customer service team, another air fusion heat press, and four new mug presses from Johnson Plastics Plus.
We also have invested in our 2,200-square- foot building expansion that will allow us to move three processes into the new space to give our vinyl graphics, 2D/3D laser, sublimation for drinkware, and our new DTF machine more room.
The massive growth we have had this year was painful at the beginning and extremely stressful at times, but it was necessary to expose what we needed to improve on as a company. Yes, it does help to control growth. I will never deny that, but I do not think we would have exposed some of our pain points fast enough and would have invested money into different equipment than what we really needed next. By us investing the funds the way we just did, it helped out almost every department in our company — which is very hard to do in most cases.
Never be afraid of change because it is important to change as needed. Make sure that even if you spot a negative change that you help turn it back into a positive one! Keep making moves!