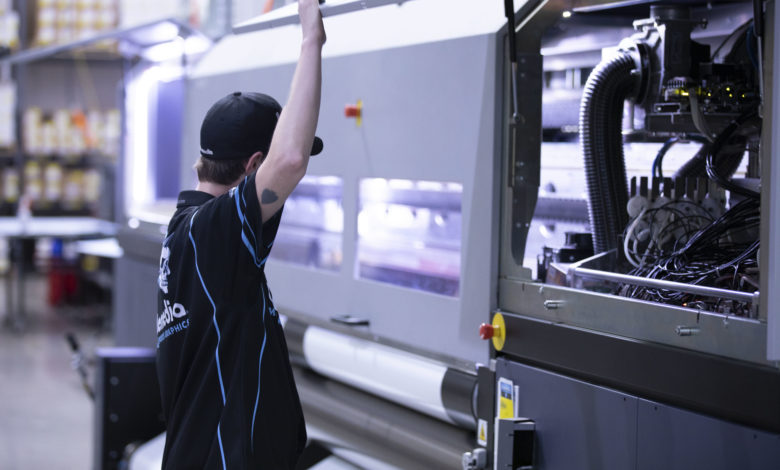 Roll-to-roll printers continue to provide shops with the flexibility to offer a wide variety of on-demand solutions for their clients.
The sheer versatility of roll-to-roll printers enables different configurations with dye-sub and textile ink sets for the fashion apparel, home décor, flags, and soft signage markets, as well as solvent, UV, and latex configurations for the sign and graphics markets and water-based ink sets for the fine art and photography markets.
"The print-on-demand (market) continues to grow as a portion of the total roll-to-roll print market, and the ubiquity of eCommerce, social media-driven concepts, and online design tools promises to accelerate that trend in the year to come," reports Robert Zoch, global content manager, Kornit Digital.
"Print technologies and systems that offer versatility/adaptability to different substrates, more design and color gamut capabilities, and a shorter end-to-end process (i.e., from order to shipment) are best-positioned to thrive in this environment," he explains.
He points out that the term "microfactory" as a production concept continues to gain advocates, bringing the complete production process to one location and simplifying supply chain logistics while minimizing their associated risks. "Heightened automation capabilities (such as web-to-print) and the need to near-shore operations for quicker delivery (i.e., proximity production) contribute to the adoption of microfactory strategies," Zoch says.
"Speed is always a factor for growth in this segment, but I think the move to the high-speed 3-meter market is becoming much stronger," reports Agfa's Jason Hamilton, director strategic marketing and senior solutions architect. "more finishing options and the use of hybrid textile/fabric with mesh kits are other growth areas."
"New features to this printing technology include Inline XY cutting, a camera for registration and barcode reading, two-stage rolls for continuous print mode (like a web press) and mesh kits," he notes.
Dye-sub market continues to grow
Mike Syverson, textile manager, North America at Durst Image Technology U.S., says textile printing, dye-sublimation, in particular, is still growing as print buyers look for ways to improve the look of their brand and reduce costs while doing so. "Dye-sub is great for this as it can drastically reduce shipping and installation costs to print buyers and end-users. On the roll-to-roll front, this can be a solid alternative to many applications. There are still many cases where a more traditional (UV) roll-to-roll application makes sense, such as SAV applications, banner applications where textiles will not work, or film applications, for example."
Production capabilities
Larry D'Amico, sales director for Durst, adds that advancements in inkjet are almost always about speed and quality, but as the market matures, customers are getting more sophisticated about what they want in the roll-to-roll technology and are looking beyond these qualities.
"In the end, it is about the printers' ability to print for weeks and months and not just how fast they can produce one job. The trend is to understand how many times you need to stop a machine during production. Aspects like ink purge, roll adjustments, and changeovers are becoming critical elements. These factors, combined with general printer up-time, have become key buying criteria," D'Amico says.
Sohil Singh, manager of operations, Stratojet USA, points out that the UV industry is booming. There have been a lot of enhancements that have expanded the applications in the category.
"Roll-to-roll continues to provide shops with a plethora of opportunities such as fabric printing, banners, and backlit signage," says Singh.
Upgrading features
There are constant updates to today's printing technology, whether it be ink technology (UV-LED, direct and transfer sublimation inks, as examples) or feature-related.
"Amongst the biggest demands is increased uptime and low operational costs. As turnaround times and margins are constantly under pressure, having systems that require minimal user interaction and minimal downtime is critical to long-term success and growth," argues D'Amico.
Advantages of roll-to-roll
Agfa's Hamilton says roll-to-roll still has some advantages, including speed, the cost per square foot, and the total cost of ownership.
"Roll-to-roll also offers the benefit of dual and triple lane production," he adds. Some of the more popular applications that clients are looking for are backlits, bluebacks, clings, wall coverings, and décor.
Innovations
Zoch says that speed of production, hand feel, and cost per square meter have long been barriers to digital pigment printing penetrating the textile decoration industry, and they are innovating new ways to address these longstanding concerns.
He points out that roll-to-roll printing offers many advantages over other printing methods. "Digital reactive/sublimation/acid methods require a compromise with regard to production constraints and labor demands, with longer processes comprised of multiple steps. Rotative screen printing requires considerable trade knowledge and higher setup costs due to screen creation and color sampling/testing; you compromise on costs and hand feel, and short runs are too expensive to justify the costs of producing them. Traditional roll-to-roll production creates effluents and VOCs while consuming considerable amounts of water and using chemicals for a less sustainable process."
He says that customized apparel, signage, footwear, handbags, blankets, sheets, do-it-yourself, and assorted home furnishings (upholstered furniture, drapes, pillows, etc.) can all be decorated efficiently, sustainably, and on-demand using this technology.