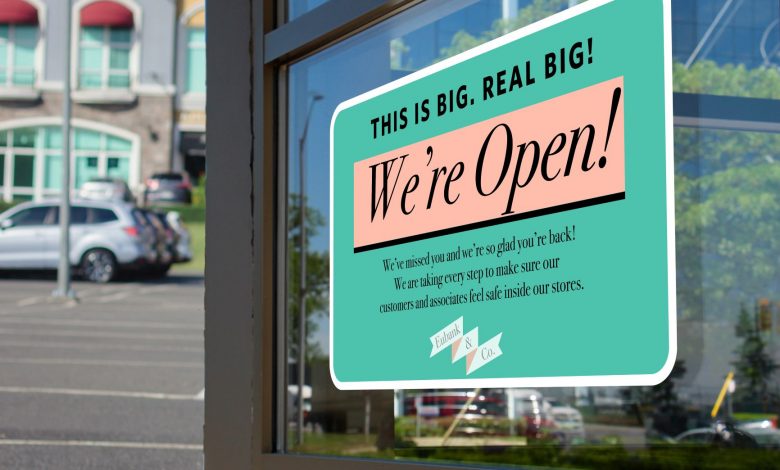 During periods of social change or tough trading conditions, every business needs to stay relevant. Retailers and other public-facing companies need to grab their customers' attention and not just once, but time and time again to retain an ongoing, loyal relationship. Installing temporary graphics is a practical, affordable way to refresh a brand regularly and promote up-to-the-minute messages.
Temporary graphics offer almost unlimited creative potential. It's possible to wrap whole buildings, inside and out, with colorful designs and branded messages. Walls, windows, doors, ceilings, elevators, stairs, floors, shelf edges, and counters—you can advertise in 360º. However, with so many options to choose from, it's possible to overwhelm customers.
Instead, choose your graphics carefully for the most significant impact. Focus on one or two parts of the space. For instance, the windows or the walls and let your customers know they should change them out regularly to engage with their market more effectively, and more long-term, than a flood of permanent graphics.
There are a variety of short-term graphic solutions that can be applied by hand with no specialist equipment and without the need to hire a professional installer. Some can also be removed cleanly without leaving adhesive residue. These products can also be layered over existing graphics, speeding up installation further.
Graphics media also needs to withstand the duration of the promotion without fading, ripping, or curling at the edges. In short, they shouldn't attract attention for the wrong reasons. It's essential to use the right graphics media for each job. Using a product just because it sticks to brick or glass can result in problems down the line.
There are a lot of self-adhesive films and mounting adhesives on the market that have been designed for specific applications, such as window graphics. They're developed as an ideal blank canvas for vibrant prints, to be easy to install, to offer durability against everyday wear and tear, and to be clean and straightforward to remove without residue.
Where it makes sense, choose products that are antimicrobial and suitable for use in hospitals, schools, restaurants, and retail environments where hygienic is crucial.
Many graphics products are designed for multiple applications but check their suitability for your specific project before use to ensure compatibility with the surface, environment temperature, cleaning products, and, importantly, required levels of safety.
On flooring, only specialist floor graphics media should be used as these products have been rated for slip hazards. In any public space or outdoor application, it's essential to use media that has a fire rating as well. For outdoor applications in extreme temperatures, these products may offer the extra durability you need. There may also be environmental guidelines to follow, so check how used graphics media can be recycled.
Get your temporary graphics correct now and retain your customers in the future.