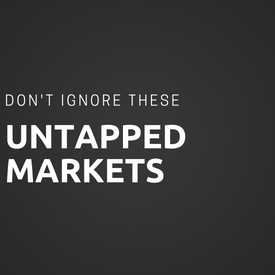 If you have a T-shirt business, your core business is probably team uniforms, spirit wear, and corporate logos. But there are many untapped markets decorators tend to ignore. By creating expertise and specialization in one of these untapped niche markets you can significantly increase your profits.
To be successful in an untapped niche market, you should have knowledge and passion in that area. Knowledge is easy to gain and learn the jargon of the niche. If you have a hobby, that might be a great place to start because you are familiar with the topic and the words used. You also already have the built-in passion. A T-shirt business can be fun and create income if you combine something you enjoy with what you do for a living. You'll also want to research the competition. Is there anyone doing what you want to do. What are they doing well and what can they improve?
So, what are some possible untapped markets?
4-H GROUPS
These groups are a busy bunch with many events. They are at horse shows and county and state fairs. They are proud of what they do and their participation so this is a great niche to host onsite T-shirt events. To start with an onsite setup, get a booth with electrical so you can heat press on demand, and use what you don't sell at the next event. Typically, you would carry one print for the specific event and other prints that are of interest to that niche.
CAMPS
Every city hosts hundreds of camps for sports, theater, computer, etc. Each camp purchases shirts for every camper to help identify the group. Also, consider specializing in overnight camps where a camp store offers both apparel and non-apparel items for campers to take home with them. Announce this offering so parents can send their kiddos with money. Another great option is to offer apparel items online before the camp starts so the camper has logoed T-shirts, sweatshirts, and shorts to bring.
SCHOOL CLUBS
This is a hugely overlooked niche. Everyone sees the sales that can come from a spirit sale or the athletic teams, but the many small clubs within a school are often overlooked. The challenge is finding the contact since each will have its own advisors. Some school clubs include math, cooking, creative writing, language, improv, and web design.
THEATER PRODUCTIONS
Most schools have two plays each school year, and there are many summer theaters. Everyone works hard to put on the performance and will want a T-shirt to commemorate their work. If theater is your passion, this is a great untapped niche to gather expertise. Many use the same plays, so you will quickly have a collection of art ready to go for each one. To make the shirt extra unique add a cast list to the back.
CAR AND BIKE SHOWS
Car and Bike enthusiasts are a passionate group with many events perfect for onsite selling. There are four different types of cars shows.
Cruise-ins: An informal gathering usually held on a regular basis at a set location
Classic car club shows: A car club's annual show
National meets: A car club show that runs for a few days, annually
Concours d'Elegance: a prestigious event with high judging standards
TOURNAMENTS
These are usually large weekend-long events for one sport with many teams and participants. Some areas of specialization are baseball/softball, volleyball, basketball, cheer/dance, and gymnastics. This is another opportunity for an onsite booth, with electrical access to print on demand. Although the weekends are long, the profits are high.
Are you ready to tap into one of these untapped T-shirt markets? Make your contacts and start today.