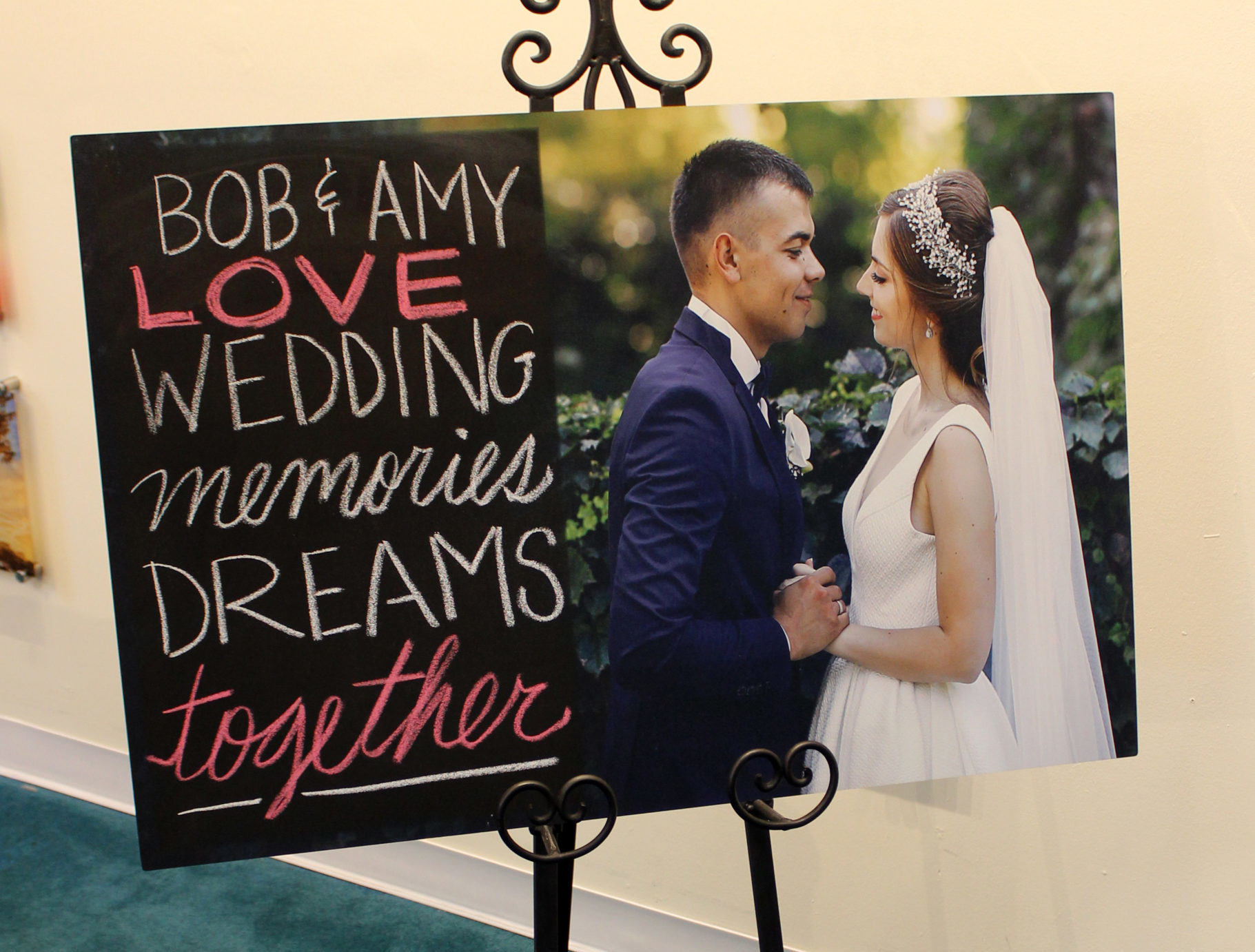 Textured sublimatable hardboard, MDF, and metal photo panels provide a tactile feel for photographers and artists wanting to offer customers more variety. The surface provides an alternative look, feel, and depth, and the panels are great for desktop and wall art applications. Universal Woods offers them in various sizes ranging from 5″ X 5″ to 40″ X 60″.
Once we discovered that chalk works great on the textured surface, we came up with the idea of transforming the photo panels into chalkboard signage. Functional and stylish, chalkboard signs are fun to write on with standard chalk, easy to wipe clean with a damp cloth and provide lots of indoor signage options for homes and businesses.
Easily imaged using a standard sublimation printer and flat heat press, decorators can transfer full-color, photo-quality designs onto the textured panels to create one-of-a-kind chalkboards with a rustic, modern, industrial, or shabby-chic aesthetic. Smaller sizes can be used in the kitchen for recipes, notes, and shopping lists, while larger sizes can be used in classrooms, churches, meeting rooms, restaurants, bars, and coffee shops. Larger chalkboard signs can also be used as wedding or baby shower signage with plenty of room for handwritten messages. No matter the use, textured hardboard, MDF, and metal have your chalkboard display needs covered — give them a try!
Basic materials list:
Digital template
Printed transfer
Blank metal panel
Heat tape
Heat gloves
Protective paper
Flat heat press
Steps to sublimate:
Download a digital product template and use it to create your artwork
Print the transfer
Cover the bottom table of the heat press with a blank protective sheet of paper
Secure the transfer to the metal panel using heat tape
Place the panel face-up (attached transfer face-down) on the protective paper, cover with another sheet of protective paper, and press for 1-2 minutes depending on metal size at 400 F with medium pressure
Carefully remove the metal from the press, remove the transfer, and let cool