Tips
The Curse of the Cottage Industry
The industry of apparel decoration is made up of a diverse mix of business models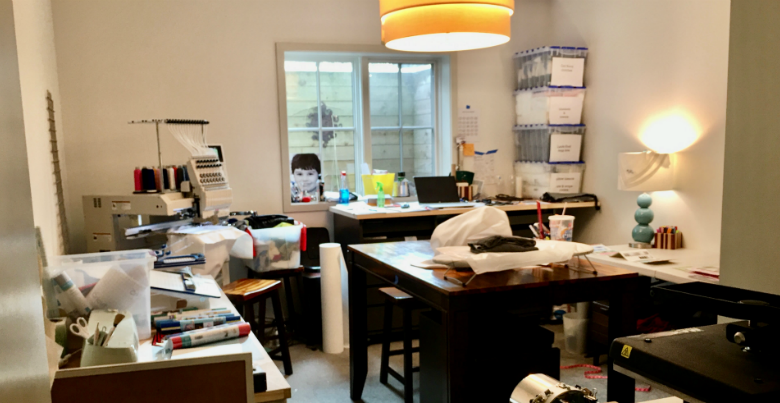 The industry of apparel decoration is made up of a diverse mix of business models. Traditional retail storefronts make up only about half of the industry. Then there are the larger production operations, often located in facilities in industrial locations. Online businesses are a growing segment of the industry. And then the bulk of the remaining companies are based out of business owners' homes and in buildings located on their personal property.
These home-based business owners often never intend for the business to grow large enough to support a retail location. They do, however, count on the income from this business to help cover living expenses like groceries, utilities, and a portion of their mortgage. They formed a separate entity for the company, and they collect and pay the appropriate fees and taxes as a business. They designed their businesses so they could work at home while caring for children or seniors, and they are then available as the hub of the family.
These folks face a unique set of challenges, precisely because of their home-based business location. They are limited in ways that businesses with a retail location are not. Some communities are not supportive of home-based companies because of the impact on the community. These impacts can range from deliveries to the business and increased traffic in the neighborhood to the addition of employees' cars parked in front of people's homes.
Another challenge home-based businesses face is having access to the same sources of wholesale products as retail locations. Some wholesale suppliers will not establish an account with a home-based business. There are reasons for this, such as not wanting to sell to end-users. It is very frustrating when a home-based business can demonstrate that they are indeed reselling the products after decorating them and collecting and paying sales taxes yet are still denied access to entire wholesale product lines. Ask to plead your case with someone high up the food chain. Provide the documentation of your state business license or tax ID. Provide references from other wholesale companies with whom you regularly do business. Ask them what they need to see for you to establish an account.
Winning business can be challenging for home-based businesses. There can be a perception that you "do this on the side," or that you do it "for a little extra money." You invested a significant amount of money in your commercial equipment, software, and supplies. You create products at the same high-quality level as retail locations. Combat this "hobby" perception by wearing the products you sell, with your business logo, every time you meet with customers. Always have a professional-looking sample book to show people examples of past jobs and also demonstrate the kinds of people you have done work for. Finally, make sure that the space seen by your customers does not look like you just hosted a sleepover for a bunch of 9-year-olds, even if you did. People will accept and understand that you work at home when it looks like you can and have managed the home business and workspaces appropriately. However, they are not likely to order from you if an adorable little kid is making a PB&J sandwich on the same table where you are going to be adding their logo to the shirts they want.
The responsibility is on the home-based business owner to make a strong enough impression on a potential customer that they are serious about and capable of creating what they want with the same care, expertise, and quality level as any local retail business.
What challenges have you found if you are running your business at home? I would love to hear from you. I may be able to offer suggestions for your situation in a future article. Email me at [email protected]