Tips
Sublimating to Colored Polyester Shirts
Take advantage of the profit potential no matter your level of production.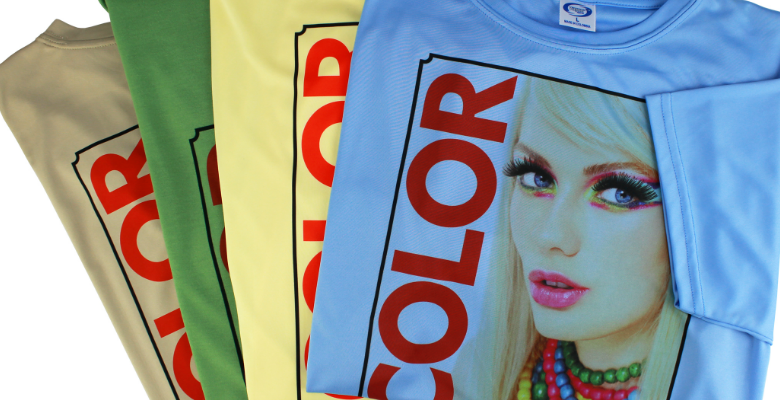 Today's polyester shirts are a far cry from the polyester shirts of the 1970s. In fact, polyester has become the go-to performance fabric for outdoor activities by offering moisture-wicking properties, SPF protection, and a feel similar to cotton. The ability to transfer full-color, photographic quality images onto polyester has further enhanced its appeal and provides excellent profit potential for garment decorators at all levels of production.
Polyester shirts used in sublimation transfer must be white or light colored. Because sublimation ink is not opaque, a fabric's color will always show through the image imprinted on it. Unfortunately, the ink is simply not opaque enough to imprint images onto dark-colored or black fabrics. With white and light-colored fabrics, however, the results are stunning. There are brands in the industry that focus on non-white shirts for sublimation. Some are even sublimation certified and will work with a high percentage of the color gamut without any impact from the color of the shirt. For vector graphics, this can be an ideal way to grow your apparel customer base.
As a big bonus, color shirts often bring a higher selling price as they are considered to be of greater value than a white shirt. After all, who wants just white shirts? Retail loves color. Light blue, yellow, light green, gray, tan, light pink, and other shades can all deliver a retail-ready product.
For people who want to make apparel a significant part of their sublimation business, printing on "colored garments" changes the calculus of their market opportunity.
An important consideration when selecting a colored polyester shirt is its colorfastness while in the heat press. Unfortunately, the color of some polyester fabrics will fade when exposed to the temperature(s) needed for sublimation leaving an unsightly faded rectangle where the press's platen made contact with the fabric.