Too often in the past, I've worked with sign and print shop owners who think they need to throw out everything they're already doing to fix some real or perceived problem with their business.
But that's a recipe for headaches and unnecessary stress. Here are a few changes to implement in less than a day that could significantly improve your sales process.
Ask better questions in your signage request form
You've seen it 100 times before. The standard contact form. It has four fields: name, email, phone, and comments. And most of the responses you receive from this standard are not really helpful.
Yes, we understand you "Need some signs for your business," John. You end up trading four or five emails to get all the info you need from John. And maybe you still have to pick up the phone.
The solution? Get better details upfront. A better quote request or intake form will help you in multiple ways.
You'll be able to qualify the customer before you spend 5-15 minutes on the phone. Not every job is a good job. Wouldn't you rather know that before wasting your time?
You'll cut out a lot of back and forth via email or phone. If you ask the right questions in the form, you should have everything you need to create a ballpark quote for your customer.
It can also be a great way to train new team members on how to take quotes and orders from customers.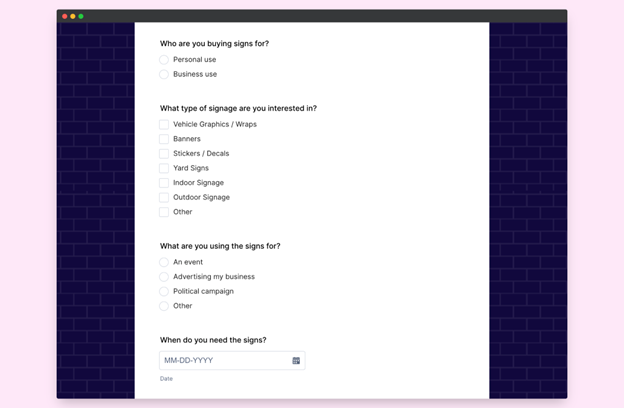 There are quite a few off-the-shelf tools that will help you build a better quote request form. Jotform is one of the more popular ones. I specifically like the ability to change the form questions depending on how a customer or lead responds. If they don't need installation, why ask them for an address?
You can even use automation tools like Zapier to send the data from your forms to your print shop management software.
Appointments can save time (and your sales process)
Scheduling 10-15 minutes to discuss a project with your customer via phone or Zoom can save loads of time and help ensure a project is completed on time.
How? Email is super convenient; it only takes a minute to fire off an email to your customer requesting details for the job. But the cycle of sending and waiting gets you into trouble. Most customers aren't just waiting in their inbox to immediately reply to your message. So it could be hours (or even days) before you hear back from them.
The way around this is to book appointments with clients to cover everything in one call. Get all the details and move on to the next step.
Online scheduling tools make it easy for customers to book appointments when convenient for them. Here are some I recommend.
Use the snooze feature
Like it or not, many of us end up using our email inbox as a to-do list or even a low-tech CRM. I've spent years setting up shop management software systems for clients, and even I'm still guilty of leaning on email a little too much.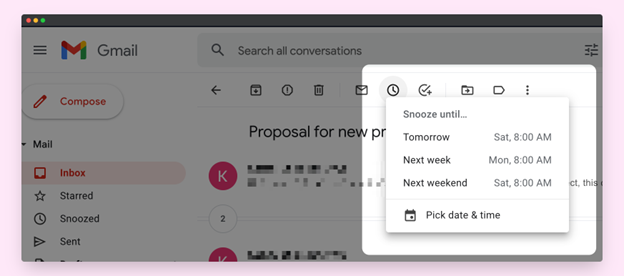 But definitely don't sleep on the snooze feature. Most email clients like Gmail, Outlook, and others now have a Snooze feature that allows you to save emails for later and automatically put them back in your inbox after a certain period of time.
If I've sent a quote or I'm waiting on a reply to an email, I'll snooze the email thread for a day or two so I can get it "off my to-do list" and move on to the next one. At the same time, I'm making sure I don't forget to follow up because it will show back up in my list without having to think about it. It's like magic.