Tips
Make it Personal: Boost Your Personalization Business by Blogging More
Blogging can transform your business in four big ways.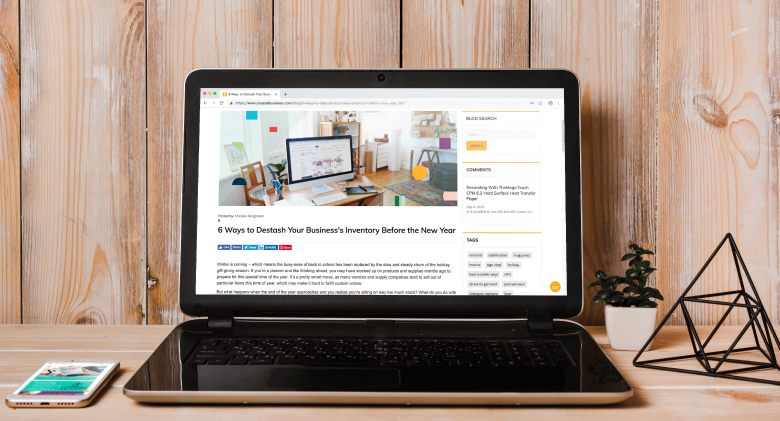 When your business relies heavily on sales and customer satisfaction, there's always more that you can do to keep your client base growing and increase your reach. The technological advancements that have been made with concepts like brand-specific apps, social media, remarketing advertising, and email marketing are keeping businesses and customers more connected than ever. That doesn't mean efforts like blogging should go to the wayside.
In fact, blogging is a phenomenal way for small and growing businesses to increase the number of leads they generate, and here's why:
It drives traffic to your website and affects your business' search engine ranking.
When you add fresh content to your website, Google and other search engines take notice of the activity. They want to send folks to sites that are updated and well maintained. Every time you publish a blog post, you are adding another indexed page on your website. This improves your site's SEO and creates more opportunities for your business to show up in organic searches, which allows new people to find you faster. The only way to increase sales and widen your customer base is to make your business more discoverable. Blogging about your business is an incredibly easy way to ensure you are seen on the internet.
Keep in mind that you'll want to naturally use keywords that are relevant to your business and that your customers might already be searching for throughout your content. But, a big word of advice: avoid keyword stuffing.
When you overuse too many keywords in your posts, it can make your audience disengage with your content and may cause search engines to punish you for coming across too spammy, which will negatively impact your site's ranking in the long run. Write about helpful or pertinent topics that you know your audience will genuinely enjoy. This will make it easier for you to share links to your posts on social media and guarantee their success, which ideally will increase your website's traffic too.
It sustains your social media presence and helps you generate new leads.
Instead of creating new, original social content for every day of the week (or paying someone else to do it for you), blogging gives you the freedom to share and reshare links to your posts (which point directly to your website) on your social media channels. In sharing, you are inviting people in your audience to like and share these links, which can expand your company's reach and put you in front of demographics you may not be hitting with your other marketing efforts.
Once you've begun sharing links to your blog, you'll want to take advantage of the traffic your content is driving to your site and capture new leads. Invite your readers to join your email list or sign up for your monthly newsletter to stay up to date on what's new with your business. Further, incentivize them to provide their contact information by offering a reward or a discount they can redeem on their next order. Whatever you end up blogging about, don't ignore the opportunity to capture the visitors your blog is bringing in.
It shows personality and offers insight into your business.
Blogging is a brilliant way to give your customers and prospects a behind-the-scenes look at what goes on at your shop. This accomplishes two big things: it allows your audience to get to know the voice and style of your business, and it gives you the opportunity to shed some light on what your company believes is important enough to share (which can tell a lot). A business that blogs strictly about new product offerings or seasonal sales is going to have a very different mission than one that details the results of its latest community outreach effort, and they are both going to be vastly different from the company that publishes interactive T-shirt upcycling tutorials for customers to try out at home. There's absolutely nothing wrong with any of these types of posts, but it's good to recognize that your blog should be distinctive to you and convey the personality of your business, your brand, and your company mission.
Maybe your company has a unique ordering system with dozens of product choices and customization options. Blogging about the importance of every step in the process, or day-to-day internal actions, is an excellent way to explain how to submit orders to prevent mistakes from being made. Maybe your company is devoted to serving a particular community, such as the arts, the service industry, the craft beer brewers, or nonprofit causes. Creating blog posts about events your business has participated in or important milestones that your business has helped reach is a phenomenal way to showcase your company's interests and commitments. No matter how big your business is or what your business offerings are, blogging provides an effective method for folks to tap into your company and see what's going on under the hood.
It establishes you as an authority figure.
The best blog posts are the ones that answer the questions your customers already have. Successful companies make a habit of inserting themselves into the customer conversation and assert themselves as experts on industry subject matter.
Start taking note of any customer questions that come up often. Some examples could include:
What are the best garments to have personalized for an outdoor family reunion in the middle of the summer?
How do I keep my custom T-shirts from fading in the wash?
What are some tips for submitting group orders or creating T-shirt fundraisers?
By creating helpful content that provides them with answers, you show you're invested in their needs, which keeps your customers coming back to you. They trust you and have confidence in your business. They remember you and keep you top of mind because they already know they can count on you for the information they need. The other significant advantage of writing out responses to common questions and publishing them as blog posts is you won't have to repeat yourself as often when you can email a link over to your customer instead.