Tips
How to Store Unused Heat Transfers
Give your unused transfers the longest life possible.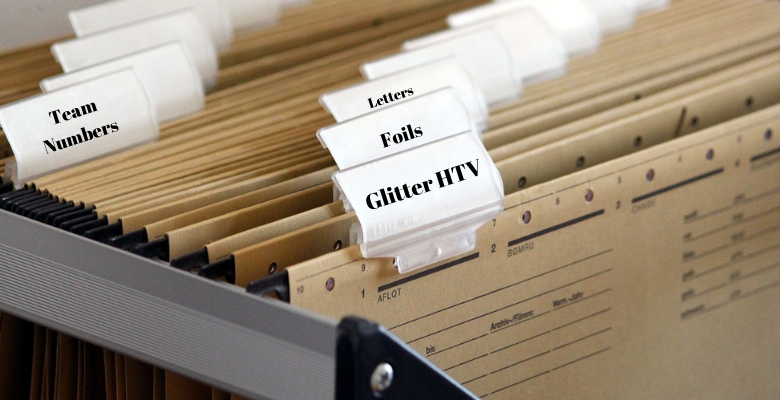 One of the best benefits of using heat transfers is the ability to store unused transfers for future use. You might have a stock design you sell often but want to control your inventory, or you decorate for a youth baseball team, and the coach comes to you with a couple of new kids that need uniforms. Storing your transfers for those moments is one of the things I love about using heat transfers for decorating apparel.
However, there is no real number of days, months, or years heat transfers will last. A heat transfer's lifespan depends on how it's stored. When done correctly, heat transfers could last for many, many years.
Depending on the type of heat transfer, you will find most inks and adhesives have some shelf life. Some transfers, like plastisol ink heat transfers, are made using partially cured ink that can cure or dry over time if not stored properly. To get the most extended shelf life out of your heat transfers, store them in ways that prevent the ink or adhesives from drying out.
To get the transfers to last for years, the best way to store them is in a climate controlled environment, like an office. Avoid basements, garages, crawl spaces, and sheds as these areas can get too hot, too cold, too humid, and too dry.
If you are not using your heat transfers right away, store them in a sealed bag. The shipping box your heat transfers come in makes for excellent storage. Keeping them away from direct light can help improve the longevity of your heat transfers.
Stack and label your storage boxes with your customer's name or other details about the order for an organized storage area.
The critical thing to remember if you are pulling heat transfers out of storage is to test the transfers. If you check the transfer according to the instructions given to you by the manufacturer and it does not adhere to the fabric, then the heat transfer is likely past its prime, and you will need to order a new set.
Putting in the extra effort to store your transfers properly will have lasting effects in your business and is one of the great benefits of using heat transfers as a decoration method. Not only will it help you stay organized, but you will also be able to use your transfers for months or years to come.