Tips
How can decorators offer premium heat-printed products?
In the case of many successful businesses, premium heat printing means elevating the finished product. Since all finished products include a blank item plus a decoration, you can choose to upgrade one or both.
In the case of apparel blanks, this means going with a premium brand or a higher quality. Try selecting the jacket, bag, or polo with the extra details and premium fabric construction versus the lowest cost solution.
In the case of decorating, it may mean selecting elevated finishes and materials or combining products to create unique looks. Often, it's as simple as the logo placement that generates a high-end look. And for a heat decorator, this is a secret weapon that is tough to replicate with other decorating technologies.
While there are many ways to create something different, let's get into a practical example of what premium heat pressing may look like:
The Job: Track jackets and bags for a local dance school
The Goal: Create something that stands out at dance competitions
The Delivery: A mixed media four-logo placement track jacket with a drawstring bag to match
This type of job represents a real scenario. A local dance studio wanted to stand out from the crowd and outfit dancers with something that looks great on stage. While glitter remains a popular finish and is the go-to for jobs like this, the studio owner was interested in what's next. With permission to exercise creativity, we began thinking through materials and finishes that would deliver. The final result was difficult to make but profitable, nonetheless.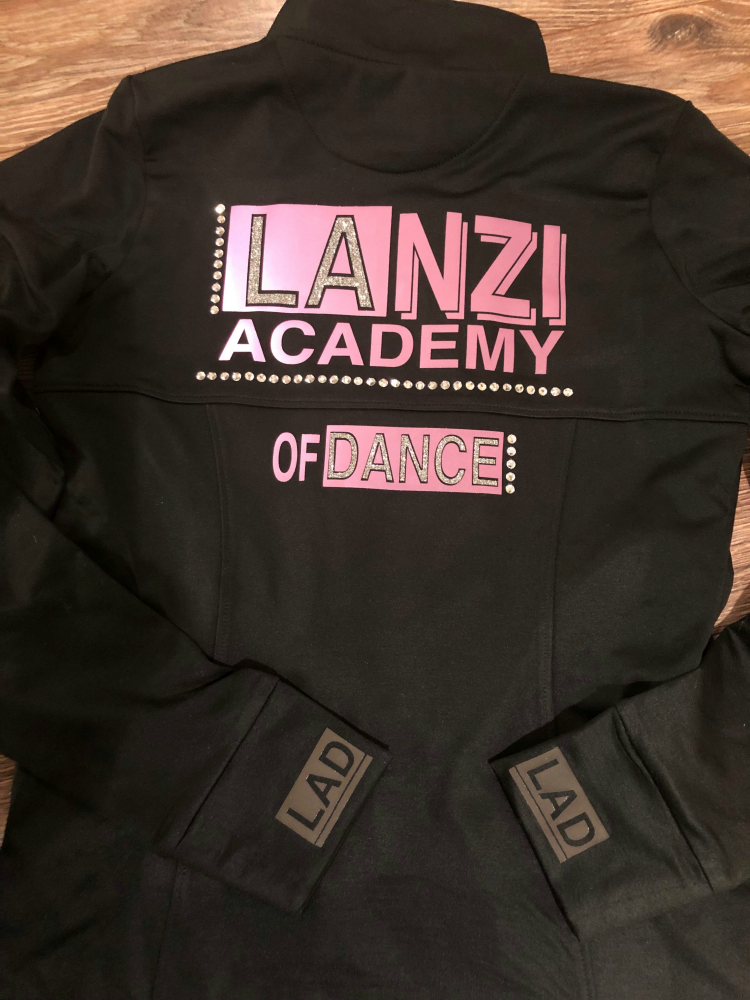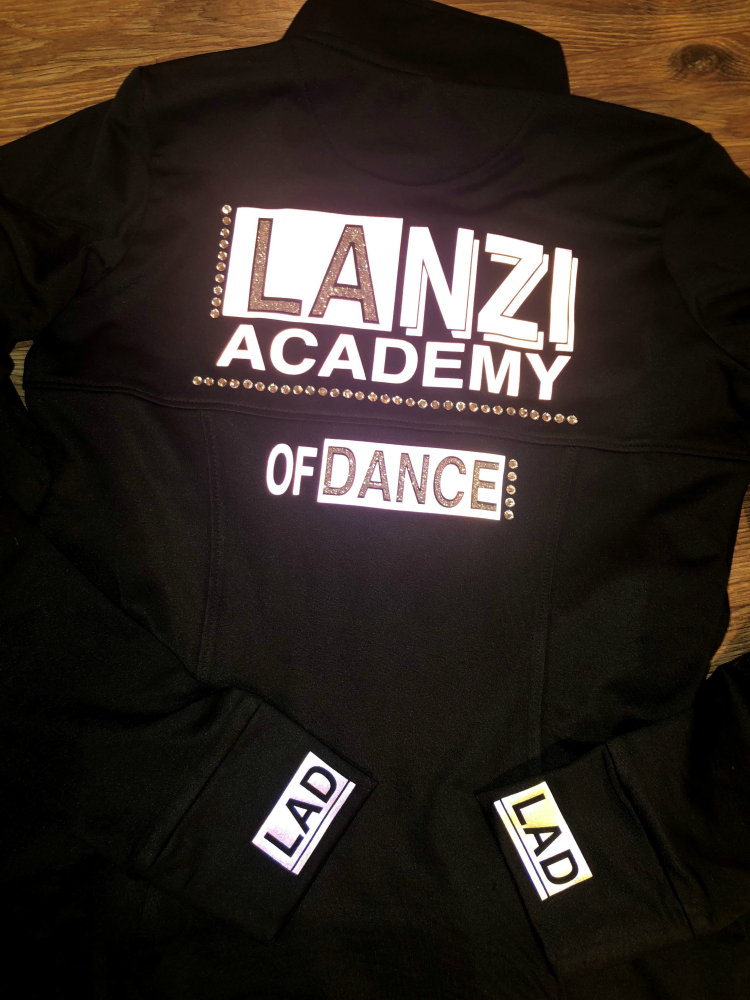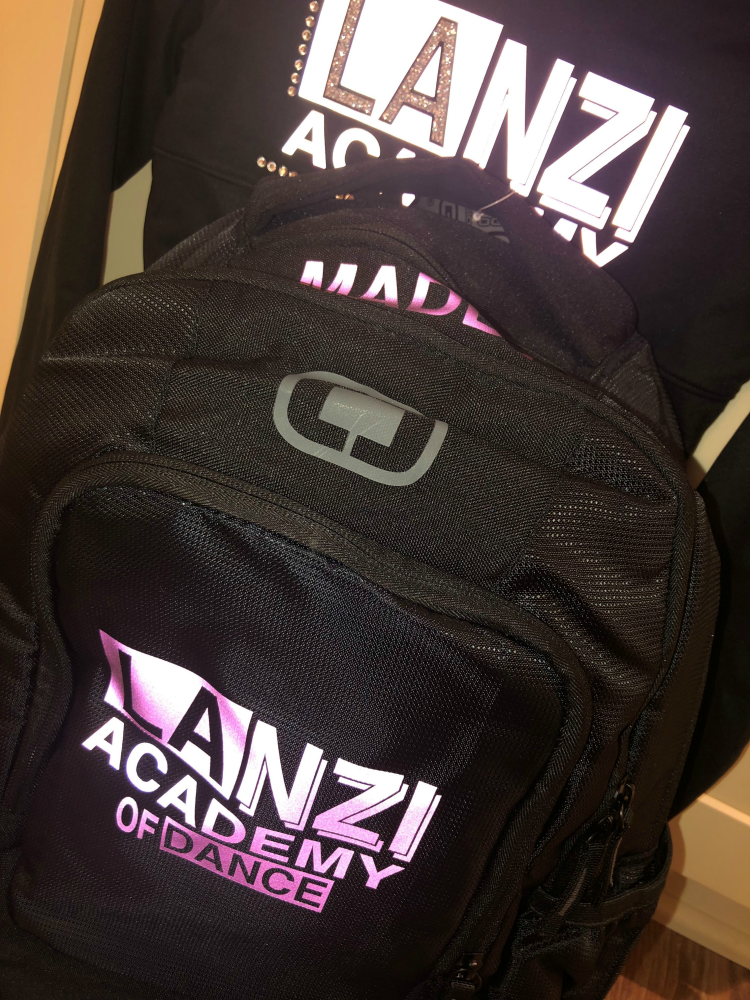 The jacket was sourced to offer a tailored fit, which would be different from the loose-fitting tracksuits of old. With a premium blank product, the art creation began. The runway for fashion week showcased reflective elements as a trend. The idea of reflective for a finish made a lot of sense for two reasons:
The material reflects light to the source, which would create amazing photos and a great look on stage during awards at competitions.
Reflective would be a functional material as well. The dancers are often heading out into parking lots and streets during the night time where the reflective logo would provide an element of safety.
After considering this further, it became clear that for some added low-light visibility, we would add a cuff print to each sleeve featuring the dance school's initials. Tone on tone, with charcoal reflective, would be the right fit against the black fabric of the jacket. Pink reflective, the dance school's color, would be the choice for the primary logo. With reflective imagined as the main finish, we would need to include something that added a pop during the day. To not depart too far from what seems to be a standard, glitter and rhinestones were selected to complement details within the design.
Now, for the dance bag. Since the jackets were the hero piece, the bags needed to coordinate and include the same pink reflective material for the decoration. Now, rather than relying on just a jacket for profit, we increased the value of each sale by completing something relatively easy with a heat press.
The production workflow (cutting the materials, preparing them for application, and applying them to a jacket) totaled about 5-8 minutes per piece. For those heat printing a lot of T-shirts with screen-printed transfers, you could do 10 shirts in that amount of time. However, the profit of a single, premium jacket can eclipse a standard profit on 10 shirts. When adding in the bag, the profit per set yields tremendous returns. In these scenarios, calculating a profit per hour of machine time can be extremely beneficial and will help to drive future sales and marketing decisions.
While this is one specific example, there are many ways to play in the premium end of heat printing. The first step is to find a customer type that values this. Once found, we can start to imagine and create an offer and items that stand out from the crowd. With one job comes more jobs, and with more jobs comes a competency. Once a decorator creates a competency with high-end looks, it's tough for the next start-up or hobbyist to catch up. Go out and decorate like a heat press professional.
—Stahls'