Tips
Achieving the Best Heat Transfer Vinyl Application
Take a deep dive into some of the more common HTV issues and how to solve them.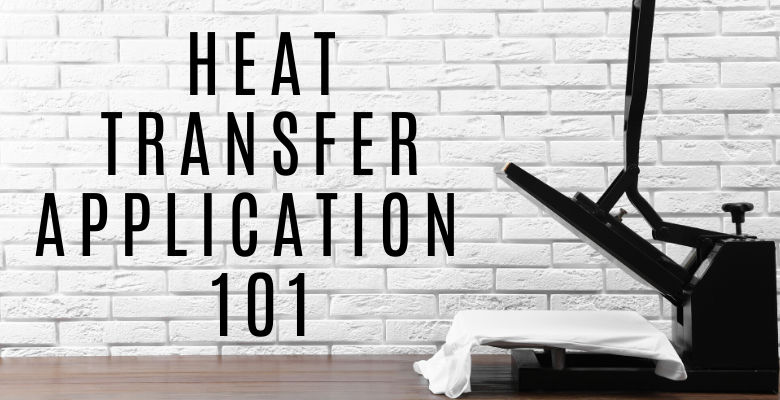 No matter your experience level using heat transfer vinyl (HTV), both beginners and experts can run into some troubleshooting issues. This article will cover various troubleshooting techniques that will be certain to help you get back to creating.
CUTTING
What HTV are you using?
If you have any familiarity with heat transfer vinyl, you likely know that you cut the design in reverse (mirror image). Additionally, you always want to cut on the backside of the HTV, which is the dull or non-shiny side. The only exception to this is when you are using any patterned or printable vinyl. In that case, you do the exact opposite-cut the design right-reading on the shiny side.


(Images courtesy the author)
Test cuts
It can't be said enough. TEST CUT, TEST CUT, TEST CUT! Did we mention that you should do a test cut? No matter how experienced you are with the heat transfer vinyl you are using, it's always recommended to do a test cut before cutting your design. Different colors and batches of the same heat transfer vinyl can have slight variations due to the manufacturing processes. Test cuts should be made for each color and each product because each piece of HTV can handle a little differently.
Ultimately, test cuts are essential in ensuring you don't waste vinyl. Don't be afraid to conduct a few small test cuts to find the optimal cut force or pressure. You're much better off using a couple of square inches of vinyl to test rather than wasting yards of HTV and your time. Plus, when you use optimal cut settings, you'll have an easier time weeding.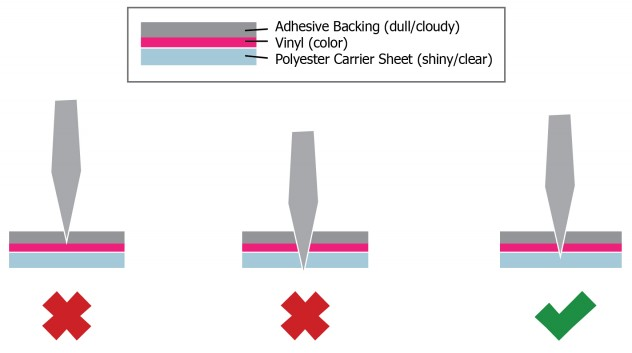 Invisible cut lines
Cut lines can sometimes seem "invisible," especially when cutting on glitter HTV. Light colors such as white or yellow can also make it quite hard to notice cut lines. Good lighting makes a significant difference when trying to locate those hard-to-see lines. Try holding your vinyl up to a window to shine some natural light on it. Light tables can be handy as well.
If no lighting adjustments help to identify the cut lines, you may find that bending the vinyl is an easy way to find those cut lines. If both of these techniques fail to help, that is an indicator that the cut force or pressure needs increasing.
Difficult weeding
As already mentioned, optimal cutting will make the weeding process less painful. If the cut is not deep enough, weeding can and will be more difficult.
Another useful technique is to weed the vinyl on the lower platen of your heat press. First, warm up the lower platen by pressing down the heated upper platen. HTV becomes much quicker to weed when warm because the warmth activates the adhesive to become looser. Be careful with this technique, as too much heat can result in too much activation of the adhesive, and then you will run into further issues when attempting to apply the vinyl.
PRESSING
Know the application instructions
Not all heat transfer vinyl is the same or applies the same. It's always crucial to know the specific application instructions to ensure a long-lasting transfer. Things to know include:
Materials the vinyl can adhere to
Heat press temperature
Pressing time
Pressing pressure
Peel temperature
All of these factors, if not properly followed, can lead to a failed application. The most common notice of failure is the vinyl falling off after washing. In this case, it is very likely that there wasn't enough pressure used.
Layering
Not only is it crucial to know the application instructions, but understanding the details of the vinyl is very important. A good rule of thumb: metallic and glitter HTV cannot be layered.
For layered vinyl, a common misconception is that all layers need applying for the full recommended pressing time. However, in the scenario that you are using a heat transfer vinyl that requires a 15 second pressing time, pressing three layers for 15 seconds, each would result in a total of 45 seconds. Ultimately, this could scorch and ruin the vinyl.
It's recommended to tack down the first layers, then apply the full recommended pressing time to the very last layer to avoid this situation. For example, given three layers, you would tack down the first two layers for 2-4 seconds each, and then press the third layer for about 15 seconds. As a result, the vinyl has less of a chance of being ruined.
Transfer isn't sticking
If pressed for too long, at too high of a temperature, or with too much pressure, it will not properly adhere to the garment. When too much pressing occurs, the adhesive essentially burns off.
Furthermore, if vinyl is not pressed long enough, at too low of a temperature, or with not enough pressure, it will also not stick to the garment. In this case, the adhesive doesn't fully melt to adhere to the fabric properly.
Thirdly, always take note of the peel application instructions. Peeling cold may be necessary to allow the adhesive to grip the garment fully.
Pre-pressing garments can also be beneficial in eliminating wrinkles and moisture. Plus, pre-pressing warms the lower platen of the heat press to produce all-around heat when applying vinyl.
Some garments feature a thin protective coating, usually in the form of being water resistant. Water resistance is common in polyester materials. Because of this thin protective layer, it can make it difficult for adhesives to penetrate the garment. To weaken this protective coating, try these techniques:
Dampen a cloth with rubbing alcohol (isopropyl alcohol), then gently apply it to the area on the garment you want to apply your design. The alcohol will break through the coating, creating a better surface for vinyl adhesion. Allow it to dry and then apply your vinyl.
Wash and dry your garments before pressing your design.
TROUBLESHOOTING TAKEAWAY
Now that summer is here, and the sales are sizzling, don't be afraid to experiment with a heat transfer vinyl that's out of your comfort zone. As long as you are aware of the proper application instructions and follow these recommended troubleshooting techniques, there is no vinyl too challenging for you to be successful.