Tips
5 Heat Press Accessories You Need
Keep your heat press useful, versatile, and productive with these tools
Heat printing accessories are great resources for keeping your heat printing press useful, versatile, and productive. Adding accessories to your printing business is essential for making hard-to-print items more manageable. Time is money, and productivity is critical. Here are the top five heat printing accessories your business needs.
1. Cover sheets
Cover sheets are a staple for many heat printers because they protect your heating element from stains, inks, and adhesives, as well as preserve the garment. There are two standard cover sheets commonly used by heat printers: reusable and kraft paper. Depending on which type of cover sheet you use, they both serve unique purposes. The reusable cover sheet has a glossy, non-stick coating that leaves the transfer with a semi-gloss finish, while a kraft paper cover sheet leaves a matte finish.
2. Application pads
Flexible application pads serve a different purpose. These pads are a thin, rubberized accessory that protects the item you're heat printing from melting under the high heat of the press. So, when you're printing heat-sensitive items or garments with your press such as leather, polypropylene, acrylic, etc. this pad allows you to do so without compromising the finish. When working with this accessory, please note that you'll always increase your time an additional 10 seconds to the recommended instructions. For example, a heat transfer that applies at 300 degrees F for 15 seconds will apply at the same temperature for 25 seconds when using a flexible printing pad.
3. Heat printing pads & pillows
An even application of pressure is key to getting a durable finish when heat printing transfers. If your pressure is uneven, then the design may not be fully applied to the garment resulting in the transfer not adhering or falling off over time. Print pads are used to effectively isolate and elevate a print area for even pressure and accurate application every time. These accessories help with items that have buttons, thick seams, pockets, and zippers. Any time you are implementing a print pad for a job, be sure to double-check your pressure. These pads are made out of dense rubber and can cause an overload of force, resulting in damaging the garment or item. Always test before applying.
Heat printing pillows have a similar purpose. These accessories are non-stick, reusable, and allow decorators to get an even surface for application no mater the garment or item you're printing. Instead of isolating and elevating a print area, they allow hardware (buttons, zippers, etc.) to sink into the pillow. This keeps the rest of the garment raised in an even flat surface for printing accurately.
4. Interchangeable platens
Interchangeable platens are incredibly lucrative to any heat printing business. These accessories come in a variety of sizes so you can isolate any print area of any garment or accessory you need to customize. Whether it's left-chest logos, long sleeves, pants, shoes, or bags, these platens let printers load virtually any item onto a press for successful printing. Interchangeable platens swap in and out quickly, making these accessories valuable in cutting production time and heat printing designs in unique places faster than ever.
5. Heat-resistant tape
A heat-resistant tape is useful when it comes to creating a straight and perfectly placed design.  The heat-resistant tape is used to keep graphics that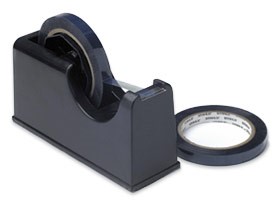 don't have a tacky carrier, and loose letters or numbers in place before and during the heat printing process. When using pre-cut letters, numbers, and designs, getting the transfer in the right spot can be tricky and time-consuming. Once perfectly placed, the tape ensures that the letters stay straight during the application.
Save time and ultimately increase the bottom line of your business by educating yourself on how to make the best use of these heat printing accessories!