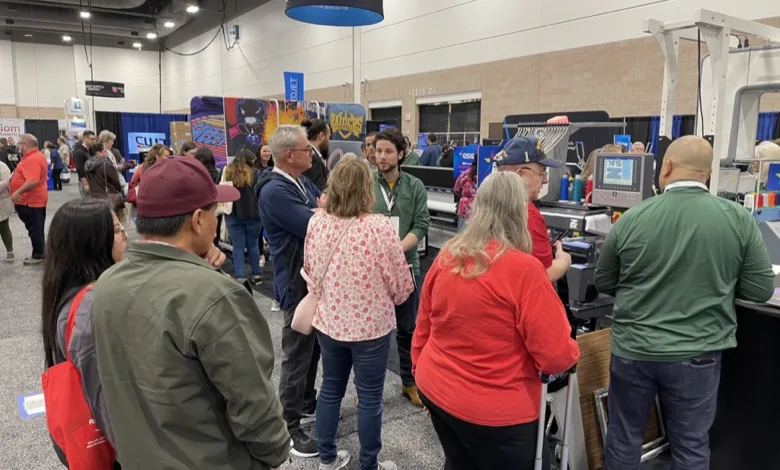 Attending an industry event (trade show or open house) is, by far, the best way to see new technology in action, stay on top of trends, and build relationships with equipment vendors and suppliers. It's also the best way to get a great deal on your new equipment purchase. Here's the inside scoop on how to shop a show…like a pro:
1. Know that equipment vendors want to close deals on the show floor
Exhibiting at a trade show is a significant investment for vendors, and show floor sales provide immediate and measurable ROI! At events, vendors often advertise special show pricing, throw in add-ons or offer equipment bundles, and may even offer demo equipment at a discount! (But if you're eyeing a demo piece, I'd hop on that deal early, as other shoppers may have the same idea.)
In addition, if you speak with a vendor at the show, they'll often honor show discounts for you for a window of time following the show.
Note: The savings don't stop with equipment vendors. Lenders also offer special financing at the events we attend — like deferred payments, little to no money down, or low introductory payments.
2. Know that we want to close deals on the show floor
We want to keep face-to-face customers (like you!) and our vendor partners and potential vendor partners happy. Our goal is to blow you away with our service, and it's fun to do that in person! Here's a little secret: Our underwriting team gives us a little more flexibility with terms and approvals ON the show floor. Plus, our show approvals are fast – we have a dedicated team servicing only show applications, so you'll have an answer in minutes! We'll work with your vendor of choice to go from app to PO in no time at all.
Pro tip: Even if we aren't exhibiting at the show you're attending, you can still get approved quickly and POs issued at the show!
3. Do your research and arm yourself with knowledge
Before the show, figure out which vendors are exhibiting and make contact with them! Inquire about show specials and featured equipment. Ask if they'll be demoing equipment at the show. If you're trying to decide between two pieces of equipment, ask for their expert recommendation. These conversations can build trust early and save you time at the show!
If you don't yet have a relationship with an exhibiting vendor, you can always compare pricing, service, and options at the show. Most of the time, one vendor will stick out above the rest.
4. Consider how you'll pay for your new equipment
Knowing how much you can afford is key. Once you have pricing, figure out if you'd be best served by paying cash for the purchase or by financing it.
If you're unsure how much you'd get approved to finance, you can get prequalified. Pre-qualification is a great tool to help determine your budget.
The final takeaway
Hopefully, these tips will help you gain confidence in your trade show purchasing power and allow you to save a few bucks as you set your business up for growth. See you at the next show!