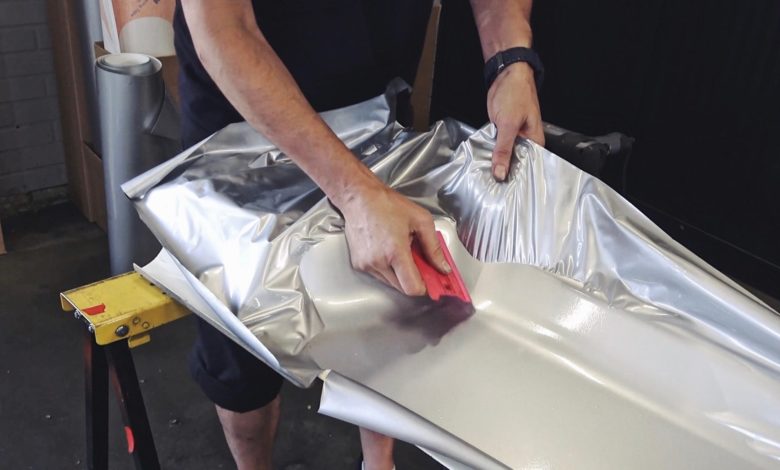 What is the best tip you could give for someone wanting to start doing car wraps?
This is the golden era for learning how to wrap a car, as there are so many learning platforms available today. Back in the day, there were no online videos to learn from or workshops to take, so it often felt like putting a square in a circle. Today, the best combination is taking a hands-on workshop and watching instructional videos—then practice, practice, practice.
One of the best investments you can make is taking a hands-on workshop. Yes, they do cost money (workshop fee plus possible travel costs), but the potential knowledge gained will more than offset the upfront costs. There are a lot of workshops to choose from, so be sure to take time and read about the focus of each. Some workshops cover just vehicles, while others include flat installs like floors, walls, and cut vinyl.
Two other things about wrap workshops:
Look to see if the workshop includes free tools and wrap material. This is a big bonus as that free material makes it easier to practice and gives you the chance to turn it into income by wrapping some hoods and roofs for family and friends.
Before choosing a workshop, ask around to see what people recommend. The best recommendations come from people who have taken workshops from several different manufacturers.
Instructional videos are another great platform to speed up your learning curve. There are a lot of instructional videos online today. Some are free on platforms like YouTube, and others you must pay for, like The Wrap Institute (TWI).
You can find good content on YouTube without question. The downside with YouTube learning is that you need to spend some time searching to get focused topics. Also, some of the content is more about putting on a show than legit techniques that create quality and long-lasting results. Vinyl Vixen and Wrap Virus both offer good YouTube content for learning.
The Wrap Institute does cost to become a member, but it's the same price as Netflix, so it's an affordable option. The Wrap Institute makes product videos for all the wrap film manufacturers, so content directly aligns with how the film should be wrapped.
With these recommendations, the best combination sequence is first to take a hands-on workshop. From this foundation, get some wrap film and practice and watch instructional videos to further your education. Dial in your technique on the easier bits like hoods and roofs, then only move onto the more technical areas like mirrors and bumpers when you're cutting, and #cornergame are strong.
With this combination, you'll find that you will get up to professional speed quickly while keeping wrapping super fun. If wrapping feels like a hobby while still making you money, then you learned it right.
Training sources: