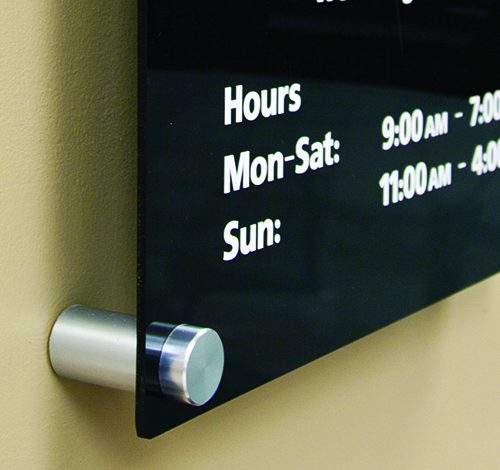 Standoff systems may, at first appearance, be an industry tool, but once you see one, they become ubiquitous.
"When you become aware of them, you will see them everywhere," says David Pountney, marketing director of Pizazz Display Systems, a mounting hardware manufacturer in Auckland, New Zealand. "It's a richer visual experience looking at those than something plain and flat against the wall. It makes them more noticeable."
Standoff systems are mounting components used to mount signage, artwork and exhibits on a wall, creating space between the wall and the object being mounted.
"By lifting the panel off the wall, it gives you a visual impact with depth and shadow," Pountney says. "It's an elegant, beneficial way of attaching a panel to the wall. That panel will have a graphic image or a text message on it or a combination of both."
Multiple applications
Standoff systems have multiple applications and are found in a long list of places, such as offices, lobbies, schools, restaurants, retail outlets, shopping centers, airports, hospitals, universities, casinos, hotels, movie theaters, galleries and museums. They are used as part of shelving systems and displays, serve as signs and directories, enhance donor walls, and exhibit artwork and artifacts from prints to heavier objects like rugs and three-dimensional art.
"When someone walks into a room or a company's lobby or headquarters, they kind of scan the area without knowing it," says a spokesperson for Gyford StandOff Systems, a manufacturer of mounting hardware in Reno, Nevada. "A lot of times what they see will add to their overall perception of the quality of the company."
That's because standoffs give a finished and professional look to a sign or display item.
"It's a higher level of design," says the Gyford StandOff Systems spokesperson. "It definitely looks more professional than just throwing a screw in. They add to the sign and overall look of the space or room you're in."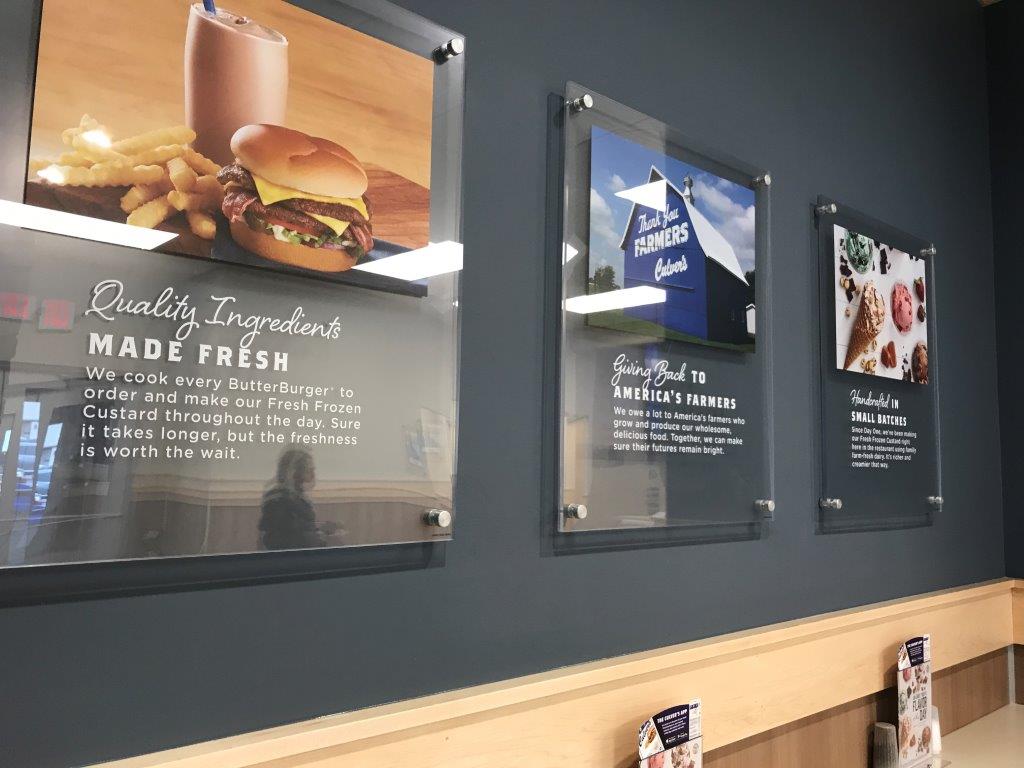 The professional look comes, in part, from the barrel and cap, the mounting device, or hardware for the standoff system. The barrel typically is cylindrical in shape and functions as a spacer between the two panels, pushing the second panel out from the first. The cap is on the exterior of the second panel and screws into the threads of the barrel, securing everything into place.
"The cap is what makes it look nice," says Paul Bernstein, vice-president of Metomic Corp., a manufacturer of standoff systems in Chicago.
Holes need to be drilled into both of the panels for the installation-but the printout, sign or display item can be placed between clear pieces of acrylic, Plexiglas or another material to prevent direct drilling, or the item can be made with a clear border for the standoff systems to be installed. The caps, which are placed at each corner of the panel, are polished to add to the appearance of the standoff system, he says.
"Something like this looks a whole lot nicer and finished than having a wood block behind it," says Gyford's spokesperson. "Standoffs add to the look and feel of a piece. It really makes it a higher-class type of installation."
To add to that polished look, the hardware can be made of stainless steel, aluminum, or another material or painted or powder coated to match the sign or other display item.
Materials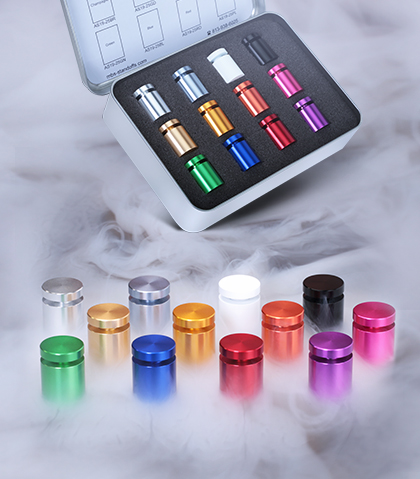 Hardware made out of stainless steel is optimal for outdoor uses, because it will not rust or tarnish, while aluminum can give the same silver look while carrying less of an expense and, because of its lighter weight, reduces the overall heft of the installation.
"The majority of people are looking for that silver look … after that brass or black anodization," says Gyford's spokesperson, adding that Gyford StandOff Systems carries brass and black anodization in-stock for popular sizes.
Clear anodization, which also is popular for mounting hardware, gives the material a shinier look and helps protect from rust and discoloration.
"It changes it from a raw piece. It gives it shimmer and shine," Gyford's spokesperson says.
MBS Standoffs in Tampa., Florida, offers a wide range of hardware finishes, such as gold anodized, black anodized, bronze, titanium, pink, champagne, purple and red, says Laure Merminod, sales manager of MBS Standoffs, which specializes in aluminum and stainless steel standoffs.
"(They) can most definitely help the signs pop out more," Merminod says.
Standoff systems, no matter the color that's selected, enrich the appearance of a sign and make it more visible, serving as an attention grabber, Bernstein says.
"Standoffs take a very, very plain sign and add a whole different dimension to it," Bernstein says. "They enhance a traditional sign and make it stand out. It's not an ordinary sign anymore. It becomes something special. It stands out from the crowd. It allows the sign company to put a single or multiple backings behind the initial sign to add more impact to it."
Other uses
Standoffs have other uses beyond mounting signs on a wall-they can become part of a shelving system, fixture, desk, or other pieces of furniture. They provide the structural aspects of the furnishing with the panels serving as shelves or other surfaces, he says.
The standoffs can be mounted on a table or counter for a retail display or be used to create multi-level shelves or platforms, also for display uses or to show or store items.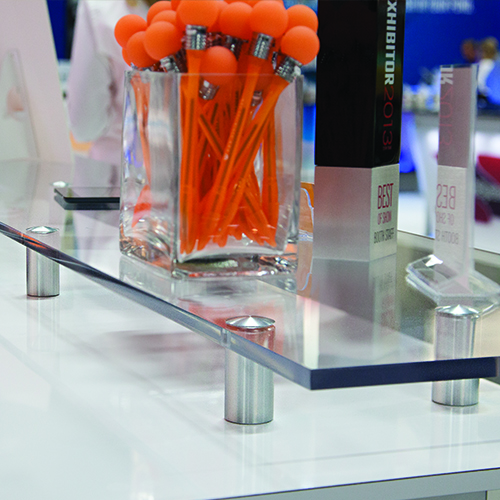 "Instead of going out from the wall, you are going up from a table," says Gyford's spokesperson. "It's really just a nice way to build anything if you have a good imagination."
The standoffs add a dimensional effect to the displays, while also holding the displays together, Bernstein says.
They also can be used in multi-panel displays, covering an entire wall with decorative panels, employing a threading rod, and the caps to flush the panels directly to the wall, sometimes without the barrels. The images can be separated or assembled together, he says.
The result is the panels take on a floating appearance, Merminod says.
"We offer a cable-and-rod display system primarily used to add a 'floating' effect and (that) can be configured to serve as a multi-display holder as well," Merminod says.
Standoff systems work for oversized images, such as magazine covers blown up in size and placed between two large panels without the image bending or wrinkling because of size, Pountney says.
Standoffs modernize the look of a sign or display, no matter how they are used, Merminod says.
"Standoffs are used as an alternative solution to traditional signs as they add a more modern look in an endless array of applications, while remaining affordable, easy to install and maintenance-free," Merminod says. "There really are endless opportunities and applications for standoffs, which make it a popular product among sign makers and other related industries."
Pountney has seen standoffs used in other unsuspected places, such as in the assembly of massive Christmas trees and displays mounted on barges, he says.
"There's millions of ways you can use them. It's unlimited because it's people's imaginations," Pountney says. "There's very few businesses that don't have a use for them. They can be used in homes, too."
For instance, posters and prints can be printed on clear acrylic and hung with a standoff system, or frames can be given the system's three-dimensional effect to add to the visual impact and the décor in the home, Pountney says.
"It looks fantastic. It's extra elegant. It's got a great visual impact. … It's a much more modern way to display graphics," Pountney says.
Benefits & drawbacks 
Standoffs have several benefits beyond improving the appearance of the sign or display, such as easy changeability. For directories or exhibits, for example, the mounting hardware can be unscrewed and the printout or object can be replaced with another item without requiring new hardware or panels, he says.
The drawback to the standoff systems is in the price point, because the hardware costs more than the few cents of a screw.
"These things are not sold at Walmart," says Gyford's spokesperson, adding that the average homeowner likely will not pay the higher price to hang a picture, though some will make the investment. "A professional organization will because they want that look."
Sign makers can add to their pricing structure from the added cost of production of the mounting systems, Bernstein says.
"If you're the best sign maker, you want to give the finest hardware," Bernstein says. "Our hardware is made here in America. Everything is made out of aluminum. It's a very durable material. And it gives a nice presentation."
In effect, standoffs make signs and displays more interesting, Pountney says.
"You can have multi-layers. You can offset some panels," he says. "It gives you multi-layering and offsetting capability. It's a very contemporary way of displaying graphics and texts in all sorts of environments."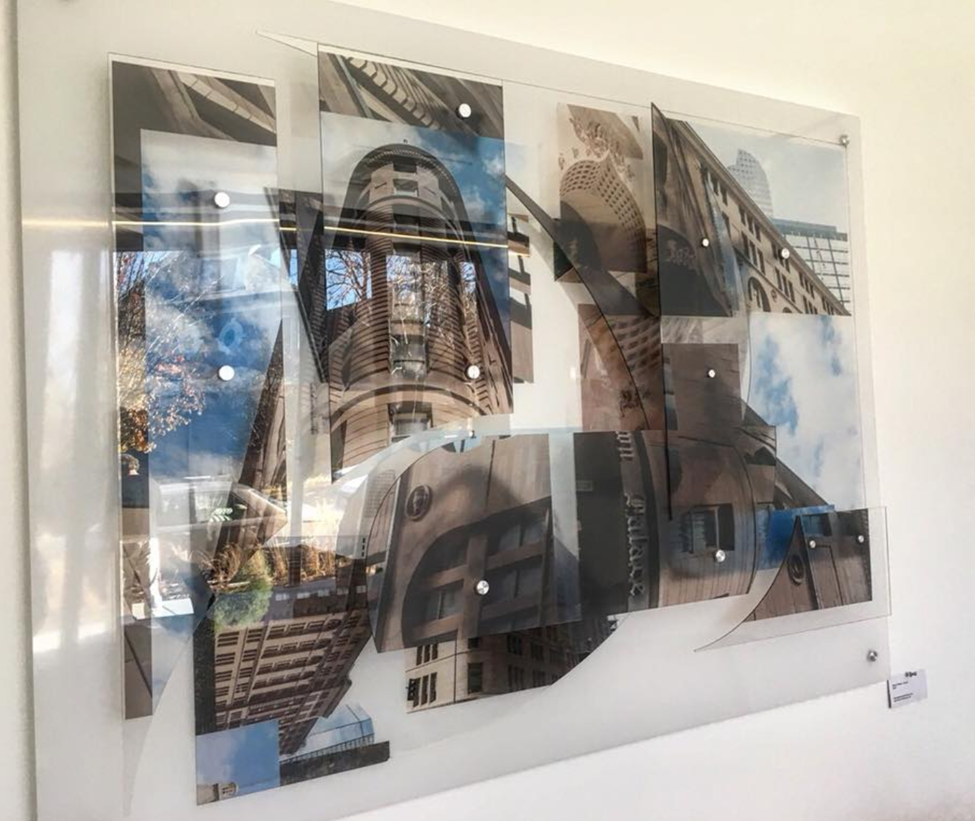 At the same time, standoffs are a "mundane thing," Pountney says.
"But then it's basically your imagination," he says. "What do you want to create? What do you want to do? Standoffs give more creativity."