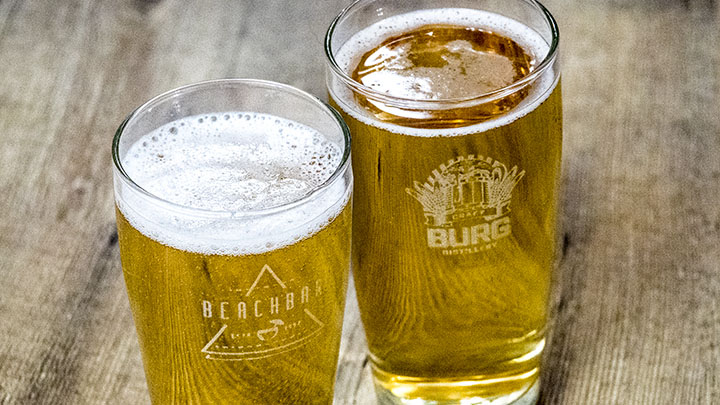 Breweries have the potential for new marketing strategies to build their brand and increase exposure. From stickers to coasters to pint glasses and beyond, breweries sell and give away a lot of swag. Laser engraving allows these booming businesses to brand so many things, both items within the brewery itself as well as promotional items.
These types of branded items can aid in marketing efforts immensely. So, what can you laser engrave and cut for breweries? The possibilities are nearly endless:
Apparel: leather hat patches, custom  T-shirts, branded canvas bags for to-go orders
Beer tap handles: highlight a limited release brew and identify best sellers
Coasters: wood, leather, even cardstock coasters can be customized with a laser
Glasses: engrave pint glasses, pilsner glasses, snifters and more
Growlers: glass or metal, a laser can do both
Flight boards: brand boards with a logo or engrave the names of the most popular tasters
Packaging: create custom packaging to house cans, bottles, or growlers
Signage: from promotional signage to directional/informational signage, a laser can create all kinds of signs from a variety of materials
Branded items build recognition for a business. Being able to add a logo to equipment and products in an inexpensive fashion is a great way to maximize exposure. The laser also provides flexibility in creating messages for limited-release brews and special events.
Products for brewery tours
Brewery tours are big sellers. Why not add to a patron's experience by ending the tour with a customized glass or coaster to commemorate the visit?
For breweries, these types of items serve as a great value-add to any current offerings.