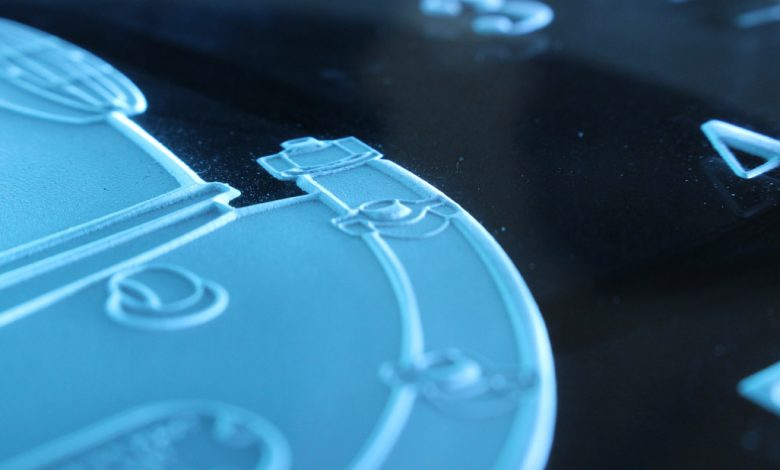 Investing in a little extra effort, one can create products with higher perceived value using the sandcarving process. Whether you use a dry photoresist film or various washout films, a technician can create fine line details on a variety of substrates. Don't think just glass or crystal but other substrate materials including granite and other stones, metal, wood, ceramic, leather, and more.
Anything you can scratch, you can etch with an abrasive media. Here are four techniques to try out.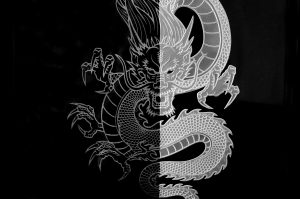 Stage carve and deep carve
The additional work you put into a project, the higher return on investment you will generate. For instance, creating a surface etch on a nice substrate like a thick piece of crystal that you might have purchased for $8 and intend to sell for $30 could be nearly doubled or more if that same substrate was deep carved or stage carved.
These extra labor techniques may not even cross your customers' minds, but if they are aware of all their options, it is likely that many people would choose a more unique and striking appearance, even if it means paying a little more. In the photo above, the left side is simply lasered, whereas the image on the right was first lasered and then stage carved at multiple depths, creating a three-dimensional look. Which dragon would you want to buy and put on display?
Color-filling
Another significant technique worth mentioning alongside stage carving and deep carving is color-filling. Color-filling, or paint-filling, can be done with a multitude of paints and a variety of ways to do it.
The most common methods are airbrush, water-based paint and a brush, rub-n-buff, acrylic markers, and spray paint. The key is not to use too much paint to prevent any pooling.
The ideal process is to have an even coat that looks professional. No matter what paint you use, be sure to cure it with either a clear coating enamel or make sure that the paint you use will not rub off after it dries.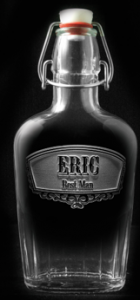 Reverse etch
Did you know you can also add more value to your products by reverse etching?
By carving out the background of a substrate and leaving the design, image, or text unetched, customers will be fascinated by this raised three-dimensional look.
The most common masks, or photoresist film stencils, used for reverse etching are anywhere from 3-mil thick to 5-mil thick.
Ultimately, you could use up to a 10-mil thick stencil mask if the artwork is broader and does not contain much for fine line details.
Back blasting
Back blasting is more of a self-explanatory term in sandcarving.
Back blasting refers to sandcarving the inside/backside of glass or crystal to form a magnified 3-D look from the opposite surface, like the piece pictured. You can see that "KUNDE Family Winery" is front blasted, and the grapevine design is back blasted. This unique method is a way to make the whole substrate pop and stand out.