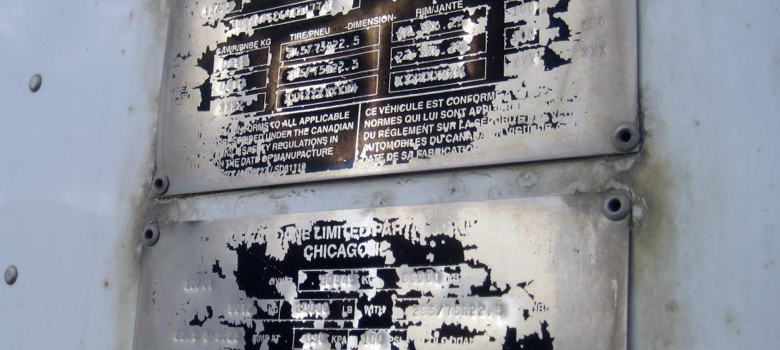 When a client came into our shop, I thought we were supplying blank VIN trailer tags to replace his old beat-up tags. Little did I know that he was stamping fake serial numbers and selling stolen trailers. I turned to Richard Twiss, chief of police of our local police force, for some tips to offer laser engraving shops that are asked to produce VIN plates.
Twiss echoes the old sentiment: "If your gut is telling you that there may be something wrong (about your customer's intentions), then there probably is."
Twiss suggests you ask your client a question like, "Have you requested or received approval from the DMV to replace the VIN plate? If your customer seems nervous or fidgety when you ask these questions, they may be involved in fraudulent activity." In fact, criminals often leave if asked such questions. Twiss recommends that if this happens, capture as much information as possible then pass it on to your local law enforcement agency.
Twiss also mentions that criminals often try to insulate themselves by providing minimal or falsified names and contact information such as PO boxes, addresses in different cities, and cell phone numbers.
Another red flag is the method of payment your client uses. As a business owner, you are more than happy to accept as many forms of payment as possible, "but criminals often like to pay with cash," says Twiss.
I also asked Chief Twiss about the legalities of manufacturing the VIN identification plates. He consulted with a detective in the auto theft department, who stated, "If the shop or individual manufacturing these VIN plates does so with the knowledge that these plates are intended for fraudulent activities, they could be punished under the law."
As laser shop operators and owners, we are always on the search for new customers and markets, but with a little knowledge and insight with VIN switching and VIN cloning, we can better decide if the customer is the right customer for us.
-Richard Korybyl, Columbia Awards