Floor graphics are a great marketing tool for short-term promotions and helping your customers promote their brand at every touchpoint. However, COVID-19 has forced business owners to think creatively about how they can shift their focus from only using floor graphics for promotional purposes to also using them for social distancing and wayfinding messaging, which has become the expectation during COVID-19 and most likely beyond.
Help your customers navigate this uncertain environment by providing them with recommendations for safely choosing the right product for the correct application and maintenance under increased floor cleaning conditions.
Interior floor graphics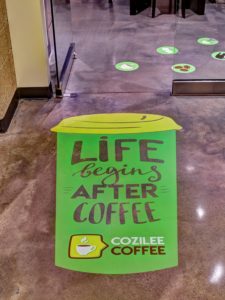 Graphics are not just about communicating information but presenting it in a way that reinforces a brand. Some businesses have used painter's tape for wayfinding and social distancing. In a pinch, it might get the job done. Long term? It's not an approach that screams confidence and trustworthiness. In addition to signaling customers and employees that the business does not have a long-term plan, painter's tape comes with its own set of safety risks, from peeling to trip hazards. Investing in high-quality, durable floor graphics can help prevent future maintenance headaches, minimize safety hazards, and position the business in a more respectable light.
When choosing a base film and overlaminate for interior floor graphics, consider the type of surface you're applying to, the amount of traffic it will encounter, and the install location. The surface type determines which base film to use, while the amount of traffic and the location determines the overlaminate, which plays a vital role in providing slip resistance. One industry standard, the UL 410 Standard for Slip Resistance of Floor Surface Materials, covers the testing of floor and finishing materials to determine if the static coefficients of friction meet or exceed a certain level.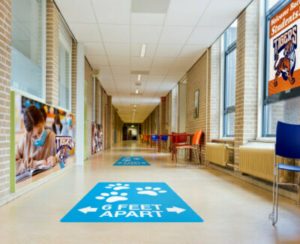 The base films commonly used for floor graphics include cast or calendered PVC with a pressure-sensitive adhesive. You can apply these to many different interior surfaces ranging from waxed vinyl to carpet. It is best to test the base film's adhesion on your surface to ensure a good bond and prevent damage during removal of the graphic.
For low-traffic areas, the base film often pairs with a cast or calendered PVC overlaminate. For high-traffic areas prone to moisture, such as the interior side of an entry point, pair the base with a more durable overlaminate, which helps it stand up to the increased foot traffic. Whichever overlaminate you choose, for safety reasons, it should have a high coefficient of friction and meet the minimum UL 410 Slip Resistance requirements for floor surfaces.
Exterior floor graphics
Like interior floor graphics, you can effectively use graphics designed for outdoor environments for wayfinding. Exterior applications include placing graphics on sidewalks leading into and around their establishments.
For exterior applications, adhesives of the base film are generally thicker and should be explicitly designed for hard, porous, and slightly textured surfaces such as concrete. Because removal can be more difficult, the exterior-based films should not be used on typical indoor surfaces.
Heavy foot traffic and exposure to the elements require the overlaminate to be extremely durable. Be sure that the overlaminate has been approved for outdoor use and is resistant to the sun's harmful UV energy. For heavy traffic indoors or for entryways where rain or wet traffic can come into a building, an exterior overlaminate can be mated with an interior base film.
Unique applications
Government buildings may have more stringent standards, as well as facilities with vulnerable populations such as schools or hospitals. For these applications, seek out a more sustainable option. There are some products manufactured with more sustainable materials (e.g., non-PVC). With certifications like the GREENGUARD Gold Certification, you can ensure low emissions of volatile organic compounds (VOC) into indoor environments, contributing to healthier indoor air quality.
Cleaning and maintenance
Routine cleaning and maintenance can increase the graphic's lifespan. However, to avoid damaging floor graphics, there are do's and don'ts to keep in mind and relay to your customer:
Do
Wax the floors before buffing – If you apply the graphic to a floor that is routinely maintained using buffing or scrubbing equipment, wax the graphic as soon as possible after applying it to the floor. This protects the graphic from premature wear due to routine floor maintenance.
Use a non-abrasive cloth and mild detergent – This will suffice in removing scuff marks and keep graphics visually appealing.
Keep graphics dry – Moisture can work its way underneath the graphic. Clean up water or spills promptly to avoid letting moisture sit too long.
Don't


Use harsh solvents – Aggressive floor cleaning chemicals can damage graphics, depending on the type. For specific cleaner recommendations, consult the product bulletin.

Help your customers navigate this uncertain environment by providing them with recommendations.

Abuse with heavy objects – Graphics are durable but not made to last forever. Dragging heavy objects or running over them with heavy equipment may cause damage.
Then and now
Providing professional floor graphics not only demonstrates to your customers that you understand their immediate needs but that you're anticipating the lasting effects of COVID-19 on their industry: from product promotions to the health and well-being of their customers. With your help, you can transform customer uncertainty into confidence.