Owning a successful embroidery and apparel decoration business is a numbers game. The number that counts the most is how much profit you make rather than your total sales. Your profits are the measure of how successful you and your business are. It is not about what you make; it is all about what you get to keep. Here are some strategies to help you increase what you get to keep this year.
Your customers are a gold mine
I suspect that you have a much larger list of customers than those you would classify as "current" customers, the ones that have purchased in the last 12-18 months. Time spent reaching out to past customers is usually time well spent. Call them, drop them a note in the mail, or email them. Let them know you are still around and serving the people and businesses in your community or market. Simply putting yourself back in their awareness is likely to generate new or repeat orders from some of these past customers.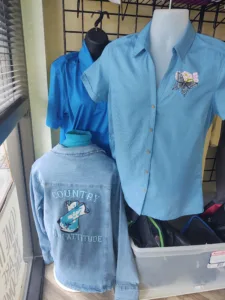 Know your hourly numbers
Operating costs play a direct role in your profits. Net profit per hour is your total net profit before taxes, divided by revenue-producing hours. Said another way, net profit per hour equals the net profit you make on an order before taxes, divided by the number of machine and man hours it took to unpack, inspect, hoop, stitch, trim, fold, and pack that order. This is the number by which you can measure the profitability of that order and of your business. If this number is lower than you need, take steps to increase it.
You can increase prices, increase production efficiency, lower production costs, lower overhead, or add upsells so that your customers spend more money with each order. If you have not increased your prices within the past 12 months, it is time to do so, even if only by a small amount. Upsells could be adding a bagging and tagging option where you sort the finished order and bag and label the job with recipients' names. Or offer delivery for a fee. Offer personalization of company apparel for a fee. If you have employees, seek their input on ways that production can be improved or ways to reduce any issues that impact their ability to get their work done efficiently. If you are a one-person operation, think about how you can improve your workflow.
Be consistent, even when you get busy
It is all too easy to skip the routines that make a well-run business when things get busy. Wondering if you can skimp on the backing on this run of shirts, as you are almost out? Order the backing you need and run the shirts correctly. Otherwise, you risk them puckering in the wash and creating an unhappy customer. You may think that you do not have time to inspect a batch of shirts before you run them, only to find out that they are the wrong color, the wrong products, or the wrong sizes. There go your profits. As they say, haste makes waste.
Ask for referrals
Ask your customers for referrals. This is one of the best and most profitable ways to grow your business, as you spend no money to bring in more sales. Add a line on the bottom of your paperwork, invoices, proposals, and emails, as well as on your business cards and website. Say something along the lines of "We grow our business through referrals from satisfied customers. Please let your friends and colleagues know where you bought this custom order."
Make the call
Call your customer about 30 days after they receive their order. Ask how the shirts/products are holding up, and ask if they need to add anything else. This is also a great opportunity to ask for a referral using the following strategy. Ask the customer, "Who has noticed your new shirts (products)?" After the customer answers, then say, "Do you think (the person they named) would like some new (products) too?" The customer is probably going to say something along the lines of "How would I know, ask them?" Get that person's contact information from your customer and follow up with them on this referral.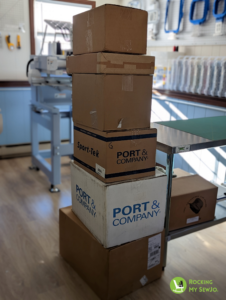 Quarterly checkups
Running a business involves a lot of moving parts between customers, products, staff, facilities, paperwork, supplies, etc. Create a plan or schedule to take 30-60 minutes each month for a quick assessment of one "moving part." For example, in January, look at your inventory of threads, bobbins, needles, and stabilizers. If everything is where it should be, and you have what you need, great. Cycle back to this in April, July, and October and see if you need to order anything. In February, look at your workspace.
Do you need to change anything, move anything, or fix anything so that your production flow is as efficient as possible? Is there a display window to update, light bulbs to replace, or updated hours to put in your voicemail message? Does the front window or door need a good cleaning? Are there piles of customer files or catalogs that need to be put away? Circle back to these facility-related things in 90 days. Pick something else to look at in March, such as equipment cleaning, servicing, and long-term maintenance. Revisit this again every 90 days. Small chores and maintenance done frequently make for a better-run business. And a better-run business produces higher profits over time.
Monthly financials
Review accurate and current financial statements every month. This should take less than 30 minutes each time. If something is getting off track, you are likely to spot the change with a month-to-month awareness of your company's financials. Minor issues can be spotted and addressed before they become major issues. Are you spending more money to keep an old copier running than it would cost to get a newer, smaller, more efficient one? Ask me how I know.
Implement these simple strategies to improve the profitability of your business. Whether you operate your business by yourself or you have a staff, knowing what is working well and what is not pays off in the long run!