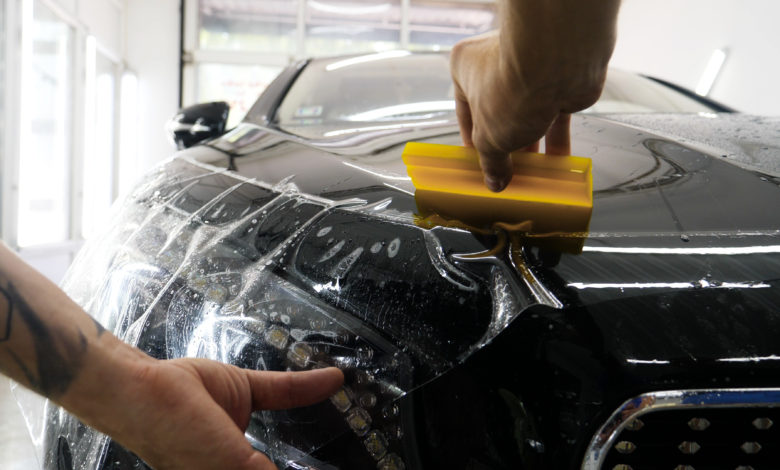 Around the world, demand for paint protection film (PPF) is booming, and film installers are seeing these market changes firsthand. Traditionally, PPF was most common among luxury car owners and automobile aficionados. But the PPF market has doubled in the last five years as "average" car owners recognize the value of such protection and look to protect their investments for longer.
Installers of graphic and window films should consider adding PPF to their service offerings to stay ahead in this changing market. Selecting the right PPF can make a big difference in protecting reputations. The best PPF uses materials formulated with installers in mind and that offer end-users the highest value for the cost.
Why PPF matters to you
PPF protects the exterior surfaces of automobiles from weathering, scratches, chips from road debris, corrosive pollution like acid rain, and everyday wear and tear. Produced using thermoplastic polyurethane (TPU) as the major component, PPF consists of multiple ultra-thin layers that a qualified installer applies by stretching and adhering to provide an invisible protective coat to the vehicle finish.
From Bugatti to Buick, a high-quality PPF install will protect customers' investments. Such high-quality installation takes a talented installer and a super-clean install space, but this isn't always enough. A well-recognized problem among film installers is the time-consuming challenge of installation, which can include entrapment of air bubbles or contaminates and possible defects through over-stretching. Using trusted, high-quality film products can protect installers' most valuable asset: their reputation.
TPU was invented in 1959 by BF Goodrich, now part of The Lubrizol Corporation. It bridges the gap between flexible rubber and ridged plastics.
Pick the right PPF partner
Many PPF options are on the market, but not all types are equally installer-friendly or of the best value to the buyer. If you choose to offer PPF installation services, consider these performance attributes of high-quality PPF:
Aesthetics

Defect-free optical clarity
High gloss or matte finish options for maximum visual appeal

Durability

Impact resistance for maximum chip protection
Weatherability for anti-yellowing and resistance to degradation
Surface technology for self-healing of fine scratches and stain resistance

Conformability

Ease of installation
Low-temperature flexibility
In short, customers want a beautiful product that will hold up well over time, and installers want to deliver those results with minimal complications. Consider a partner that regularly consults with installers to understand the application of PPF and formulate products that meet both installers' and customers' needs.
One real-world experiment measured the aesthetics, durability, and conformability of TPU-based graphics films under harsh environmental conditions. The experiment involved real-world exposure through installation on Las Vegas taxicabs for an entire year, having the following configurations: TPU print and laminate films, TPU laminate film over a vinyl print film, and an all-vinyl configuration. Among other superior performance qualities, the cabs containing full TPU construction retained more than 95% of their ability to stretch without tearing or breaking, compared to less than 5% for the non-TPU configuration.
For customers, it means a return on investment. For installers, it means longer-lasting graphics. Wrap and window film installers should consider adding PPF to their service offerings as this industry booms. Offer your customers a quality PPF product backed by investments in innovation and the latest technology to protect their significant investment – and to protect your reputation.