In the expanding market of large-format graphics (LFG), print service providers (PSPs) are becoming increasingly creative and daring, producing exciting new applications on a greater variety of substrates. This dynamic environment offers exciting opportunities for PSPs who not only understand their business but also know what's necessary to produce the range of applications their customers are looking for, with the speed and cost efficiency required.
Make the most of large-format graphics
Investing in large capital goods such as a flatbed printer is not something you do lightly. To better take advantage of the commercial opportunities out there, PSPs need to know the main trends in this growing market and what flatbed printers offer.
LFG is a longstanding, mature segment of the digital output market, selling into nearly every other industry in some form. Traditional segments served include photography, technical printing, and especially sign and display. Manufacturers of digital LFG printing technology are helping PSPs open up new markets, with devices that offer faster turnaround times and unprecedented levels of application versatility.
The increasing output produced digitally by professional PSPs in LFG currently caters mainly to the advertising and retail industries. However, PSPs are now exploring new opportunities to deliver higher-value, customized products. For example, in the growing interior decor sector. Innovative applications are boosting demand, with volumes continuing to increase year over year, as UV flatbed printers take the sector to the next level.
At the same time, customers are looking for faster delivery times and shorter print runs. As a result, workflow efficiency and productivity are key drivers for PSPs when deciding which technology to invest in.
The growth in digital print is being driven by its ability to create stunning images that attract attention and stimulate human emotion. New applications are being developed all the time, motivating PSPs to explore the many commercial opportunities digital technology is opening.
New value-adding applications
LFG is an increasingly fragmented market, with a growing demand for customized one-off prints. These include bespoke wallpaper and very short runs — for example, a few banners or panels for an exhibition or corporate event. Digital technology gives PSPs the flexibility to create such applications quickly and affordably and serve numerous segments and individual customers.
Interior applications include: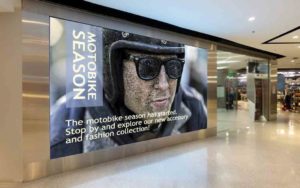 Posters
Banners
Backlit display (glass, acrylic)
Permanent, semi-permanent, and permanent
Point-of-sale (PoS) displays
Corrugated floor displays
Wall divider panels
Exhibition and trade show materials and panels
Exterior applications include:
Billboards
Banners, backdrops
Durable printed panels
Vehicle and fleet graphics decals/transfers
LFG is a technology-driven industry that produces high-value applications that can offer 50% gross profit on top applications. The latest advances in digital flatbed technology are increasing the popularity of many new applications — for example, car wrapping and bespoke decoration. Printing on rigid substrates is gaining momentum. Material use is about a 60%/40% split for flexible/rigid, up from a 75%/25% split in previous years.
Factors driving investment in digital LFG devices
Smithers Pira Consulting predicts a growth in the market share of inkjet LFG printing in the digital signage sector from 2019 to 2024 of more than 45.5%. This represents 5.22 billion square meters by the end of the forecast period.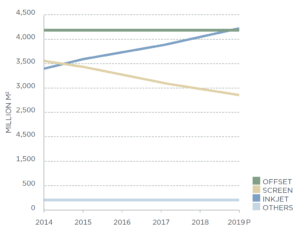 In 2019, Canon conducted in-depth discussions with various PSPs — large and small — in Europe, the U.S., and the Asia-Pacific regions. During this qualitative research, participants outlined the key drivers in the market and the elements they considered when choosing the right large-format printer for their business. The findings are reinforced by other research carried out by Keypoint Intelligence.

The opportunities for ambitious PSPs to offer exciting applications in the growing, profitable market of digital LFG are clear. Volumes and application versatility are increasing, as are pressures on turnaround times. Workflow efficiency and reliable productivity are essential. At the same time, consideration of the cost of ownership, the environment, and health and safety are acknowledged as other key factors in the decision-making process.
Click here to download a FREE version of this insightful whitepaper.