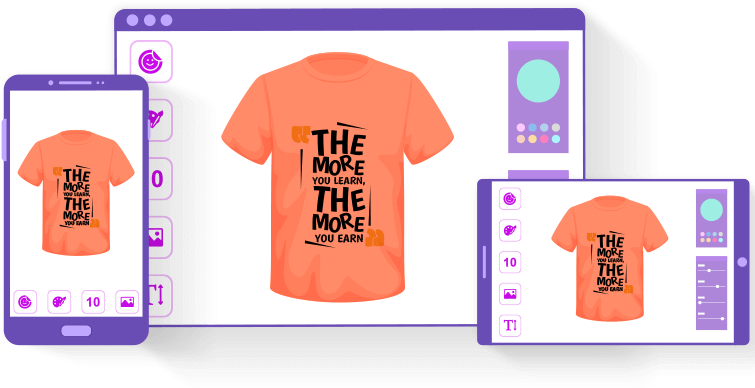 As the e-commerce industry is growing, it is changing the way people shop. Shopping has now become just a few clicks away. The trend of personalizing and customizing things has taken over worldwide. The use of online shopping is increasing. The competition is getting hard to fulfill the needs of customers. To stand out, web-based stores can give their customers creative freedom.
To let customers design and personalize their T-shirt gives them satisfaction to buy. T-shirt design tools are an excellent solution for all e-commerce or printing businesses looking to meet their customer's expectations. They allow customers to design their T-shirt easily and let customers be innovative.
There are some essential features one should keep in mind before choosing an online T-shirt design tool.
Clip art management
Limiting customers to specific designs will not be beneficial for customization. Your custom T-shirt design software needs to present plenty of options and the ability to crop and resize as necessary. Give full authority to the customer to use any feature and show their creativity.
Color management
New trends, the latest images, and quotes are also necessary to incorporate, but these also need to be customizable. The tool must provide different color options for all clip art, text, and image elements.
Upload custom images
There is a famous saying, "A picture is worth a thousand words." A perfect design tool provides an option to upload a custom image from the desktop. A custom image upload feature lets your customers add uniqueness and extra personalization.
Drawing tool
Drawing objects like stars, circles, rectangles, etc., helps customers to design from scratch. Whether the customer is an artist or not, one can use it to give a personalized spin to the design.
General functions 
Apart from adding clip art, images, and drawings, there are other general functions to consider when looking for an in-site custom T-shirt designer. It needs to have the ability to add numbers or text, flip images horizontal or vertical, and easily align and position a design's various elements.
An online T-shirt design tool is a solution that enables the customer to personalize things according to their vision, giving them control over their designs.